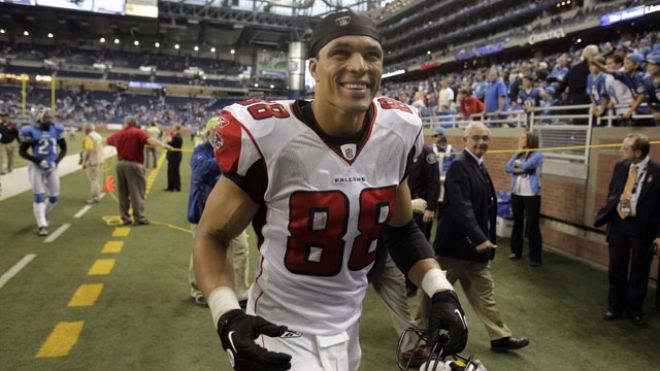 A few weeks ago 13-time Pro Bowl tight end Tony Gonzalez announced that the 2012 season will probably be his last. I have previously featured the 35-year-old future Hall of Famer here on Access Athletes in a piece entitled Tony Gonzalez is on a mission to spread his all-natural lifestyle. In this Q&A, we talked to Gonzalez about philanthropy, leaving school early for a pro career and adapting to the NFL, his belief that the NFL needs to create a job summit for former players, his experiences with sports agents and his publicist Denise White, balancing his family with being an athlete, becoming a businessman and running his company All-Pro Science, and much more.
Q: Tell me about the Tony Gonzalez Foundation and some of its philanthropic initiatives like the Shadow Buddies Program.
Gonzalez: I've been involved with Shadow Buddies since my Rookie year, so 15 years now. Miles Postlethwait is the poster child for it. He's the reason Shadow Buddies is around. He's like a little brother of mine. I met him when he was 9 and now he's 24. It's crazy. It's been fulfilling. I've been really lucky to be around some great organizations and a great charity spreading smiles. Shadow Buddies is not about finding a cure. It's not about going out there and raising millions and millions of dollars. What we try to do is take a grassroots approach and we go out and hand deliver these buddies to sick children and senior citizens. It's really about putting smiles on people's faces and sometimes I think that's the best medicine, especially when someone's circumstances are terminal, which is a lot of the cases.
We'll go to cancer wards and kids are in the later stages of cancer or leukemia or whatever it is and they haven't smiled in a month-and-a-half, and then you go in there and give them a buddy and spend about 5 minutes with them. When you walk out they're smiling, and then the nurse comes up to you and says, "hey, she hasn't smiled in a month-and-a-half," and she's in tears. We've had those experiences. That's what makes it all worth it for me and the people involved with Shadow Buddies. It's great spreading that word and trying to make it as big as possible, and I'll continue to do it.
Shadow Buddies is close to my heart, but now I also want to get into health and childhood obesity and helping kids because they're our future. We have a Type 2 [Diabetes] epidemic going on in our country, which really wasn't seen 20 years ago in kids. And now you see it all the time. And you can't tell me it's not because of our nutrition and what we're feeding these kids. So, I'm definitely getting involved with that. That's definitely a way that I want to push—making sure kids are eating the right things and putting good stuff in their bodies.
Q: What is one thing you now know about the NFL lifestyle that you wished you would have known when you entered the league that would serve as a helpful tip for current players or rookies coming into the league?
Gonzalez: Making the most of your time. You're going to have a lot of extra free time now, especially during the off-season. You go from this whole routine of practice and getting out of there late and playing games during the week to seven months of not doing anything. I mean you can work out and stuff like that, but I think that goes without saying. I always worked out, but that's just two hours a day. After that, what are you going to do with the rest of your day? Don't just play video games. Don't just watch TV or go out there and get the latest car and go to the club at night for the single guys out there, which I was. You can make so much more out of your life. You have all this free time. You can do whatever you want. The world is at your fingertips and you need to just exercise that. Just make sure that you make good decisions!
Q: What advice would you give to this year's NFL rookies about how to put themselves in the best position to succeed in the NFL?
Gonzalez: Things aren't what they used to be and we're under a microscope now. Anything can get reported on because there are so many media outlets and they need to fill those time slots. I would definitely say just be smart. And when I say be smart, if you're going to go out and you're going to have a good time at night, there's nothing wrong with that. I encourage you to do it, especially if you're a young, single guy. There's nothing wrong with that. Be smart about it. Be responsible. You take a taxi or hire a driver. That little hundred bucks that it's going to cost—well if you take a taxi, it will be cheaper than that—it's going to be so much cheaper than paying for a DUI or paying for a problem at a club or whatever. Along those lines, surround yourself with good people. Surround yourself with people that have your best interests at hand. Nothing wrong with keeping your old friends, but make sure they have your best interests and they want to see you be successful and they'll tell you no. You need a couple of "no" people in your life, not a bunch of "yes" people.
Q:

According to Sports Illustrated

, 78% of former NFL players have gone bankrupt or are under financial stress because of joblessness or divorce by the time they have been retired for two years. Why do you think the numbers are so high and what sort of things have you been doing to avoid becoming another statistic?
Gonzalez: They've been playing football their whole career. They're not prepared. They're young kids. When we go to school, for better or for worse, the reality is that we're playing football in school. It's number one. I don't care what anyone says. When you're playing for the university, your coach wants it to be number one. I know they say student-athlete and student comes first. I think it's a crock at times. And it doesn't sound good. It is what it is. We are talking about university. You got a scholarship there. More than likely, I wouldn't have gotten to Cal if I didn't play sports, but I'm there because I play sports. It's a great opportunity and I took advantage of it when I got there. But some guys just can't recognize that.
So, when you're coming out of the NFL, you've been really trying to play football. That's what you've really, really been focusing on because you've had to. We're talking about this is your job. You haven't really thought about what you're going to do after your done playing because you're trying to stay focused. Bang! Then you're out of the league. You can't make a team... It's like now what are you going to do? You can try to go back to school, but we've been doing this our whole life. I think the only way they can really get that number to go the right direction is kind of what they're doing right now. The NFL gives you access to programs during the off-season and they help guys.
There is a really good idea—and I heard this; this isn't my original idea—for a program they should really install in the NFL, which would be really beneficial for all professional athletes. Currently they have a Rookie Symposium for all incoming rookies that is a 3-day summit. They need to make a mandatory 3-day summit for guys that retire and give them some leads, instead of saying you're cut and "see ya later." Now you can't be a part of that program anymore because you're not in the NFL and the team really has no one you can turn to, honestly. The NFL as a whole needs to have more concern for these guys and maybe create a summit or something similar where these guys can go and get job skills, or at least get some ideas for jobs and how they can deal with their relationships. Because that's another big part of it too—a lot of guys get divorced when they retire. They need to go to some classes and learn. It's like anything else—you have to educate yourself. I think that would really help a lot if they had a symposium for newly-retired guys. You can't make it mandatory I guess, but I'm sure any guy with his right mind would go to it if the NFL is going to pay for it. Have another 3-day summit/symposium on skills and doing something to make that transition easier now that they're not going to have football anymore. And maybe have people there that can give them jobs or at least point them in the right direction.
Q: Tell me about Tom Condon and how he's helped you throughout your career, especially when you got traded to the Falcons in 2009 and how he assisted you with that whole transition.
Gonzalez: Tom wasn't my agent my whole career. I started off with Leigh Steinberg. And then when he had his whatever—his problem—I left him and David Dunn. I left them both. They were both good for what it was worth. This is before David Dunn formed Athletes First. This is when they split up. They were going through their divorce, and I was one of the kids seeing the parents' divorce. So, I was like I will see you guys both later. I don't want anything to do with either one of you guys. So, I went ahead and sought new representation. That's when I found Tom. He played in the league. First and foremost, he gets the best contracts in the NFL, or at least he's one of the top guys, and I just got along with him. It's like he knows how to communicate with people because he has that background and he's played in the NFL. For 12 years, he played in the NFL. And he's got the backing too, with CAA. And at that time, it was IMG, which is pretty much the same type of stuff. With CAA, if I did want to be an actor or if I want to be a commentator or some type of broadcaster when I get done playing football, I have access to that and they can hook me up with that. So, it's kind of a one-stop shop.
As far as my transition coming to Atlanta, he was there every step of the way, talking to me. He would say, "Okay, this is what we're thinking… This is the team that is going to get you and all that stuff." I knew I was going to get traded, but I didn't know it was going to be to the Falcons.
Q: How successful has Denise White of EAG Sports Management been in enhancing your brand and marketability?
Gonzalez: She's the wizard behind it all. I mean she's the one pulling the strings behind it all, as far as what I've been able to do off the field. Obviously, I know that I got to do what's on the field, but then she helps me translate that to off-the-field success, in terms of getting your brand out there and getting your face out there. She brings me good stuff and helps me make good decisions. It's like helping me when to say yes and when to say no. We're very, very close. Shoot, I think I was one of her first clients. We've been together a long, long time. I've seen her grow just as much as she's seen me grow. Now, she's built her business up to whatever it is now, 60 clients. I remember it was pretty much just me and maybe one other client. It's been a fun process with her, watching each other grow and we help each other. It's more like a brother-sister relationship. We fight like cats and dogs, and in the end, we get along great. She does a great job for me in pointing me in the right direction.
Q:

Do you have some advice for the younger players who are considering the jump like you did early out of college? What factors should they consider since you went through that whole process?
Gonzalez: I think if you are going to leave early, you better make sure that you are going to be a top pick. I would say that. Don't come out if you're not going to be a second-round pick because honestly that's the reason you do it. Because you have an opportunity to be one of the top picks in the draft. When are you going to be able to have that type of opportunity to make that kind of money now at such a young age? Anything can happen if you go back to school. And so I always tell people if you're going to be a top pick, go ahead and leave because you can get hurt. In football, anything can happen, so make sure you take care of it now when you can. And everything else we talked about once you do get there—doing what nobody else is doing.
I always say refuse to be average. Don't do what everyone else is doing and expect to distance yourself from everybody or be better than everyone else. You have to go above and beyond. It's not just about practice. You're supposed to work hard and go to practice everyday, so don't pat yourself on the back. It's about what do you do before practice? What do you do after practice? At night when you go home, are you studying film? Are you studying your playbook? You really have to be enthralled in what you do, I guess. You have to be totally submerged in what you're doing.
Q: What sort of interaction have you had with the player development representatives for the Kansas City Chiefs (LaMont Winston) and Atlanta Falcons (Kevin Winston)? What are some specific examples of how they have helped you with your career development?
Gonzalez: Well, I've been fortunate. I've had LaMont Winston and Kevin Winston, two brothers. Kind of weird. And they both do a great job, not just for me, but for all the athletes—getting them involved in programs. [They are] kind of more my confidants and my sounding board on what I should do. But I was always gone and you really do a lot of that player development during the off-season. That's when you take advantage of it. I always went back home to California for the whole off-season, so I didn't get too extensively involved with them, but we did have a close relationship. I think LaMont is one of the best and his brother is right there. You see why they're brothers… Because they do a great job of getting guys information and getting guys opportunities.
But it all comes down to the guy. That's the thing too. Everything that we talk about—guys have access to it—but the majority of them don't do it. For whatever reason it is. Maybe they feel like football is going to last forever. Maybe they're just lazy, which I don't doubt because I get that way sometimes. You get tired. You're practicing all day, studying film, then you're going to tell me I got to go out there and do this and that on top of everything. It's tough. Then you throw in a family—you're married and have kids. But for whatever reason, most guys don't take advantage of it. Very few do. But the ones that do, you see what happens. You see it's all worth it. So, you just got to make sure it's worth the effort.
Q: Tell me how you have balanced your family life with your wife and your kids.
Gonzalez: Well, you got to keep them at the top. It's your wife first, then your kids, then your other family the way I look at it. Happy wife, happy life. There's no doubt about that. And then with the kids, they're right there. But I always make sure I keep my wife first before anything, and then my kids. And then my immediate family—like my mother, my brothers, aunts and uncles. I do date night with my wife. In fact, we're going on a date tonight. We are getting a babysitter, going out and enjoying each other's company. And during the off-season—every Sunday—we have a family dinner. I've been blessed to be around a great family. We've always done this. But we get together and we crack open some wine and spirits and we cook. Well, I usually get in the kitchen and I'm cooking because I really enjoy it, but everyone else sits in the kitchen. We make hors d'oeuvres, then we make our main course, then we sit at the table. We eat together and we laugh together. It's a lot of fun. We do it every single weekend. If we're in town, we're having Sunday dinner, and a lot of people are invited. It's grown over the years. Right now, I think the average crowd is at least 15 people every Sunday. But sometimes, we get up to around 25 people on any given Sunday. So it's a lot of fun.
Q: What skills from being an elite athlete have led you to become a more successful business man?
Gonzalez: Honestly, it all carries over. Especially you know since I'm the President of a company [All-Pro Science]. Getting people to work together. It's just like football honestly, which is hard work. The guy who works the hardest is usually the most successful. Creating an environment where people can be successful and where people can express their ideas and have a say-so, but still have discipline and follow through with what's being asked of them. It's all the same stuff. It's the cliché stuff—hard work, dedication to what you're doing. I mean, it all carries over.
Q: Do you plan to pursue All-Pro Science full-time down the road?
Gonzalez: Definitely. This is what I wanted. I'm already doing it, pretty much. Once football season is over, I take a couple weeks' vacation and then I'm there. I'm already doing what I want to do when I get done playing. And I've been lucky. [It] is a luxury that I got something I'm passionate about, even before I get done playing football. I know a lot of guys that have retired and that's what they say they have to find. They have to find that passion. Something to take the place of football. And I've found it and I'm into it. It's my lifestyle, and from that standpoint, I've been lucky!