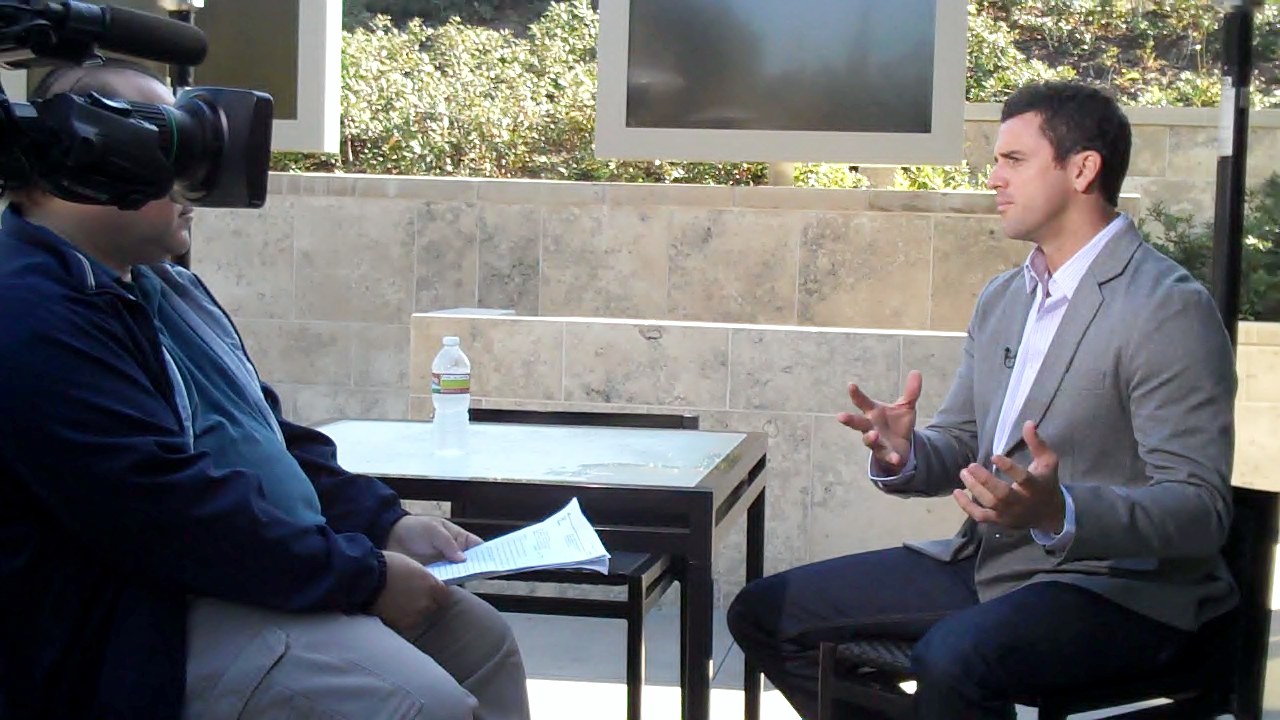 "I can't believe that I've been doing this on my own or that I have never known about someone like you before. The process is extremely less difficult when you guys are in the picture."
This is almost a constant refrain that athlete relocation expert Chris Dingman hears from professional athletes and their families after they have hired his company for the first time to assist them with moving.
It's no secret that professional sports careers are often short-lived, and that a player's status on a particular team can change suddenly. From being drafted, to being traded, to being released by one team and picked up by another, players can find themselves on a new roster in a different part of the country numerous times in one season.
For fans, it's easy to get caught up in imagining that an athlete makes a move magically—seemingly appearing in a new city with a new uniform overnight. But that's not the reality. In fact, for an athlete without outside help, moving to an unfamiliar environment at a moment's notice can be an extremely daunting—if not impossible—task.
That's why Chris Dingman jumped at the chance five years ago to literally provide a comfortable landing place for uprooted and transplanted players, and built a business that could help: The Dingman Group, an athlete relocation agency based in Newport Beach, California.
_________________________________________
After Dingman's college football career ended at Santa Monica College—where he was teammates with current NFL players Chad Ochocinco and Steve Smith—Dingman developed a penchant for following the revolving door of player transactions and trades in professional sports. It made him wonder how players were being taken care of as they were constantly being shuffled from team to team.
In surveying many coaches, athletes, and other contacts he had in the sports business, Dingman discovered that players didn't receive much assistance at all from teams and had to make their own arrangements under extreme time pressure. He learned that in some cases, these athletes never even unpacked their belongings when they moved and their kids' toys would remain in boxes in the garage. Aside from the sheer inconvenience this created, he was alarmed by hearing that many athletes were also being taken advantage of.
"I had to come in and put together a really ethical and sound business plan and marketing plan, and make sure that these guys knew they had a trusted resource to take care of these things," Dingman told Access Athletes.
He took a big leap of faith leaving the corporate world to pursue his vision of simplifying the relocation process and helping athletes maintain the balance in their daily lives throughout the move. Dingman was determined to fill the void for an essential service needed by many pro athletes and their families.
"I am the type of individual who when I set my mind to do something, I always dream about it at night. I day dream about it during the day, about it being successful and being the best it can possibly be."
So Dingman set out to establish a nationwide network of realtors and other experts that he could rely on to help him with relocating athletes. "I spent an entire year interviewing relocation experts and real estate experts that catered to athletes, and if they didn't have experience working with an athlete and their teams, then I didn't even consider them for this exact reason."
A year later Dingman and his company had forged relationships with realtors in every state that has at least one professional sport, or roughly 41 states in total.
Whether an athlete wants to buy, sell, or lease a home, his network of realtors can make it happen at the drop of a hat. He says his realtors have to have the ability to be a "chameleon" and work with high-profile athletes who want their move to be kept private despite the highly-publicized nature of the transaction. They have to able to deal with athletes, who in some cases are 19 or 20 years old and need to be educated because they have never done this before. And perhaps most difficult, they also have to be able to juggle a parent, a grandmother, a wife, a financial advisor, and an agent. "Any given transaction potentially could have five or six individuals who all opinions have to be equal, and it takes a special person to be able to deal with that."
Aside from his network of real estate agents, the Dingman Group has an array of various experts from across the country on speed dial to ensure that the many other aspects of a move are addressed. The company has household goods partners who manage the packing, shipping, delivery, and unpacking of personal belongings. It has a nationwide network of home furnishing companies that can furnish a house in 48-72 hours. It has vehicle transporters and interior designers.
Any service provider in their network has been carefully screened with background checks and drug tests. "They're all vetted, tried, true and tested, and we make sure of that before we ever put them in front of an athlete," Dingman boasted.
_________________________________________
The Dingman Group creates a customized relocation package for each athlete depending on their individual needs, budget, sport, and the time of season. It's far from a one-size-fits-all type of service.
Dingman counts athletes from the Big 4—NFL, NBA, MLB, and NHL—as well as MLS and even action sports, as clients of his company. But he most frequently works with baseball players. "You can be traded, you can be released, you can be going to spring training, or the season ended and you need to find a place for the off-season," said Dingman, listing the many ways his services may be needed.
Dingman described a situation from last baseball season involving one of his MLB clients who got released from the Houston Astros, and within 24-48 hours, he was picked up by the San Francisco Giants. The Dingman Group was called upon to bring in maids to clean up the athlete's house, put the property that he was renting back on the market, and work to get his lease terminated early, all while they had to search for a new house for him and ship his household goods and transport his vehicle to the west coast.
In this scenario, the athlete ended up paying for the relocation expenses out-of-pocket.
There is a common misconception that athletes don't have to pay their own relocation costs. Dingman is quick to disabuse people of this fallacy.
In the corporate world, it is common for a company to pay at least a portion of the costs related to a new employee relocating. But in the sports world, typically an athlete must cover their own relocation costs. Sometimes, however, Dingman says that a team might cover a portion of the relocation costs, but that's only when a player has been traded as opposed to being released by one team and picked up by another.
Dingman explains that relocation can be especially grueling and cost-prohibitive for practice squad players in the NFL who make $5,700 per week. In one particular case, he recalls a client having to relocate on five separate occasions in one season. "[He went from the] Steelers, to the Patriots, to the Broncos, to the Niners, to the Raiders, in a matter of one year … And one team picked up his relocation costs." It can be a big pill to swallow for the lower-level players making the league minimum—who aren't multi-millionaires—especially when there is a line of players eager to pay the relocation costs and snatch their roster spot.
"We have to come in and make sure that [the athletes] understand that we do it cheaply, we do it efficiently, we can do it fast, and in a way that's going to be beneficial to them right then and in the long-term."
The Dingman Group keeps the cost of its services low—a one-time management fee ranging from $250 to $500—so that any professional athlete, regardless of one's salary, can utilize its relocation services. Prior to January 2011, it had been a free service for athletes, which Dingman had subsidized by collecting referral fees from the realtors and vendors under his umbrella.
Aside from keeping the costs down, sometimes Dingman and his team must operate swiftly. On one occasion, Dingman relocated an athlete in 24 hours from door-to-door, to a temporary spot in the new team's city. "You're no longer in the apartment that you have a lease on where all your furniture and belongings are and you're already in [another city] trying to play a game … You have to have someone you're going to trust who has the resources, the contacts, the network, to get you situated right away."
Once a place was secured for the player to sleep, the household goods and car followed soon thereafter. Many times, the off-season is when the Dingman Group purchases household items the athlete may need and finds long-term housing.
_________________________________________
While Dingman readily admits that some athletes attempt to cut corners to lower costs, especially when they're footing the bill instead of the team, he stresses the importance of having some type of support if it's possible, as he believes it's next to impossible to do it all by yourself.
It takes a full team to effectively coordinate the relocation process. This team-oriented philosophy is something that Dingman cultivated when he played team sports growing up. In high school, he would wear a shirt that said "Big Team, Little Me." In embracing the team mentality, Dingman states, "It's all about the whole and I'm just a piece of that puzzle, whether it be for the athlete and his family, or whatever."
Playing sports also instilled integrity, respect, and trust in Dingman—several qualities that he says go hand in hand with his business and that he attributes to his business continuing to grow.
The Dingman Group has a high-volume of clients, many of which are repeat customers.
Dingman credits his team's approach for the results his company has been able to produce. "What I think sets our network apart from everyone else is our patience level, the expertise, the longevity in the business, and just being able to handle multiple personalities and deal with them and make everyone's opinion feel important as we work toward the common solution, the common goal."
Although Dingman has never had to experience some of the things that his clients experience, he believes that being somewhat young and his athletic background have allowed him to better relate to his athlete clients and what they're going through.
Dingman adds: "I can speak to them on a personal level as well as a business level and it can go a long way. And when they find out I played sports too, it kind of gives an added bonus."
_________________________________________
Dingman's passion for his business, respect for his clients, and desire to help others is what motivates him each day. "The most rewarding thing about my job is absolutely the relationships that I get to build," said Dingman.
But it is one client in particular that stands out to him most—his former Santa Monica College Corsairs teammate, and current Carolina Panther, Steve Smith.
"There's nothing more satisfying than when [Smith] gets drafted in the third round, and wasn't expected to do much, gets there and makes the Pro Bowl his first year as a kick returner and a few years later signs a multi-million dollar deal and makes his dream come true."
Once Smith solidified his success in the NFL, he reached out to Dingman for help relocate his mother.
Dingman describes the conversation that he vividly remembers having with Smith. "He said, 'You know Chris, I want a trustworthy person in California who can help my mom relocate to a safer area than where we grew up. I want to remove her from that environment and do a favor for her, and it's always something that I've wanted to do.'" Dingman says that this was one of the most fulfilling points in his career, in that he was able to help Smith to make his dream come true and do something he promised himself he was going to do.
He loves being in this business, and just being around people and networking. He is humbled by the opportunity to have someone entrust him with such an essential need, and he is driven by the satisfaction he gains in being able to deliver. "I say, 'Okay, I'm going to do A, B, and C,' And nothing pleases me more than when A, B, and C are done exactly how I said they would be done and maybe even better. And then to hear them say thank you. That makes me want to do ten more that day."
_________________________________________
Dingman is a true believer that professional athletes need to take the initiative to educate themselves and better prepare for the day when they must play for another team.
He encourages athletes who are on the move to work with their financial advisor to make a plan and be better informed about the process. "It's great to have someone who has your back and is going to guide you in the right way, but I always really, really stress to my guys [that] if you have five minutes, help us, and take the call personally with your financial guide so when we're talking about what the next step is, you're connected too. You get educated. You're so much better off."
Staying on top of the market trends and participating in the process with your advisors is imperative if you want to make an informed decision as to whether you should purchase a home or rent one. According to Dingman, a large percentage of athletes stick with renting because of the length of a season and the fact that they were probably born and raised in a different city than where they play and prefer to live there in the off-season.
Dingman understands the challenges faced by athletes in accepting the transient nature of the business.
"I think that it does slap them in the face a little. But I think that all these guys understand that it's a possibility and they understand that it may be the nature of the business. I just don't think anyone in life wants to think like that. Like I didn't start this business thinking that I was going to fail and have to start another one. And these athletes, no matter if they're sixth round or first round, none of them have the mentality that this might not work exactly the way I want it to work. I might not make the team, I might not be a starter, I might get released and picked up by another team. It's not a reality until it happens, and I don't think all of them are prepared, and in some cases, it happens a lot. … There's a hit to the ego and it takes a special person."
On the other hand, of course, players can hardly afford to spend time dwelling on the possibility of failure in their athletic careers. After all, cultivating and sustaining supreme confidence in their abilities is absolutely essential for pro athletes to maintain the competitive edge they need to keep their jobs. So if their confidence wanes, they risk losing their playing careers, since sports teams are always on the lookout for fresh new talent.
That's all the more reason why services like the Dingman Group are lifelines for pro players and coaches. Said Dingman: "At the end of the day, no matter who you are, you just have to prepare for the fact that the job that you have now is not going to last very long, period."
So when your name is called and it's time to switch teams, you can rest assured that you don't have to go at it alone, and you can turn to Chris Dingman and his athlete relocation agency to make it as seamless as possible.
Anna Stefano assisted in writing this article.
Matthew Allinson is the Founder & C.E.O. of Access Athletes. Follow him on Twitter. Send Matthew a question or comment.