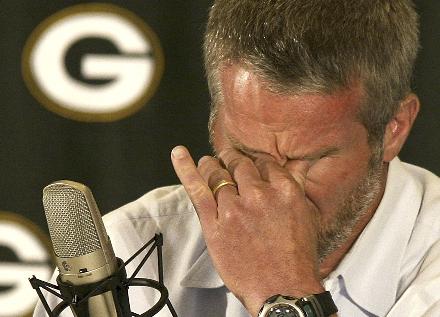 Should I Stay or Should I GO?
Peter Forsberg, winner of 2 Stanley Cups, 2 Olympic gold medals, and a former NHL MVP, is the latest athlete to try the "comeback". It lasted 2 games. Like Brett Favre and Michael Jordan before him, this is yet another great player to add to a long list that didn't need the money and had difficulty knowing when the time was right to retire.
Why Do Athletes RETIRE & Then Un-Retire?
For many of today's stars that have been fiscally responsible individuals, they will never have to worry about their financial status. So why not go out on top? NHL Hockey Hall of Fame Inductee, Henri Richard, had this to say about retirement, "It was a dream, and everything I dreamed came true. Now my dream is finished. That's a new life for me. Because what I do now, what I keep on doing is something I never dreamed of."
The REALITY of Retirement
Retirement is a status for which professional players are often ill-prepared for, mentally and emotionally, and a position in life they never dreamt about. Not surprisingly, many world-class athletes mourn the passing of their playing days, the spotlight, locker room camaraderie, a purposeful life, and the structure their work provided.
TALENT in Transition – What's Next?
For some athletes, they can leverage their "celebrity" status in sports as a stepping stone to a secure high-profile second career. Others will lead relatively "normal" lives. Unfortunately though, many others continue to struggle with the transition.
Ray Williams, who enjoyed a 10-year NBA career, and one-time NBA superstar Allen Iverson, are reminders that no one is immune to the challenges career transition brings. Multiple NBA sources say Iverson is facing alcohol and gambling issues that derailed his career and now threaten his post-basketball success. And Williams' decline into unemployment and eventually into homelessness occurred despite the fact that he never experienced any substance abuse problems or a criminal record at any time in his life.
The Identity SHIFT – Who Am I Outside of Sports?
How does something like this happen? It seems almost unbelievable. Exactly why these overachievers in sports are unprepared for life post retirement requires further study. But we do know that many former athletes feel that they are entitled to continual success in the future – which is just not the way the world works. Success in the business world is as competitive as games on the playing field and offers few guarantees for anyone when the limelight dims. Additionally, the emotional trauma of retirement (i.e. denial, depression, physical injuries, loss of structure, the lack of purpose, even anger issues if unchecked – often hinders an athlete's ability to move forward with the next phase of their life. For 50+ years now we can reference stories about real athletes reeling downward, which is a reminder that it is critical for pro athletes to commit to some post-athletic career preparation, and to take conscious and calculated steps to seek out expert counsel and coaching for their inevitable date with retirement.
Transferable Skills and the "Game of LIFE"
The good news is your elite sports experiences will help you develop core traits that are highly valued by the corporate world. You are a competitor, a team player who has demonstrated flexibility, resiliency, determination, discipline, and dedication. You confidentially set goals, are a quick learner, and you lead by example. You communicate well and you achieve outstanding results while performing under pressure. You are committed to excellence, to developing your skill set, and to growing personally and professionally.
From the Playing Field to the BOARDROOM
Life after sports is about learning to live a new life and understanding the issues associated with change. It's about unlocking your multiple talents and implementing a successful development strategy so you can capitalize on your celebrity "for a lifetime". Most importantly, it's about experiencing and discovering other passions in life, and new possibilities the future can hold.
What Do FORMER World-Class Athletes Do?
Most wish to remain close to their professions, the only world they know – as coaches, scouts, broadcasters, educators, or agents.
A 2002 study requested by the NHL Alumni Association and conducted by the Professional
Athlete Transition Institute, was sent to the 2,136 former NHL players. The study showed 38% wished to stay involved in the game, while o
thers were interested in branching out and trying something new. Player options included entrepreneurial ventures, business management, or professional services positions such as financial planners, consultants, sales professionals, realtors and law – careers where they could leverage their athletic brand and competencies which fueled their success on the ice as elite athletes.
Three ACTION Steps:
How to
Prepare & Perform Like an Elite Athlete in the Business World
1 - KNOW Yourself to Grow Yourself
It's time to gain an understanding of who you are away from the game and to gain some clarity about your life purpose through an honest self-assessment. Assessments are used for continuous learning and improvement. Much like an annual health physical, this essential process helps you better understand what it is you do well and what you should be focusing on.
An Assessment Coach can help provide you with insightful tools and tips so you know how to be in the best possible shape for the competitive "game of life". Armed with an inventory of your internal strengths, weaknesses, core competencies, interests, values, and passions, you can begin to
design a strategy to pursue your
next dream.
2 - Find a BUSINESS COACH for the Game of Life
You will want to access a business coach for the same reason you have coaches in your sport – you want and need someone to work with you, to encourage and develop you, and to push you to the next level of success. Your Coach will become another trusted advisor, along with your agent, on the most important aspects of your life, career, and business, or entrepreneurial initiatives. Leveraging your personality assessment, together you can begin to explore different ways to improve your overall business acumen and implement your strategic off-season or post-game career or business plan.
3 - Develop a Passion While You Are STILL Playing the Game
Now is the time to explore and create an in-season or off-season action plan that will help you better
understand
your other passions and unlock your other talents, so you can proactively take control of your life after sports. Armed with a better understanding of who you are and what excites you away from the game, from start-up to giving back causes, your Game of Life coaches will help you take small steps that will ensure a lifetime of success.
Time invested with leading business / executive coaches is as little as 2 hours a month. Access is by phone from the convenience of your home or hotel. The real value of coaching is that it helps you capitalize and leverage your active athlete brand while you can, improving your outcomes and driving tangible results for life.
Make the BREAK – Pass on the Comeback!
Hopefully this information will inspire or guide you as you plan the vision of the life you will eventually need to recreate. Taking these steps now will enhance your ability to leave the game on your own terms, helping you embark on a new journey, as a successful "corporate athlete" or entrepreneur, or philanthropist. If you proactively prepare for it, if you take ownership of your future by exploring your post-game options, you'll likely be able to live a second dream, which too often eludes world-class athletes. After all, as other retired athletes found out, a life of recreational golfing will not enhance your self-worth and will not lead to a lifetime of passion, fulfillment, and purpose.
Joe Jackman founded remBrand Sports in 2004.