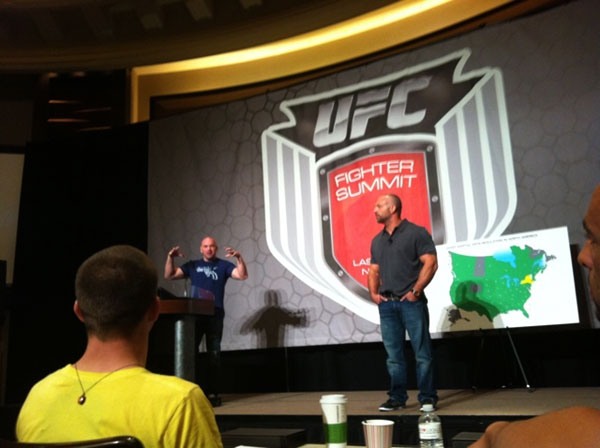 In a May 10, 2011 Yahoo! Sports website article entitled Fighter summit educates about finances, author Kevin Iole showed his readers that athlete education about a variety of subject areas that are closely related to the athlete's professional status is on the rise. Iole's article explained how the recent third annual Ultimate Fighting Championship (UFC) Fighter Summit focused much of its attention on teaching the pro fighters how to apply their training discipline to the management of their money, as well as to other important life decisions.
I regard this as a highly encouraging sign that there's a real growing market among some athletes for learning how to be smart about leveraging their influential social roles to achieve lasting benefits for themselves, their families, and their communities. And the more this market of life-long learners grows, the bigger the part pro athletes will be poised to play in inspiring young people to develop the kinds of multi-dimensional decision-making skills that will help our country's future leaders to respond effectively to the new and different challenges that we're all facing.
Whenever I read stories about guys like all-pro tight end Tony Gonzalez or former all-pro linebacker LaVar Arrington, among others, making the most of their life opportunities beyond pro football, I get an increasingly hopeful feeling that the stage is being set for pro athletes to show others how to get and stay in "the zone" off the field as well as on it. After all, the holistic thinking, precise mental focus, and painstakingly consistent ritualistic performance preparation behaviors that all highly tuned athletes must sustain can easily translate to any type of human activity. Therefore, all a pro athlete really needs in order to taste similar success outside of his or her sport is a strong desire to make it happen and effectively conveyed guiding information that emphasizes practical how-to tools and techniques.
Presently, Access Athletes, LLC and a variety of others have committed themselves to helping those athletes who wish to be wise enough to prepare properly for life after their playing days are over. I predict that slowly but surely, due in part to the efforts of these up-and-coming pioneers of pro athlete life education, the numbers of these well-rounded athletes will rise to a point where they can no longer be overlooked or overshadowed. And yes, naysayers who believe that almost all pro athletes are hopelessly spoiled brats with no prospects for wising up are still in plentiful supply.
But despite the intriguing high-profile stories of athletes misbehaving, in the long run another story—a much more positive role-setting one—will elbow its way into the lane to take its place as a behavioral norm among athletes. This future norm may not have arrived yet, but now isn't the time to abandon that dream. As Kevin Iole showed, we've just begun to take our first baby steps toward the future we want. And who doesn't want to watch with joy as a small child takes his or her first steps?