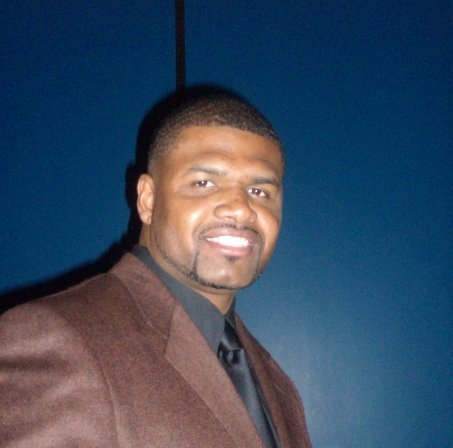 With the second month of 2011 coming to a close, you may be finding yourself with a few less gym visits than you had planned. Or you may have let those pesky sweets that you swore off January 1st make their way into your grocery bag. It's the weather… It's hard… It's the end of football for seven whole months. Whatever the excuse, you are lacking the inspiration.
I'm about to present you with true inspiration. A kind of inspiration that is only found in each other.
Corey Jackson grew up in a town of a few hundred people in rural South Carolina. Corey was a basketball player. In high school, he was highly decorated, averaging twenty plus points per game, and snagging double digit rebounds. He had his eyes set on a division I scholarship, his dream since he was a little boy. Corey's junior year arrived and he sat down with a guidance counselor. The counselor reviewed his average grades and recommended that he look into learning a trade skill. Corey was floored, devastated by his counselor's bleak recommendations. At 16, an adult looked him in the face and not only told him he wasn't good enough academically but that he wasn't good enough to even pursue his dreams.
Corey excelled on the court his senior year. His numbers were high and his hopes were higher.
The scholarship didn't come and Corey couldn't afford to go to college.
"I just continued on," he explained to me.
Corey took a job at the local Wal-Mart that summer, making $7 an hour. His family, friends and classmates would ask him when they saw him in the store, Corey, aren't you going to school? Where did you sign? The summer turned into winter and winter into spring.
"My cousin called me up one day and said, Hey man do you still want to go to school and play basketball? And I said yeah, but it has been almost a year and I didn't have any money. I couldn't afford to do it. He said, well I heard of this school out in Texas called Ranger. Let me give you the information. I said I'd never been out of the state of South Carolina so I probably wouldn't go, plus I didn't have a scholarship. How could I do it? He made me take the information anyway."
Corey just kept going. At the beginning of that August, he knew he had to do something. His level of misery and disgust had reached an all-time high. The loss of his athletic identity and the possibility that he may never be able to follow his dream were driving him crazy.
It happened quickly and almost inexplicably. Corey passed the bus station on his way into town one morning. He couldn't help it but he turned his car around and pulled into the lot. He walked into the office and asked the woman what it would cost to get to Ranger, Texas.
"She asked me if I want a one-way or a round-trip. I said give me a one-way. She looked it up and said it was $104. I reached into my pocket and I started counting and I barely had enough. I gave her the $104 and she handed me a ticket. I walked out of the bus station thinking what did I just do, why did I just do this? Once I left the bus station, I started telling everyone I knew that I was going to college. That is what I wanted to do."
Corey rushed home to share the news with his friends and family. They asked him fair questions: Who do you know in Texas? Nobody. Do they know you are coming? No. How are you going to pay for it? I don't know.
With two bags and a couple dollars in his pocket, Corey boarded the Texas-bound Greyhound.
"As I got on that bus, I have to be honest about how I felt. I felt miserable. It was physically painful for me to get on that bus. Fear… I was so afraid. Fear was constantly talking to me, asking me why was I doing this. This is crazy. You're nuts. You're insane. You don't know anybody there."
Corey's chest was tight and his stomach in knots. But he couldn't move from his seat.
At the first designated stop, Corey couldn't quiet the voice in his head telling him to get off before he got too far away. His warring mind and body made him feel like he was going to explode, right there. Corey spent two whole days on that bus.
The bus pulled into Eastland, Texas, the closest stop to Ranger. Corey finally got off the bus and headed to the pay phone to make his most important call.
"A woman came on the phone and I asked if I could speak to the basketball coach. She transferred me. The man introduced himself as Todd Neighbors, the head basketball coach at Ranger College. How can I help you? I immediately started talking. My name is Corey Jackson, I'm from South Carolina, I'm a basketball player and I've come to play basketball for you…"
Coach Neighbors informed Corey that he would need his coach to contact him if he was even going to think about recruiting him.
"And I said, well coach, I can't do that."
Taken aback, Coach Neighbors asked why not.
"I said, I'm here. I'm at the bus station and I need a ride."
Corey's heart was pounding. There was a long silence over the phone.
"Corey, how good are you? He asked me. When I began to speak I said Coach, I'm 6'8." I'm not sure why I said 6'8." It just came out. He hung up saying, If you aren't 6'8", I'm leaving you at the bus station."
Being 6'6," Corey had reached a new level of nervousness. He waited, bags in hand, trying to stand as tall and proper as possible. A car pulled up. Coach Neighbors, looked him up and down. He motioned him in. Apparently those missing two inches didn't bother him too much.
"The conversation went like this: This is a four-year school. You aren't even enrolled in the school. And furthermore, I don't know if you can even get into school. And I have 14 players on my team and I don't even need a basketball player. And I don't have a scholarship for you, so I don't know how you are going to pay for school."
All that Coach could do was drop Corey off at the administration building and see if he could enroll. That day was the first day of classes.
"As I got out of the car he told me the guys were playing pick up a little later on and if I wanted I could stop by."
Corey waited while they reviewed his transcripts. There was no financial aid available but they agreed to let him in. Corey was ecstatic, grabbed his bags and headed to the gym.
Corey attended a Class A high school in South Carolina. It was clear from watching the guys get up and down the court that they were used to a faster and stronger level of play. Coach told him to jump in the next game.
The first couple trips down the court, no one passed Corey the ball. Then one of his teammates shot a jumper and the ball bounced off the back of the rim. Corey went in for the rebound but the ball kept going higher and higher. Corey stretched to get his fingers around the ball. The guys fell away underneath him. Corey found himself face-to-face with the rim and slammed the ball home. The rim made that glorious slapping noise and Corey came back down to Earth with Coach Neighbors standing right there.
"Everyone stopped, nobody moved. Coach Neighbors said, Come here. So I walked up to him and I noticed that he had t-shirts and jerseys in his hands. He said, Look, I don't know where you came from and why you came here but I'm glad you're here. You don't have to worry about anything. I want you on my team."
From that day on, Corey was a scholarship athlete. He competed at Ranger College for two years (1998-2000), where he averaged 16.5 points per game and 11.5 rebounds per game. The 6'6" forward was also awarded First Team All-Defense honors.
Corey then successfully transferred to the University of Nevada-Reno in 2000. As a member of the Wolf Pack squad, Corey earned all-WAC honors, scoring 9.8 points per game and 11.1 rebounds per game in the 2001-2002 season. He was sixth in the nation in rebounds, team captain and named Most Valuable Player. Yet again, Corey sought to compete at the next level—the NBA. Corey went undrafted that year and spent the summer in Long Beach playing in the Southern California Summer Pro League ("SPL") with other free agents in hopes of impressing the scouts. Again, the scouts told him he wasn't tall enough to play power forward in the NBA. With offers from European teams, Corey decided to finish his degree and then make the trek overseas.
Literally a big man on campus, Corey was approached by one of the football coaches a few weeks later. The coach wanted to make sure that Corey understood that he actually had another year of eligibility due to NCAA rules. He had exhausted his four years of eligibility in basketball but he still had another eligible year for any other sport. The football coach suggested he throw on some pads and come out to practice.
Initially, Corey was hesitant. He hadn't played football since junior high and he had just spent the last four years of his life on a basketball court. Of course, Corey had to try it.
"I get my helmet, my pads, my cleats. I put all my equipment on. I put myself in the mindset that I'm a great athlete and I know I can do well. And I literally stunk it up! I couldn't do anything right. I was so bad to the point where a few of my teammates came up to me and were like, Corey, we know you're a great athlete and we know you can go to Europe and make money. You should probably just quit and focus on basketball."
But Corey kept going, every week getting a little better. The final game of the season came and Corey made his first and only collegiate tackle. The team celebrated and Corey went back to what he knows best, basketball.
The semester was coming to a close. Corey was at his apartment relaxing when he received a call from one of his football coaches. It was pro day and several NFL scouts were on campus. They'd asked about Corey and wanted to put him through a workout. Without hesistation, Corey agreed and he gave it all he could. Following the session, he thanked the scouts and headed back to his apartment.
"I assumed I didn't do that well. Then I got in my car and my phone rang. It was an agent. He introduced himself and said that he'd heard that I had a great workout and asked if he could represent me."
Corey was shocked. He'd gone from a talented basketball player working hard to get into the NBA, to an NFL football prospect in less than a year! The next few weeks were spent talking with interested teams leading up to the draft. Corey still couldn't believe it.
Draft day arrived. Corey tuned in on day two but watched as the sixth and seventh rounds passed. Disappointed, Corey turned off the TV. Minutes later, his phone rang.
"A man was congratulating me for becoming a Cleveland Brown. They wanted to sign me as a free agent. I was speechless. He was talking about my flight schedule to get out to practice."
It hit Corey shortly thereafter.
"I almost didn't do it. I almost didn't have an opportunity to live out my dreams and reach the expectations that I had for myself. The opportunity to overcome that fear, step out of that fear, and to get on the bus actually led to me experience my greatest possible life."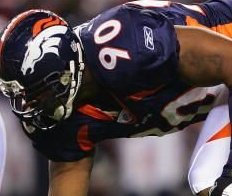 Corey would go on to play in the NFL as a defensive end from 2003 to 2006 with the Browns and the Denver Broncos until injuries forced him to retire. He spent the 2004 season in NFL Europe, where he won Defensive MVP of the league. In retirement, Corey has parlayed his inspirational story into a successful motivational speaking career. He has also started his own real estate investment group called Stone Lion.
Corey's story touches so many people on different levels because it shows how close we are to living out our dreams. You are always just one decision away. You have the incredible and real power to make the change.
"It is not because I am different or special but it was because I made a decision. And that is what we have to do. We have to make decisions that will be drastic enough to change our situations."
True inspiration is rare. Not that a good meal can't knock your socks off or that a song can't speak to you in a way that no one else can. I'm talking about the feeling that you never forget. The goosebumps. The need to tell everyone and anyone that will listen. The consciousness that comes from being aware of the very moment. Inspiration that is practically tangible because of the extraordinary feeling with which you are left. This is a real. This is the best inspiration.