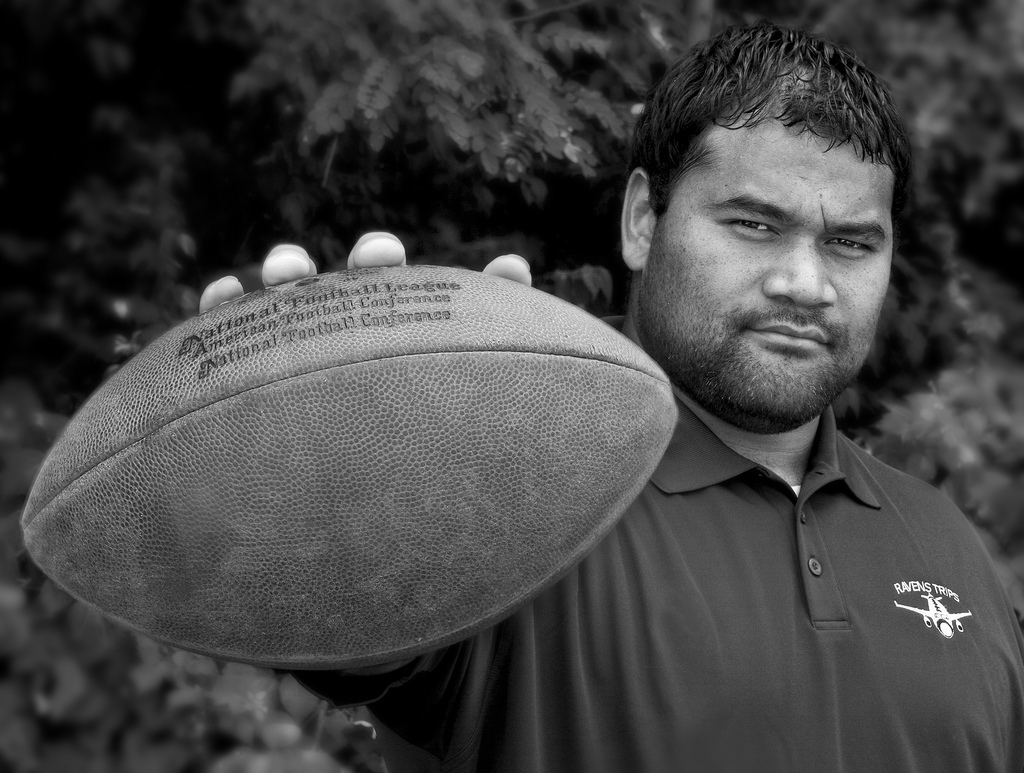 Haloti Ngata, 27, is widely considered one of the best defensive tackles in the NFL. The six-year veteran of the Baltimore Ravens earned his third consecutive trip to the Pro Bowl this season after recording 64 tackles, a career high, and adding 5 sacks. At 6-foot-4, 330-pounds, the versatile and freakishly athletic one-man wrecking crew is one of the anchors of the Ravens' long vaunted 3-4 hybrid defense. Ngata and his Ravens will head to Foxborough next weekend to face Tom Brady and the New England Patriots in the AFC Championship Game.
Ngata spoke to Access Athletes at Anquan Boldin's Inaugural Fundraiser Dinner about his approach to being a pro athlete off the field.
Q: Start off by telling me what it means to you to be a pro athlete and how you leverage your celebrity to give back to the community.
Ngata: It's huge for me. I've always wanted to be an NFL football player. I've always dreamed it. I always have looked up to guys like I could kind of be like, guys like Reggie White. That kind of person where he was a great football player, but then off the field he was a great man, a great father, and a great god-fearing man. So that's the person I looked up to and hopefully I can be that same kind of person. So now that I'm here at Anquan's charity dinner and doing things like this, hopefully the guys that are coming up seeing us doing these things understand that yeah you're getting paid a lot and you got a lot of blessings and talent from God, but you definitely have to give back to your community to whatever things you want to do. It doesn't have to be what somebody else wants; it's whatever you want to have happen. So it's great that Anquan can do some things like this and that all of us teammates that are here can be here to support him and help give back—and then we know Anquan would do the same thing for us.
Q: What advice would you lend to aspiring pro athletes in terms of how to prepare themselves to give back from an early age?
Ngata: I've always lived on a phrase "Good is the worst enemy of the best." If you settle for good, that's all you're going to get. And then if you want to be the best, then you have to always strive to be extraordinary. Do the extra things. Do things that nobody is going to see. It's not only just in football. Be where you're the best at being a brother, a son, a church-goer, whatever you want it to be. But be the best at that thing, and never settle for good.
Q: What words of wisdom can you give to the rookies who will be coming into the league next year on how to get acclimated to the lifestyle of a pro athlete?
Ngata: Well, all I'll say is just be yourself. So, any rookie or any person who asks me "how do you conduct yourself? Do you do this or that?" I'm like "no." I don't love jewelry, so I don't wear it. I don't love dressing up, so I wear shorts and sandals all the time. That's who I am and that's who I'll always be. So, I don't change myself for anyone. Just be yourself and you're pretty much going to be fine—because if you've been yourself through high school and throughout college, you should be fine in the NFL.
Q: How do you avoid the temptations and the pitfalls of being a pro athlete, with everybody coming at you and constantly soliciting you with business offers?
Ngata: For that, you just have to learn how to say no. But you also have to have a team of guys that you trust that can say no for you. I have a team of financial planners, CPAs, and all those guys. So I can just say to whoever comes to me, "hey, just talk to my financial planner about this. He's going to ask you some questions, and if he doesn't like it then I'm not going to like it." It's great that I can shuffle guys through that. But if I'm interested in something, I would definitely take a good look at it. But if it's something that I don't think it's that worth going into or sketchy, then I wouldn't even consider it.
Photo courtesy of Kevin B. Moore