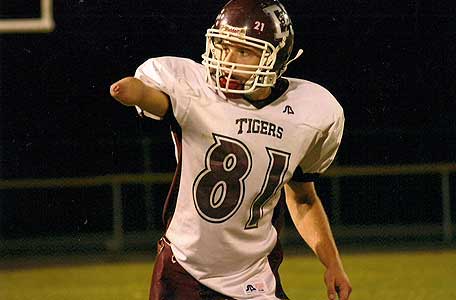 If you passed Chance Anthony on the street, you might not guess that he was a high school football player, and you almost certainly wouldn't guess that he recently won one of the most coveted awards granted within his sport: the High School Football Rudy Awards, which searches for the most inspirational football players in America who best demonstrate the exemplary values of football legend Daniel 'Rudy' Ruettiger, the iconic figure of the classic football film Rudy. The Awards seek to find those players who best define what Rudy refers to as the "The Four C's": Character, Courage, Contribution, and Commitment. As the first-place winner, Chance received a $10,000 academic scholarship.
Although he has the strong physique and size of many high school football players, Chance is different from most in one significant way: one of his arms is normally formed, but the other ends at the elbow. But his parents set an example for him from day one that he could probably do just about anything his peers could. As a doctor told them around the time of Chance's birth, Chance would never know his body any other way; to him, his status would feel normal, and he would learn what his body was capable of doing as he grew the same way any other child would.
This is a sentiment that
Insightful Player™
team member
Kevin Reilly
would no doubt applaud. In the 1970s, Kevin played pro football with the Eagles and the Patriots, and he too has learned to overcome the disability of a missing limb.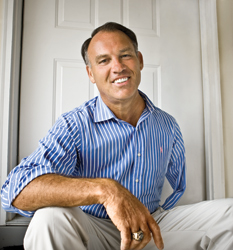 But Kevin's story is different in that unlike Chance, he went through the first few decades of his life as a regularly abled person. It wasn't until well into his football career that a persistent injury led to a cancer diagnosis. Eventually, he was subjected to surgery that resulted in the removal of his left arm, much of his left shoulder and five ribs. After knowing what it was like to use his body to peak performance as a linebacker with an award-winning athletic career, Kevin had to relearn skills such as driving and tying a tie.
I chose Kevin Reilly as an Insightful Player™ because of the way he eventually turned adversity into triumph: rising from the depths of physical and emotional despair to take on several more professional roles long beyond the time that his life as a football player ended.
Insightful Player™ – a bold movement of hope committed to lifting the spirit of the human race, starting with our kids – has as its goal putting high integrity NFL players on the largest stage in the world to share their personal heartfelt story to inspire all, especially kids. Each Insightful Player™ story shows solid evidence of the immense power of the human spirit – demonstrated by men who have already shown their immense physical prowess on the football field.
For Kevin Reilly, the challenges began when he faced surgery that could be life-threatening. Seeing a priest at his bedside who gave him communion and the blessing of the sick as he was prepped for the operation intended to remove his cancer, Kevin knew that the presence of the clergyman meant there was the possibility he would not survive. In the few minutes before the anesthesia kicked in, he reflected upon the choices he'd made thus far in his life. Proud as he was of his football days and the new career he'd recently begun as a rising executive at Xerox, he regretted that he had not put more of a priority on his friends and family, including his wife and three children.
Kevin survived the surgery, but the challenges – not only physical but also psychological in nature – did not end there. When it was time to get his first look at the results of the operation, he asked his friend and fellow NFL player John Bunting to be at his side, and both men later admitted to being shocked at the extent of the damage done to Kevin's body.
Kevin remembers, "Immediately following the surgery everyone treated me differently. I was getting pampered in a lot of ways, and well-meaning people were feeling sorry for me. That wasn't my M.O. I didn't want people feeling sorry for me. It just made me feel sorry for myself. I began to spiral down into a sea of negativity."
But the spiral ended abruptly when he received a phone call from Rocky Bleier, former Steelers superstar. After Rocky's 1968 rookie season, he was drafted into the Army and sent to Vietnam, where he was severely injured. The doctors told him he would never play football again. Rocky defied all odds and went on to win four Super Bowls.
Kevin says, "I told Rocky that [the medical team] painted a picture for me that was very bleak. He pointed out to me that the Titanic was built by experts, too, and the Ark was built by amateurs. Rocky's words created a real turning point for me. I finally had the courage to read all the unopened cards and letters I had received from family, friends, and fans I had never met. They all had the same message: They were praying for me and knew I would come back. I felt I owed it to my family, my supporters, and the general public to make a comeback. It solidified that I was going to be the best one-armed person going forward."
After that, Kevin took on his rehabilitation with all his might and pushed himself further and harder than anyone thought possible, returning to his post-football career as a Xerox employee (and eventually becoming a senior executive there); becoming a radio announcer for the Philadelphia Eagles on stations WYSP and WDEL; taking up the sport of racquetball; and eventually running six half-marathons and one full-marathon. Now a grandfather approaching his 60's, Kevin remains committed to physical fitness and works out three to four days a week.
Still, in those early years after the surgery, not only the nature of his disability but also its origin continued to provide mental obstacles for Kevin. He worried that his cancer would return and that he would be unable to care for his wife and children. He worried about losing his job with Xerox.
It would be more than a decade before his doctors gave Kevin a clean bill of health. But life continued to present its own set of challenges. When his children were in college, his 20-year marriage dissolved, and the divorce proved more emotionally crushing to Kevin than anything health-related that had happened to him. His moderate drinking habit escalated until friends began urging him to seek treatment for substance abuse. Heeding their warnings and ultimately grateful for their concern, Kevin followed his friends' advice and joined AA. He has since been sober for more than three years.
Today, Kevin thrives on giving to others and has realized that the more he does for others, the better he feels about himself. Along with volunteering to work with amputee soldiers at the Walter Reed Army Medical Center in Washington, DC, after retiring from Xerox he embarked upon a career as a motivational speaker and trainer, serving as a model for how to make the best of yourself regardless of your particular circumstances.
Howie Long
, Fox NFL
Football Analyst and NFL Hall of Famer, said "Kevin literally brings audiences to their feet with his inspiring story. They should create a special Hall of Fame for people like him."
His belief that those who have faced challenges of their own are best positioned to inspire others, especially young people, probably resonates with Rudy winner Chance Anthony. As Kevin says, adults who share their stories of hardship with kids give the young people the motivation to keep striving, and kids who reach out to others are often the best source of succor for young people going through difficult times.
Both men – the teen who has faced physical challenges all his life and the retired NFL player who saw his body greatly diminished through the ravages of illness – are tremendous role models, proving the value of being able to face down adversity and using it to inspire others. They embody the spirit and the drive of the Insightful Player™ bold movement of hope.