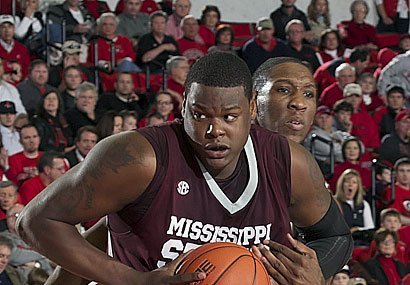 Renardo Sidney appears to be back on track thanks to a second chance. His team and coaching staff have accepted the past incidents and are moving forward. Sidney was ruled ineligible for his entire freshman year and part of this season due to NCAA infractions. In his sophomore season, he has missed 12 of the 25 games Mississippi State has played this year. Following his two-game suspension in late December after a highly-publicized brawl with teammate Elgin Bailey in the stands of a tournament in Honolulu, the 6-foot-10, 275-pound big man has been averaging 12.9 PPG and a team-leading 7.4 RPG for the Bulldogs.
As for everyone, in or out of the game, we all have things that weigh us down. Sometimes bad decisions have great consequences. Sometimes they are excused by those willing to put up with them. In this case, Sidney is still at a crossroads. His second chance is in his hands now for which he should be grateful. What he does for the remainder of the season will dictate much in terms of his future in and out of the game. The jury is out, but it is encouraging that MSU has become a land of second chances for him.
In 20 years of college coaching, I've seen just about everything. Great high school players are coddled to the point of absurdity. Once they arrive on the college campus, they are introduced to an entirely new world. Discipline, promptness, respect, and humility are required daily for student-athletes. Some can handle it and some can't.
Fortunately, athletic departments are equipped with a support team and can help the transition in major ways. Sport psychologists, trainers, team doctors, administrative personnel, life mentors, and coaching staffs are trained to work with student-athletes and can make a world of difference. Even with this support at their disposal, some players are not ready for reality and refuse to listen. Some will not seek or accept help. This is why participation in collegiate athletics is an incredible training ground for life. Difficult times on the basketball floor and in personal life are small in comparison to life's adversities that await young men and women.
Hopefully Sidney will continue to embrace the support and second chance he has been given. If so it will make all the difference to his future.
Randy Brown is a former Division I Basketball Coach and Founder of CoachRB, a one-stop destination for basketball coaches at every level around the world. CoachRB offers a unique mentoring program for aspiring and current college men's and woman's basketball coaches.