Dominique Blake is a professional track and field runner representing Jamaica. As a highly accomplished 400-meter dash sprinter, Blake ran for Penn State University from 2004-2008 where she achieved All-American status and set several school and Big Ten Conference records. She has competed in both the 2008 U.S. Olympic Trials in Eugene, Oregon as well as on the European Circuit. In 2008, she competed in Finland and Ireland as an individual athlete, winning and taking home prize money. In addition, Blake is the reigning 2010 Central American and Caribbean Sports Games Champion and participated in the 2010 Commonwealth Games in Delhi, India.
As a track star at Penn State, Blake was a member of the 2008 NCAA National Championship 4 x 400 meter relay team, which went undefeated during the 2008 outdoor season. The elite foursome of Blake, Aleesha Barber, Gayle Hunter, and Shana Cox only raced on three occasions in 2008
—T
he Penn Relays, the NCAA East Regional, and the NCAA Championships
—
but they dominated their opponents and won all three of the major invitational meets
—
setting several records along the way. To close out the memorable NCAA season, Blake was ranked Top 10 overall in the final open 400 meter standings.
Although she came up short of her Olympic dreams in 2008 (she only advanced to the semi-finals in attempting to qualify for Team USA for the open 400), she is still chasing her dreams. In 2010, Blake joined up with Team Jamaica and is currently focusing on the open 400. She is competing at the Jamaican Nationals from June 23-26, where she will attempt to qualify for the
2011 IAFF World Championships
in Daegu, Korea in the open 400m.
Because of Blake's accomplishments on the track, her superstar status is on the rise and she has recently drawn the interest of several new sponsors. This past May she inked a sponsorship deal
with

Oxygen 4 Energy

(O4E), a California-based company that sells portable canned oxygen supplements

—

which she does in fact use. In addition to O4E, she is also sponsored by

Gymkhana

, which is located in Kingston, Jamaica.
Adding to her accomplished track career, Blake spends a great deal of her off-time as the C.E.O. of Black Knight Investments Ltd, a Jamaican company that specializes in real estate investments.
Blake is also a philanthropist at heart, believing that it's extremely important to give back in any way that she can. She regularly speaks to young children in her community's church and a select few high school teams throughout the inner city school districts of New York City. She frequently donates apparel and equipment to her school teams and to others in need. As if she doesn't already give back to the community enough, Blake also contributes to her favorite charity,
The Boys and Girls Club of Mount Vernon, NY
. The mission of the Boys and Girls Club of Mount Vernon is to help all youth, especially those from high-risk neighborhoods, make the most of their lives.
Blake actively mentors both her niece and collegians who are also inspired by her to pursue athletics, not just track and field. All the while, she gives credit to both of her mentors
—
her mother, Valerie Blake, and her Penn State coach,
Chris Johnson
—
for helping her get to where she is today.
GENERAL BACKGROUND INFORMATION
AA: What first attracted you to the sport of track and field?
Dominique Blake: Track and field came very natural to me from grade school. In the Caribbean, schools have a fun day that all children participate in. Most of the activities include running. At that time I guess it was very obvious to my peers, family members and school officials that there was something special about me athletically.
AA: What drives you? Who's your biggest inspiration and where do you get your ambition for success?
Dominique Blake:
The passion of sport drives me and allows me to be happy about doing it every day. My biggest inspiration would have to be my family and all the individuals who look up to me. I don't believe pure success comes from a selfish place. There is a formula, I believe, that exists that consists of a certain amount of selfishness and discipline mixed in with selflessness. My ambition for success comes from my parents and how they raised me to strive for success in every area of my life.
AA: What's the biggest hurdle you've had to overcome in terms of track and field and what advice would you give people who are trying to overcome adversity?
Dominique Blake: The biggest hurdle I have had to overcome in track and field is losing my dad. No one can or will ever understand what it's like to lose a parent, who is very influential in your life, until they have actually experienced it. He, along with my mom, have instilled great life values that have made me the successful woman I am today. For that, I will be forever grateful. My advice for anyone facing adversity would be that everyone on this planet has a different life path and that no person should compare themself to another. I firmly believe that God has a plan for us and anything that we experience is a building block to get us closer to where we need to be.
THE 2012 OLYMPICS
AA: What does it feel like to represent Jamaica?
Dominique Blake: It is the most proud feeling to be able to represent your country. I now have a duty to serve and represent Jamaica, to the best of my abilities, every time I step on the track.
AA: What are your goals, both short-term and long-term?
Dominique Blake: My short-term goals are to stay healthy throughout the season, continue to get stronger in the weight room, and to PR [personal record] in my main event and the 200m this outdoor season. I also want to qualify for the World Championships in Daegu, Korea. My long-term goals would be staying focused and connected to my passion and God, Run a sub 50 seconds in the 400m, and to win gold in the upcoming Olympics and other major championships.
AA: What are your goals and aspirations for 2012? Who will be your toughest competition?
Dominique Blake:
My goals and aspirations for 2012 are pretty simple. I want to continue to be hungry, inspired, and successful in all areas of my life. Not just track and field but with family, business, friends, and just life in general. I believe that all things work together to make everything better. My toughest competition will be myself. My coach always tells me "you can be your best friend or your worst enemy. Once you get out of your own way, then you'll master being the best you can be."
AA: As many know, Jamaica is typically one of the powerhouses in sprint. What, in your opinion, has given Jamaica the edge?
Dominique Blake: I'm not very sure on the specifics of what has made Jamaica such a powerhouse in sprints. All I can say is that there is amazing talent in that region of the world and we have learned how to master the art of what we do best. It is no different than how you will find amazing distant talent in Kenya and Ethiopia and those places in the world. They have also realized their strength and continue to dominate in that event area.
AA: What is your affiliation with Jamaican track legend and world-record holder Usain Bolt, and Asafa Powell as well?
Dominique Blake: Usain and I are in the same training camp in Jamaica (Racers Track Club) and we train together when I'm home on the island. My experience training with Bolt is rather enjoyable. He is very laid back and loves to have fun with whatever he's doing. So it creates a very competitive, fun environment. Asafa and I are not affiliated with the same group. He belongs to MVP training camp. We only represent the same country; we are not training partners.
TRAINING/TRACK & FIELD DEVELOPMENT
AA: What's your training regimen like?
Dominique Blake: My training regimen goes in cycles depending on the time of year. There is pre-season training where we go on long runs and do activities to build a great strength base. There is early-season, where we are doing long intervals at mid-speed with an extended amount of recovery. There is in-season training, where we start to speed things up with little recovery. This prepares our bodies to compete and maintain speed, strength, and endurance all at the same time. Lastly, there is post-season training… In the post-season, as elite athletes, it is important at this point to maintain speed and hold on to all of the strength for as long as you can.
AA: What has your development as a professional athlete been like?
Dominique Blake:
My development as a professional athlete was very typical but interesting at the same time. I decided long ago, from high school that I wanted to be a professional athlete and it was my lifelong dream and goal. As soon as I concluded my collegiate career at PSU, I continued training over the summer and went on the European circuit to compete as a pro. The 2009 indoor season would be short lived. I had one meet in Canada and then got news from my family that I needed to move immediately to Jamaica, where my career came to an end, or so I thought. It would only be 10 months until I realized that it was possible for me to resume where I left off. I then began training with Racers track club in Kingston.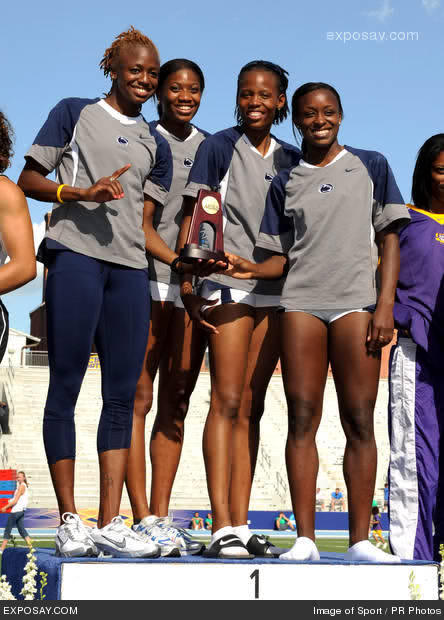 AA: How has your experience at Penn State shaped you as an athlete?
Dominique Blake: My experience at PSU as a student athlete shaped me with great structure and pride. I carry around a sense of respect and honor being a Penn State Alum and student-athlete. The Family I have created out of teammates and staff is like no other. We are there for each other and get together every chance we get.
AA: As a former college athlete, how did you balance school and a demanding track schedule?
Dominique Blake: As a former student athlete, I utilized all of my resources to help me ease any kind of academic stress that could possibly interfere with athletics. I used a planner and an academic advisor to assist me in keeping track of all my academic demands. I structured them around my track schedule so they would not be a headache.
AA: How do you enjoy training in Pennsylvania as compared to your home country? Do you feel that you receive better coaching and guidance in the states as opposed to Jamaica?
Dominique Blake: Training in both places has been a spectacular experience. Training in state college is great. It's where I went to school and it's more of a "home-y" feeling. There is a fantastic outdoor and multi-indoor sport facility, which are all the things an athlete could ever need under one roof. My coach at State College, Chris Johnson, is amazing and is like a dad to me. He is, and has been, one of the most influential people in my life for many years. Training in Jamaica was great too. I got to meet new athletes and coaches and made some lifelong friendships. Head coach Glen Mills oversees the group and sprints, while Coach Bert Cameron coaches the 1/4 miler group. I fell immediately in love with the group and found a second family there. Both places are conducive and healthy for my success in becoming an Olympic gold medalist.
AA: What advice would you give to new runners? How about college and elite runners?
Dominique Blake: I would tell new runners to stay focused, train hard, and remember to always have fun when doing track. If you are not having fun or loving what you do, it's pointless. My advice to college athletes is, remember to always maintain a good healthy balance with your academics, athletics, and social time. Those three things, if not balanced carefully, can ruin or bring great success to any student athlete. To elite athletes, my advice is to stay focused, hungry, and motivated with your goals. You can never get too old or successful to not need those words.
AA: What should college or high school athletes do to prepare for the next level of competition?
Dominique Blake: College athletes have to make sure the level of talent and attitude is there to cross over to being elite. High school students need to make sure their grades and performances are outstanding enough to catch the eye of college recruiters from universities. More than or equally as important as track, good grades are a must.
AA: What is the best advice you've received in terms of running?
Dominique Blake: The best advice I've received in terms of running is, "Always remember that track is 90% mental and 10% physical."
AA: Do you have a method for how you run races? Do you take a reserved start, do you like to lead the pack, and do you like to creep in from behind?
Dominique Blake:
I have a different approach depending on the level of competition and whatever my coach decides is the best approach on that particular day. He's the coach, so I carry out whatever he comes up with.
AA: What are your favorite and least favorite workouts? What's the best way to reduce your sprinting times?
Dominique Blake: My favorite workout would be speedy intervals with a hint of over distance in between, with the appropriate rest time. I don't really have a least favorite workout. My body can pretty much withstand anything my coach comes up with, so it just depends on my body on that particular day and how I'm feeling. The best way to reduce sprinting times is practicing proper running technique and repetitions of speed runs.
AA: Do you cross train? If so, what kind of activities do you do?
Dominique Blake: I do plyometrics with the jumps coach. We do different types of bounding exercises to strengthen different muscles in the legs. In addition to the plyometrics, there are jumping activities with boxes and med balls to sharpen fast twitch muscles.
AA. How do you prevent injuries and burn out?
Dominique Blake: I do my best to prevent injuries by going into a direct cool down every day after my work out. Immediately after, I stretch, use a foam roller on my hamstrings/quads, and finally I take an ice bath. Twice a week a massage is necessary to flush out the kinks only human hands can get to. To prevent getting burned out, it is important to get proper recovery once your season has ended. Taking time off from track is very important. Going on vacation, moderate long runs, and maintaining fitness is still mandatory.
AA: Do you approach running at the world level differently than running on different circuits?
Dominique Blake: The stakes are certainly higher at the world level because it's not so much about you as the individual but more so the whole entire country you are from. The circuits are more based on you, as an individual, and racking up prizes and bonuses.
AA: How do you prepare for a race and what's the best way to reduce race anxiety?
Dominique Blake: I have a good breakfast, stay off my feet, elevate them from time to time, keep my body hydrated, speak to myself with positive words (prayer), listen to good music, and go over my race strategy in my head. The best way to reduce anxiety, in my opinion, is to work hard in practice, that way you can go into the race knowing you have done all you can do up to that point to prepare yourself. I think crazy anxiety comes from uncertainty. If you know that there is nothing else you could have possibly done, then all that's left is execution.
AA: Do you approach the 800m differently than a 400m? (The 800 is becoming more of a sprint than a mid-distance event).
Dominique Blake: The 800m is a far more tactical race than the 400m. You have to consider body positioning while running among the other participating athletes. Also, the 800 calls for more endurance speed in comparison to the 400. The 400 is in lane all the way and requires you to call on your strength and speed at specific moments and also requires an evenly distributed amount of both.
BUSINESS AND FUTURE ENDEAVORS
AA: Does your primary source of income come from running? Do sponsors and prize money contribute significantly?
Dominique Blake: Growing up as a child my parents always made it clear to me and my brother that as successful individuals it is smart to have multiple streams of income, and so I have no one or main source. Sponsors and prize money do contribute to my finances.
AA: You're currently the CEO of Black Knight Investments. How do you manage running a company, in addition to your intense training schedule? What advice can you give other athletes who have other professional obligations in addition to their training?
Dominique Blake: No man is an island. If it weren't for a strong family unit and a reliable staff, none of it would be possible. My advice to other athletes with professional obligations is to make sure you have a sturdy balance with your athletics and your other professional obligations. You cannot allow the outside profession to drain or hinder your ability to perform as an athlete, if athletics is your priority.
AA: What would you like to do once you're done with your track career?
Dominique Blake: Once I'm done with track and field I would like to expand on my real estate ideas and continue in the footsteps of my other family business, which is real estate development and investing. Inspirational guest speaking is something I always wanted to do and is very dear to me as well. Lastly, joining as many charities as my finances will allow definitely tops my list of things I'd like to do after my track career.
AA: Do you have any plans to continue your education?
Dominique Blake: At this point I am content with my degree in media and advertising. People and decisions do change all the time, so who knows. I would never rule it out!
For more information about Dominique Blake, you can visit her athlete profiles at GoPSUSports.com and Oxygen4Energy. You can also follow her on Twitter @dominiqueblake and Facebook at Dominique Blake.