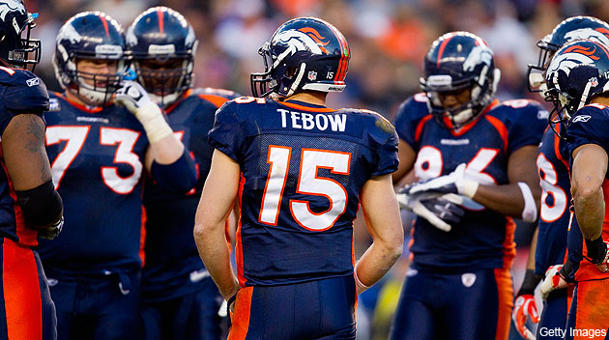 The world has changed. The pace and scope of change in the past ten years has been unprecedented. To succeed in our ever-changing world we need to find new leaders and new ways to lead. The challenges and opportunities we face are huge. To deal with these challenges we need people with diverse skills and perspectives to become leaders. In short, today everyone needs to be a leader.
Tim Tebow has captured the attention of the world. He has done so, because he exemplifies the leader many want to model. He has a mission and that mission gives him power to realize his full potential. And Tebow's leadership comes at a time when Americans have issued a wake-up call to the coercive command and control transactional leaders that a massive shift in the balance of power is underway.
Tebow's leadership exemplifies the three dimensions of leadership necessary in this new world order. The industrial model of leadership has been dismantled brick by brick. We are now in a world that revolves more around sharing of information and the creation of knowledge than one shaped by making and selling things. Education too has seen a change in tools and tactics for educating its customers.
The three dimensions of leadership that participants in the new world order need to be a high-performing leader are self-leadership, leading of others and leading with others. The ability to lead with others is much more complex than the order-giver, order-taker foundation of the industrial age transactional leader.
Tebow is first a leader of self. The best leaders have deep self-knowledge and are willing to commit to higher standards. His standards are higher than any that anyone else could place upon him. Tebow displays his commitment to self-leadership by demonstrating consistency between his words and actions. As his teammates will tell you "he walks his talk." Receiver Eddie Royal says, "there's nothing fake about Tim Tebow. He represents the game of football the right way, by his play, by his emotion, by his enthusiasm. He's the perfect example of the type of guy that you want to be off the field."
It's obvious that Tebow, unlike many leaders we used to consider to be role models, pays constant attention to ethics, integrity, and values. This is responsible leadership.
Tebow's excellence in self-leadership also includes taking the time to reflect, to learn from his and others thoughts, feelings, and actions. He's forever drawing out lessons from his own experiences and thinking deeply about how his actions affect others.
The second dimension of leadership is leading others. To Tebow leadership is a verb. It's about taking action. It's about inspiring his teammates (and the rest of the world) to come along with him. Tebow understands responsible leadership involves developing one's social and emotional intelligence. He's fully aware that what he says and does matters to those around him.
The final dimension of leadership is leading with others. The new world order demands this advanced type of leadership. Many student-athletes, most students for that matter, aren't prepared to lead with others—a distributed leadership model that companies like Google and Facebook employ. Tebow takes the time to build relationships and connect with his teammates so they believe in what he is trying to do—and so they believe in him.
It's clear that Tebow utilizes
trust
as the foundation for building relationships. His leadership resonates with his teammates because of his trustworthiness. T
rust in Tebow stems from the selfless way he uses his energies and abilities for the purposes of the team. He understands that one of the most important ways to wield influence is to share it. This is because no single individual has all the answers or can make all the decisions. He's comfortable leading with others and cares to create a team environment that sparks passion and leads to high performance. This happens because he's genuine and authentic—his teammates want to lead with him.
Many student-athletes don't see themselves as leaders. This happens because from the time we begin to walk what we've been taught—that leadership and authority go hand in hand with certain roles. Our models are our parents, the school principal, teacher, or coach. Certainly these roles require leadership—and our followership. It's simply that for most of us this becomes a process in which we've grown comfortable watching "others" lead.
What's different today is everyone needs to be a leader. And what Tim Tebow illuminates so brightly is the fact that being a leader is not something that happens later. Every day the opportunity to lead stands before you. You must learn to lead and engage in leadership
now
.
Every student-athlete needs to think this way.