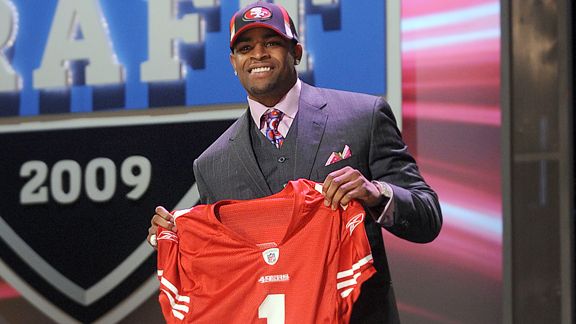 San Francisco 49ers Michael Crabtree's 71-game holdout
officially ended on October 7
,
but while the impasse is now a part of history, there are still some lingering questions.
Did Michael Crabtree end up with a better deal after the lengthy contract dispute?
How valid were the 49ers' tampering allegations against the Jets?
What roles did Deion Sanders and MC Hammer play in the whole thing?
If Crabtree would have missed the November 17 deadline to sign, would he ever have been able to recover and have a successful NFL career?
While that's unquestionably a great topic of discussion for the 49ers faithful and NFL fans across the country, here at The Real Athlete Blog, we are more concerned with addressing a situation like Crabtree's from an athlete's perspective and the far-reaching ramifications such a decision could have on a player's career.
Let's back up for a second and take a look at the first question I posed – did Crabtree end up with a better deal? To answer this question, one must examine the specific numbers and terms of Crabtree's contract and conduct an objective analysis.
The only problem is that every media outlet reported different figures. So, we are just relying on speculation.
Early reports
indicated that Crabtree, the No. 10 pick, balked at a long-standing offer of approximately five years and $20 million, with a reported $16 million guaranteed. Instead, he sought money comparable to what higher draft picks received, such as Oakland Raiders receiver Darrius Heyward-Bey (the No. 7 choice), who signed a five-year contract that guaranteed him at least $23.5 million.
According to ESPN.com
, the Crabtree contract is for six years and $32 million and could top out at $40 million if he achieves every incentive in the deal. The deal is also voidable in the sixth year if certain conditions are met (e.g. Pro Bowl appearance(s) and playing 80% of the offensive snaps). The guarantee in the contract is $17 million, but he is expected to make $19 million over the first three years and $23 million over the first four years. The five-year deal is worth $28 million, according to the source.
If we do a comparison between the original offer and the final deal, on the surface it looks like the Crabtree camp achieved a victory with more in guaranteed money and higher base salary figures. But numbers can be misleading, and without being privy to the actual contract terms, it's impossible to really tell. The contract purportedly has stringent restrictions in the form of attendance clauses and does seem to have some lofty benchmarks that will be difficult for Crabtree to achieve. So maybe the contract is not as good as appears at first glance.
Well, enough with the contract analysis. It's an academic debate based on conjecture with the information we have available. And frankly, it's missing the point…
Even if Crabtree ends up with a few extra million in his pocket over the next 5 years, it didn't seem like a shrewd negotiation strategy to challenge the NFL's rookie slotting system.
Taking such extreme risks is reckless and gambling with your career. There have been many players in the past that have never recovered from getting off to a rough start after a holdout (here's an
awesome article
detailing some of these stories). Look at JaMarcus Russell and Brady Quinn and how their careers have panned out so far.
Now that the hype has died down and Crabtree has a deal, he is just another rookie who has to prove himself on the field, only now the expectations are much higher. There is enormous pressure on him to perform and everyone is waiting to see if all this ballyhoo was worth the billing. That remains to be seen.
The lesson here for athletes is that you must be incredibly careful who you select as your advisor because when you embark on your pro career, the path you choose, can either make or break you. It is hard to imagine that Crabtree was really willing to forgo $20 plus million and sit out the season and re-enter the draft in 2010, in an attempt to get a few million more and capture his true "market" value.
Michael Crabtree should have listened to Hall-of-Fame running back Jim Brown who weighed in on the Crabtree saga during the holdout.
In an interview with Sirius XM radio
, Brown told host Joe Madison that Michael Crabtree's holdout was "totally ridiculous" and said that an athlete's career is measured by the way he plays, not the contract he signs.
"You don't realize that your legacy will be based upon how you perform, not how much money you made?" said Brown.
Crabtree will soon figure this out. I just hope that he didn't ruin his chance of having a stellar career before he even got started.