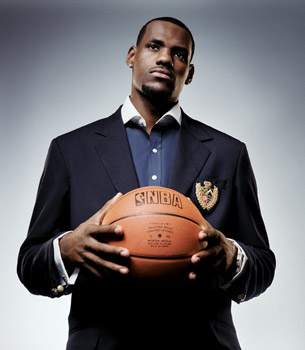 The mission of the LeBron James Nike Skills Academy was the same as the position academies: "positively impact the lives of elite players by providing superior instruction, personal mentorship, and a once in a lifetime experience." The goal of the Lebron Academy was to build on the previous academies and teach players how to incorporate the skills they learned specifically for their position into a team philosophy. Did they accomplish their goal? As George Bush said, "mission accomplished." Although this time it is true!

Nike set the standard for youth basketball development and the LeBron James Skills Academy and accompanying King City Classic have been heralded as the premier events of the summer. What made it such an incredible event was the fact that King James himself was so actively involved. The reigning NBA MVP made a commitment to be an integral part of this event and he came through in a big way. It is universally accepted that LeBron has an undeniable work ethic, solid fundamentals, and an obvious passion and true love for the game. He epitomizes everything positive about the greatest game on earth. And despite his astounding fame, fortune, and world renowned notoriety, he still took the time to give back and to help those aspiring to follow in his footsteps. I saw firsthand, for three and a half days, that LeBron is a class act and deserves every bit of the success he has achieved.

In addition to LeBron's participation, Nike assembled an elite staff of coaches and skill instructors, including many of the games best teachers. The theme at the initial staff meeting was succinct:
Have energy and enthusiasm at every workout; sweat with the players.
Teach to your personality; don't try to be someone you're not. Be authentic.
Keep the drills moving! Less talk, more action!
It's not how much you know; it's how much you bring that counts! Bring your best every workout.
Improvement is a constant, repetitive process. Do the little things to keep things fun!
There were 20 hand-selected college counselors on hand, including (in no particular order) Jordan Crawford (Xavier), Cole Aldrich (Kansas), Al-Farouq Aminu (Wake Forest), Devin Ebanks (West Virginia), Manny Harris (Michigan), Kalin Lucas (Michigan State), Kyle Singler (Duke), Greivis Vasquez (Maryland), and Willie Warren (Oklahoma).

All 80 players that were invited to the position-specific academies were invited to the LeBron Academy. Some noteworthy attendees included Marquis Teague (Indianapolis, IN), Ray McCallum (Beverly Hills, MI), Austin Rivers (Winter Park, FL), Kendall Marshall (Dumfries, VA), Andre Dawkins (Chesapeake, VA), Perry Ellis (Wichita, KS), Justin Anderson (Rockville, MD – Montrose!), and in my opinion the nation's top two players – Michael Gilchrist (Elizabeth, NJ) and Harrison Barnes (Ames, IA).

One of the first orders of business was an enthusiastic "media training" session given by ESPN's Fran Fraschilla. Fran, a former big time college coach, knows basketball and knows how important it is for aspiring players to deal with the media professionally, as "the media can be your best friend or your worst enemy." With media around all week, he told them they were always being evaluated, so to be conscious of what they do both on and off the court. He also told them to be humble when accepting praise, make good eye contact, speak clearly, be engaging, and be appreciative of the reporter's time.

The official banquet was held on Monday and was absolutely spectacular. The food, décor, and atmosphere were first class. There was a professional DJ spinning records the entire time and they showed numerous LeBron highlight clips and commercials (many of which haven't been released yet). The highlight of the night was a live Q & A with King James and ESPN's Jay Bilas. Jay asked numerous questions, as well as instructed LeBron to say the first thing that popped into his mind when historic pictures of his career were put on the big screen – first Sports Illustrated cover ("I was just a kid"), shaking David Stern's hand on draft night ("a dream come true"), holding up the 2009 MVP trophy ("hard work paid off"), and hearing the National Anthem upon receiving the Gold Medal in the 2009 Olympics in Beijing ("biggest accomplishment of my career"). LeBron was funny, entertaining, but very truthful. Again, a total class act.

Nike kept highlighting the fact that LeBron is extremely loyal. For example, he still resides in Akron, where he grew up, and insisted the academy be held in his hometown. He even chose to have his MVP press conference at his old high school to show the world he hasn't forgotten his roots. Nike presented him with a pair of one-of-a-kind LeBron 2009 MVP Air Force 1's. In closing, LeBron told the players, "I am here for you guys, the players. You are the game's future, so take that seriously. Represent yourselves to the fullest and honor the game. Heck, one of you might host a camp that my kid goes to one day!"

LeBron could have easily just "mailed it in" like a lot of big time players do who hold camps. He could have made an appearance or two for the media's sake, mumbled a few clichés, and then been whisked away. But that's not the King. LeBron was very active every day of camp and laced them up and went hard in the drills with both the high school and college players. He played each night with the college players; some intense action! When he played he was sporting some custom-made, probably one of a kind, LeBron VII's – arguably the hottest shoes I have ever seen! And shoes weren't the only custom-made thing he repped; he pulled up in a custom made L23 V12 white-on-white Benz. Damn!

While this was my third time meeting and seeing LeBron up close, I forgot how physically imposing he is. He is an absolute specimen. He has the perfect basketball physique. I closely followed his every move, as I am always trying to learn from the great ones. He had a very standard pre-workout routine (which I wrote down in my notes) that he followed meticulously before every workout session. It included getting his ankles taped and having his trainer (Mike Mancias of the Cleveland Cavaliers) stretch him out thoroughly. Once he hit the court, he was all business. Intently watching him in the drills, I noticed that everything he did was crisp and sharp. He did everything at game speed and never just went through the motions. Every pass, every shot, and even his footwork were perfect. LeBron has great work habits. He had tremendous focus and an unbelievable level of concentration during each workout. He was also a great communicator. Despite balls bouncing, shoes squeaking, and players competing in drills on two courts – you could always hear his voice. He was a presence. Mark my words, LeBron James is not a great player by accident. He has worked for it. He has earned it.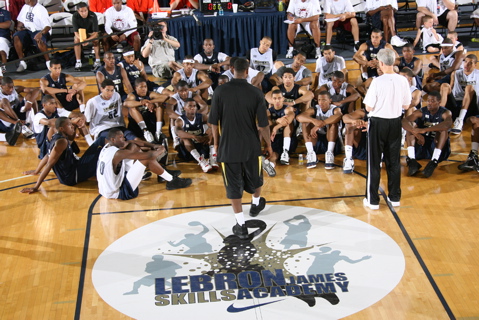 Speaking of communication, midway through the first workout, he pulled the high schoolers aside to offer this bit of wisdom: "As the best player on your team, your presence alone should create opportunities for your teammates. You should demand double and triple teams every time you touch the ball, which means that your teammates are open. It's your responsibility to get them the ball and to help them be successful. Great players make those around them better." Amen.

As I mentioned before, LeBron played with the college players each night. Other players making an appearance to play during the week were fellow Cavaliers Mo Williams, Darnell Jackson, 2009 first-round pick Christian Eyenga, and second-round pick Danny Green. True to his roots, a few of LeBron's old high school teammates played as well. The competition was fierce and the games were always intense as every college player wanted their chance to impress King James. Too much has been made of Jordan Crawford's dunk. Everyone gets dunked on at some point! Who cares? My hat is off to LeBron for even playing in the first place; he certainly didn't have to play. But he did, and he provided an amazing opportunity for the aspiring NBA players.

Unfortunately, I never got the opportunity to interview LeBron one-on-one about his training. So I did the next best thing; I spoke with his trainer! Mike Mancias, an assistant athletic trainer and strength & conditioning coach for the Cavs, was gracious enough to rap with me for a few minutes and give me some insight into LeBron's regimen. While working for the Cavs full-time, Coach Mancias is primarily responsible for LeBron. He goes with LeBron everywhere; even went with him to China for the Olympics. Since LeBron is such a workout machine, Coach Mancias admitted he is on-call and keeps his Blackberry glued to his hip! He said LeBron does something workout-wise almost every day – shooting work with private coach, hits the weights, takes yoga, or does some pool work. He aims to do 3 or 4 structured strength workouts a week focusing on full body movements, core strength, and improving joint mobility and integrity (ankles, hips, etc.). He also incorporates some cardio intervals in the mix. I watched one of LeBron's strength workouts which included a combination of upper body movements, core exercises, and short intervals on the versa-climber. I always feel good knowing the stuff I do with my players is the same stuff guys like King James does! I also saw part of one of LeBron's shooting workouts; very intense.

On the last full day, Mike Procopio of A.T.T.A.C.K. Athletics in Chicago gave his annual presentation on what it takes to make it the NBA level. Here are some of the highlights of his talk:

To play at the NBA level you have to:
Dominate your position on both ends of the floor
Be efficient and make very few mistakes
Have a specialty (shooting, rebounding, defense, etc.)
Reason most players don't make it:
Off the court issues
Lack of fundamentals
Glaring weakness in their game
Just not good enough
Making the NBA is relatively easy compared to staying in the NBA. All 30 first-round draft picks sign contracts with the team that drafted them. 7-9 second round-draft picks do the same. So in theory, there are 37-39 "new hires" every season, which means 37-39 guys lose their jobs each year!

Of the 450 players in the league, 70+ are from overseas (15%).

Average physical stature of the top-10 players (statistically speaking) at each position in the NBA:
Point guards: 6' 3", 190 lbs.
Shooting guards: 6' 6", 205 lbs.
Wings: 6' 10", 245 lbs.
Centers: 7' 0", 260 lbs.
Jay Bilas, whom I have always very much respected and admired, brought up a great point about Mike's talk. Inevitably, when you ask a group of elite level players "who wants to play in the NBA?" every hand in the room goes up. Then you ask, "Who truly believes they will play in the NBA?" and not a single hand budges – they all stay up. Then you ask, "How many of you have made basketball your #1 priority; have made it 100% your main focus in life?" Again, no hands waver. Every player in the room swears they have made basketball their life and truly believes they are doing everything they can to make it to the league.

Yet when you ask them if they spend an hour a day working on their weak hand, or if they make (not take) 400-500 shots a day from game spots at game speed, or if they have read any books by Dean Smith, John Wooden, or Pete Newell, or if they are on a structured, year-round strength & conditioning program, or if they eat breakfast every day… 99.99% of the time you only get excuses. A lot of players say they will do anything to make it the NBA, but only a select few actually do.

And then there is LeBron. LeBron not only talks the talk, he walks the walk. No one can argue LeBron was born with some physical gifts that not many people have been blessed with, but those gifts are only a piece of the puzzle. There have been numerous players born with tremendous gifts that never made it. Whether LeBron ends up as the greatest player to ever play the game or not is irrelevant. But what is relevant is that he does all of the little things necessary, on a daily basis, to be the absolute best player he can be. And believe me, it is working.

I want to extend a sincere thank you to the folks at Nike for the opportunity to be part of such an amazing event and a sincere thank you to King James himself for his involvement. It was a remarkable experience.

Make sure you subscribe to www.YouTube.com/StrongerTeamDotCom for the latest exercise of the week clip, as well as motivational talks and drills from camp. For exclusive insight to my camps, as well as daily coaching points and quotes, follow me on Twitter at www.Twitter.com/AlanStein.

Train hard. Train smart.

Alan Stein

www.StrongerTeam.com