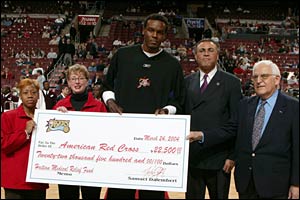 If there is a sure thing in sports, it's the cliché.
On any given day. One game a time. Give 110 percent.
Or one that is especially relevant today: "It puts things in perspective."
There's no doubt that what happens on the field or court has minuscule importance when compared to the tragedy unfolding in Haiti. But when a calamity of this scope takes place, it reveals the true purpose of sports.
Just as fans rally around a team, there are times when athletes, coaches and organizations have rallied people to help when others are in need. We have witnessed just this with the Haiti earthquake.
There's Kentucky coach John Calipari's "Hoops for Haiti" telethon, the numerous NBA players who have stepped up and donated money, the four major sports leagues players' unions uniting to raise money for the country with their "One Team 4 Haiti" campaign, and countless other examples.
For anyone associated with sports, whether as a fan, athlete, coach, or administrator, it is easy to become caught up in the results on the field. However, sports possess an overriding purpose that goes beyond the scoreboard.
If you are like me, watching your favorite athletes and teams offers a wonderful diversion from the challenges of real life, or when tragedy strikes home.
Recall back to the days, weeks, and months after 9/11. Sports played a significant role in helping people take their minds off the traumatic events of that day, even if it was just for a moment. Or how the Saints continue to restore a sense of hope and pride to New Orleans in its still on-going recovery from Katrina.
In just a few weeks, our military personnel bravely serving in Iraq, Afghanistan, Haiti, and throughout the world will receive a welcome respite when they have the opportunity to watch, or listen to, the Super Bowl.
Yes, it's much easier to get caught up in the conflict and negativity of sports. However, sports have the unique power to provide enjoyment when we need it most, to shine a spotlight on a cause, and to produce something positive out of a terrible negative.
With the tragedy in Haiti, sports are representing another cliché: Coming through in the clutch.