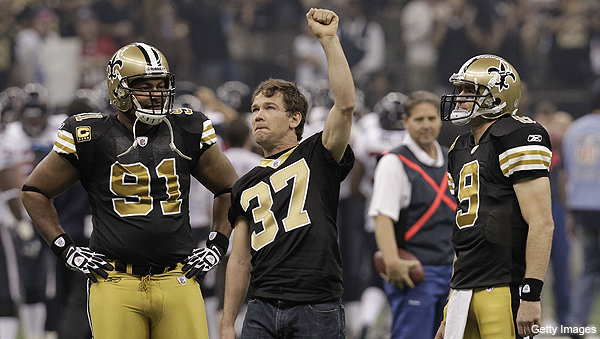 What challenges do you embrace?
Before you answer, hear from a person who knows a thing or two about the topic.
To do so, sit in with the Washington State University football team on the morning of one of its biggest games of the year.
On the night of Saturday, Nov. 12, 2011, the Cougars will host the Arizona State Sun Devils at Martin Stadium. The game will be nationally televised and be played in front of a capacity Dad's Weekend crowd.
Viewed as prohibitive underdogs to the Sun Devils, the Cougars hold their pregame walkthrough that morning at the Indoor Practice Facility.
As the players enter the facility they notice an individual waiting for them. They gather around, and for the next 15 minutes, listen to his message.
The person delivering the message is Steve Gleason.
THE TALK
"We talked briefly about what I think is important about life," says Gleason. "We talked a lot about how you treat other people. Obviously winning or losing is important in life, but most important are the relationships that you form and how you grow as a person.
"Then I said I came up here because I want to support you guys and I believe in you guys."
The message resonates.
"We're talking about 100 people with 100 percent of their attention on every word he said," former WSU Head Coach Paul Wulff recalls. "I've never been in such a quiet moment. To watch everybody completely staring and hanging on every word he said. It was an amazing moment."
"The message he gave us I took to heart," linebacker Mike Ledgerwood remembers. "It had to do with less about football and more about life. It doesn't matter what you've been through and what you're going to go through, as long as you are a good person you are going to have it all in life. Take every second in of life and make it the fullest that you can."
"His message is one of the most powerful and moving things I've ever been a part of," wide receiver Jared Karstetter says. "You can tell it was from the bottom of the heart on what he's taken from his life experiences, and he's lived such a full life."
"When Steve came to talk with us it was a heartfelt speech," adds wide receiver Marquess Wilson. "He was telling us his stories, how he played, what he's gone through in his life. It really touched us all. It gave us the extra motivation to go out there and play our hearts out."
That night, with Gleason looking on, the inspired Cougars defeated Arizona State, 37-27.
"We have one of the great all-time Cougars who I think exemplifies what a Washington State athlete is all about," says Wulff on why he wanted Gleason to talk to the team. "He was a leader when he was here and he is a leader now."
"When he talked to the team I think I was one of the first ones to start shedding tears," linebacker Alex Hoffman-Ellis confesses. "What he was saying just hit home really hard about having pride and doing what you're supposed to do.
"He asked if anybody was ever scared before games?," Hoffman-Ellis recalls. "He said, 'I was but you know what? I still went out there.' It really rings true the saying without fear there is no courage. Just to see him there, despite his condition, having a really positive outlook and speaking such moving words."
The condition Hoffman-Ellis is referring to is ALS (Amyotrophic lateral sclerosis), Commonly known as Lou Gehrig's Disease, ALS is a progressive disease that affects the nerve cells in the brain and spinal cord.
According to the ALS Association, life expectancy of an ALS patient averages about two to five years from the time of diagnosis. Those stricken with the disease are usually between the ages of 40 and 70, with an average age of 55 at the time of diagnosis.
Gleason was 34 when he was diagnosed.
OVERCOMING CHALLENGES
Playing linebacker for WSU from 1995-99, Gleason was listed as 5-foot-11, 215 pounds on the roster.
Though seemingly undersized, Gleason's play belied his stature.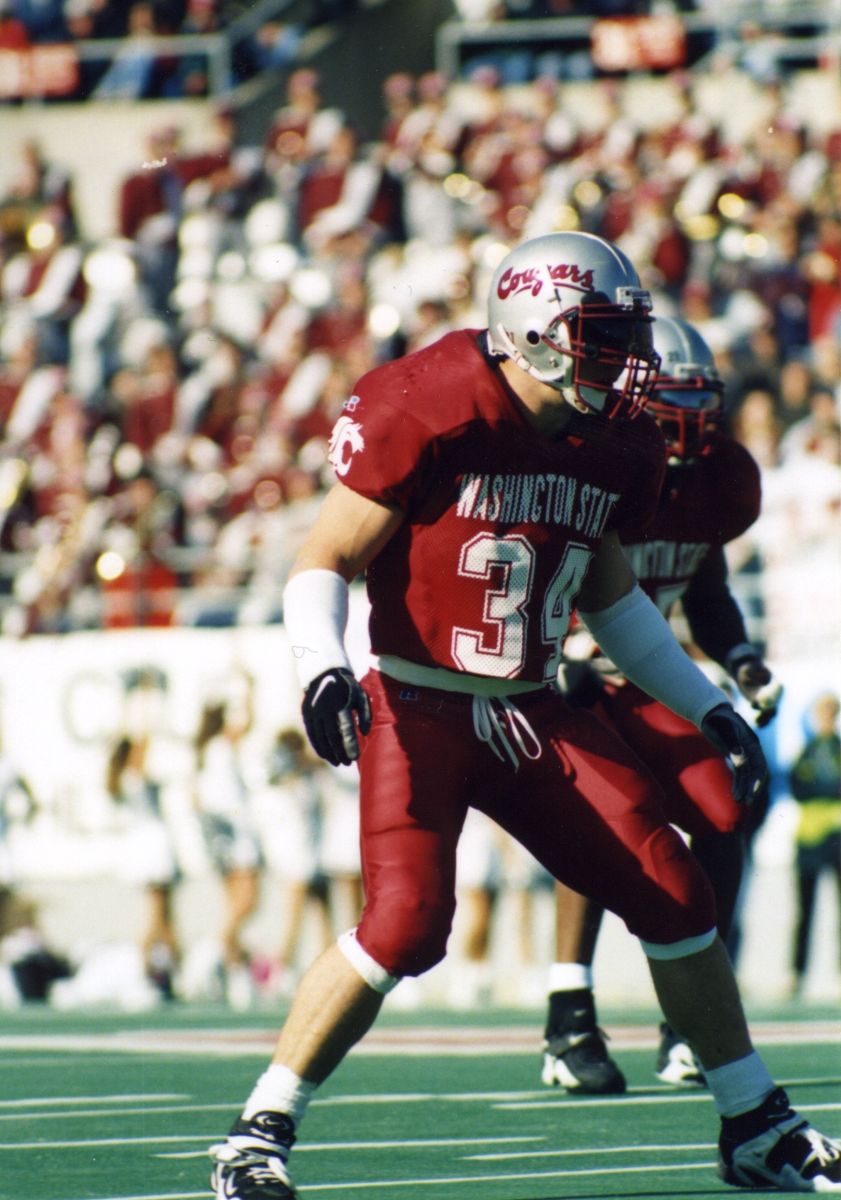 So much so, he moved on from meeting the challenges at WSU to facing and overcoming the challenges of the NFL.
During an eight-year career with the New Orleans Saints, Gleason made his mark on special teams, most notably on Sept, 25, 2006, with the legendary blocked punt in the opening moments of the Saints-Atlanta Falcons game that marked the reopening of the Superdome after Hurricane Katrina.
Gleason sought challenges off the field too, with hobbies that included surfing, fishing, writing, snowboarding, and playing guitar. While with the Saints, he spent every off-season traveling. His journeys took him to destinations such as the Galapagos Islands, Ecuador, Nicaragua, Chile, and Easter Island.
In 2003, he formed the One Sweet World Foundation, a charitable foundation that focuses on literacy and environmentalism. After Hurricane Katrina, the foundation launched "Backpacks for Hope," an initiative to provide relief to young hurricane victims in the form of backpacks and school supplies.
He regularly donated his hair to "Locks for Love," which provides hair for wigs for children with cancer.
He retired after the 2007 season, married, and for six months, he and his bride Michel traveled the world visiting Greece, Turkey, Nepal, Thailand, Indonesia, Australia, New Zealand, and Hawaii. The couple settled in New Orleans and Gleason was working toward his MBA from Tulane University while working for the Baton Rouge-based Shaw Group as a consultant for Clean Energy Initiatives.
In the summer of 2010, Gleason was confronted with his most daunting challenge.
It was at that time when he began experiencing symptoms of ALS. The following January he received the diagnosis.
Despite the daunting circumstances, Gleason drew on his athletics experiences to help him cope.
"I think that the best athletes or even the best people are the ones that acknowledge the hands they have been dealt," explains Gleason in a conversation an hour before the WSU-ASU game. "They do everything that they can within their limits to be the best person, athlete, husband, father, student, whatever.
"Using a football analogy, you can lose a game and go home and blame other people or wallow in misery," he adds. "But to me the way I dealt with those things w[as] to say, 'OK now what?'"
Gleason answered that question by continuing what he has always done: Seeking and meeting challenges.
He earned his MBA from Tulane.
In the summer of 2011, he and Michel took their camper van, "The Ironhorse" (named after Gehrig) on a 14,000 mile road trip from New Orleans to Alaska and back. During their travels they visited the Pacific Coast Highway, Crater Lake, Banff National Park, Denali National Park, Mount McKinley, The Copper River, The Kenai peninsula, Katmai National Forest, Alaska's Inside Passage and friends and family. The trip is documented on a website the couple created named The Shunpike Experiment.
In October of 2011, the couple gave birth to their son Rivers.
He began "Team Gleason" with the mission of raising awareness of ALS and helping those afflicted with the disease, and finding a cure.
Within Team Gleason, Gleason has a website (team-gleason.com), Facebook, Twitter page, and started the Gleason Initiative Foundation, to provide support to individuals with muscular diseases and to bring attentions to ALS, an awareness level that Gleason says is "astonishing low."
During his visit to WSU, he was presented the honor of raising the Cougar flag before the game, and at the end of the first quarter, the crowd at Martin Stadium displayed cards with the No. 34, Gleason's number during his playing days at WSU.
The coaches also wore hats with the words Team Gleason inscribed and Team Gleason T-shirts were sold on campus and online in the week leading up to the game.
Nearly 3,000 shirts were sold with proceeds directed toward the foundation.
"I've always lived with some purpose," Gleason says. "There has been intent behind my choices and the way I live my life and that certainly is not going to change.
"I think this is a great tool for me to continue to do that and even on a larger scale," Gleason says of Team Gleason. "This is the opportunity to inspire people to live with purpose."
MEETING A NEW CHALLENGE
Throughout his life, Gleason has sought to challenge himself, whether it was on or off the field.
As he faces his most significant challenge, Gleason's message to the Cougar football team on that November morning can serve as a lesson for all.
"A lot of life is about pushing yourself to really explore who you are. Until you push yourself and until you find yourself in challenging circumstances I think a lot of people don't know who they are.
"I guess then football is a microcosm of life. You find yourself facing challenges all the time. To me the challenges are what we embrace."
What challenges do you embrace?