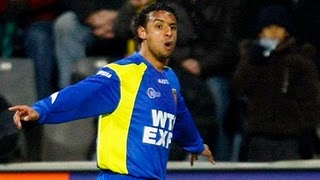 The U.S. team has been busy preparing for its tough opening match against England on June 12 in the 2010 World Cup in South Africa. While soccer is by far the most popular sport in the world, here in the U.S., it has lagged beind the "Big 4" (baseball, basketball, football, and ice hockey) and only recently has gained popularity. Major League Soccer (MLS) is undergoing a major expansion from 16 to 19 teams (Portland and Vancouver will be added in 2011 and Montreal in 2012) and the U.S. World Cup team has been garnering significant attention from the media, President Obama, and the public.
With the MLS season in full swing and the World Cup putting soccer on display on the international stage, we thought it would be fitting to chat with a soccer player who has had the experience of playing professionally in both the U.S. and abroad. We caught up to Dutch Midfielder/Forward, Rachid El-Khalifi, before he left Real Salt Lake after one season to apply his trade outside the U.S. The 2009 MLS Cup champion played professionally in the Netherlands for 10 years (Dordrecht, Emmen, Cambuur Leeuwarden) prior to arriving in the U.S. in July 2009 to play for Real Salt Lake.
AA: What was it like for you to grow up in the Netherlands?
Rachid: It was great because it's a different country. I grew up with the guys on the street. They play a lot of soccer, and so I grew up with a lot of street soccer, as they say. I'm happy that I was born there. My parents are from Morocco, where they were born... My father came to Holland and made a family, and I'm happy I was born in Holland.
AA: How old were you when you started playing football?
Rachid: I started at 13 years old, and I started playing amateur soccer later. At 19 years old, there was a professional club that had seen me and then they took me on from the amateur team. So then from 19, I went to a professional club, and at 20, I started to play with professionals.
AA: Did you enroll in a youth football academy at an early age?
Rachid: No, I never have done that.
AA: So you got recognized by a professional team without ever having had a chance to come up through somebody's system?
Rachid: Yeah, like that, yeah. I was lucky and, yeah, I never played before in the professional ranks until I was 19 and I went to a professional club.
AA: When did you know you had the ability to play professionally, and how did you discover that?
Rachid: I think when I was 17 or 18, I had something special going, and a lot people said to me that I should try playing for a professional club. Some family and some coaches told me I could do better at the professional level, but I didn't do it until someone saw me when I was 19 years old and then they said, come to the professional club.
AA: So that just told you that the people who were telling you those things when you were 17 and 18 knew what they were talking about, right?
Rachid: Yeah, they sounded like they knew what they were talking about, and I was thinking maybe I should try a professional club.
AA: When exactly did you relocate to the U.S.?
Rachid: I came here in July of 2009. But first, I was at tryouts in February here for two weeks. The team was in California and I practiced there with them for two weeks and played a game, and then I went back to Holland. Then they liked me and they told me to leave my club in Holland. At that time, my Dutch club said no: "we need him until July." And then when my contract was finished, Real Salt Lake said they still wanted me, and I said "okay, I want to come." I came in July.
AA: What's the hardest thing that you had to adjust to because of moving from Holland to the U.S.?
Rachid: I think the most important thing is you miss your family, but you have to be strong. And this is the choice I have made, and I must feel good about it. Yeah, I want to be strong, and I'm happy to have Skype, because with Skype I can talk with my family every day. I call them and stay in touch. It's very good.
AA: What have you enjoyed the most about moving to a brand new environment like the U.S.?
Rachid: Actually, I think everything including how they practice. It's amazing how they practice because they train very hard here compared to Holland. They are very professional with practice here, and after the game, you get a lot of drinks. The games are good, and the stadiums are nice here. Everything is so nice here in America because for me it's the first time here and everyone is so nice to me here. I still like it. It's very different from Holland in a lot of ways.
AA: How would you compare the Dutch football fans' feelings about your sport with the American soccer fans' feelings about it?
Rachid: It's very different because the fans here come more to yell for your name. In Holland, it's more that they know why they come for the game. Yeah, they know everything about soccer. Here, it's like they're coming and watching a movie or something. Yeah, it's like that. That's what I see and what I think. I don't know, but I think like that because I have seen a lot of things, and I've gained a lot of understanding from looking at fans and how they yell. I think in Holland it's (the fan support is) a little bit better.
AA: What similarities and differences do you see between the way Dutch players and coaches believe the game should be played and the way U.S. players and coaches believe the game should be played?
Rachid: That's a good question. I think here in the U.S. the players play strong. They want to practice - they love to practice. In Holland, it's a little bit different. You have some players that are very lazy and they don't want to play so hard, and they're always hurt or something. Here I see that not everyone is so often injured - they are so fit. They are so fit and so strong, and that's very different in Holland. There, the players are not always so fit as here [in the U.S.]. And I think maybe it's from the practice because we train so hard and we train good. It's very professional because they gave us plenty to drink and good breakfasts so that we do not feel a lot of pain, you know what I mean? They train so specific. That's what I like here - they train better than in Holland.
AA: What do you believe are the technical and tactical strengths and weaknesses of the European players that you've played with and against, compared to the American players that you've played with and against?
Rachid: What I have seen here is they train more physical than technical. If you speak about technical, then you must be in Holland because we like technical play. We learn that way. Here it's more physical than technical. I would say as far as technical play goes, it's a little bit but not too much. Technical play is more so in Holland. That's what changed from there to here for me.
AA: What attracted you to Major League Soccer?
Rachid: When I came here it was in February as I mentioned earlier. I was here and I saw how they practiced, and I thought it was so important for me to have another level because I want to play at a high level. And when I went to practice with the guys, I saw the guys were very strong, very good; so fast. Yeah, everything was so professional. That was, for me, very important, and the season was good with the coach, with everyone, with the players. Then I thought I must come back. That's what brought me here.
AA: What has your time been like in MLS since you have been here?
Rachid: Welcoming for me is very important because for me it's now important to get used to everything about how MLS plays and how Real [Salt Lake] plays soccer. I must get used to how they practice, how we play the formations and everything. I think it helped me to come here to see how they were going to play six months earlier. This season, I hope to play a lot because now that I've played in some games, I think I'll know everything I can about the U.S.A., MLS, and everything. I just know that with hard work, the understanding will come to me, and from there, I will see.
AA: What personal goals have you set for yourself while you're playing in MLS?
Rachid: For me, it's important to play a lot of games. That's what I want, and for me it's important that I am part of the team, and we win. That's it. And to score some goals, to help the team, and to enjoy the MLS.
AA: What advice would you give to players who are considering relocating to the U.S. to play in MLS to finish their playing careers?
Rachid: That they must be very fit to come here. And like what I told you in the beginning, it's not very easy to come and play here because in the U.S.A., they play more physical and there's more running. That's the advice that I can say. I can also say if you want to be very strong, come here, and you will get strong.
AA: What advice would you give to American youth players to develop their skills and understanding of the game enough to play Major League Soccer?
Rachid: To keep doing their best with soccer, to always do their best with practice, to come to as many games as possible, and watch a lot of soccer on TV.
AA: Now that we've reached the end of our time together, I first want to thank you for spending time with me here. Also, is there anything else that you wanted to say to the fans or teammates or anything?
Rachid: I can say I have very great teammates. Yeah, I'm so happy that I have those guys because they helped me when I came here. I was alone and they took me into the group. I'm so glad and that's why I feel so good about the team. And I think the fans are very important because in Holland they are very important for the players. I think they're also very important here because if there's no fans, then I think the players don't come and play very well. We must have great fans. I have seen some of the fans here, and they are nice. I think more of our fans should come too, and I hope for them to do their best to come to every home game. I think that's good for the players also.
On behalf of Access Athletes, we would like to thank Rachid El-Khalifi for taking time out of his busy schedule to do an interview with The Real Athlete Blog. If you have any questions for Rachid, you can contact his agent Max Eppel of Max Eppel Soccer Agency, LLC (MESA).