In recent months, there has been an exodus of American-based basketball players going abroad to play professionally. I'm sure you have heard about pioneer and McDonalds All-American Brandon Jennings circumventing the NBA's one-year-out-of-high-school rule to play professional basketball for Pallacanestro Virtus Roma in the Italian league. There is also NBA player Josh Childress who signed an unprecedented 3-year, $20 million Euroleague contract (after taxes) with Greek powerhouse Olympiacos, rather than resigning with the Atlanta Hawks for $33 million over 5 years. While the exit of high school player Jennings, Childress, and other high-profile NBA players to foreign leagues was unexpected and captured the attention of fans and the sports media, it is not uncommon for NCAA college basketball players to pursue their professional basketball careers overseas. Professional leagues outside of the U.S., mainly in Europe, have always presented a viable alternative for many players who don't get the opportunity to play in the NBA.
One of those players, Marcus "Money" Crenshaw, who you may not have heard of unless you are a college basketball aficionado, recently made the trip to a foreign land to pursue the game he loves. As the media was busy speculating over whether Jennings will end up rocking his kid-n-play hairdo in the NBA next season after a "one-and-done" European career, or whether Childress and his agent, Jim Tanner, made a wise business decision to pass up a NBA contract, Marcus Crenshaw was embarking on his own journey to become a professional basketball player in Europe.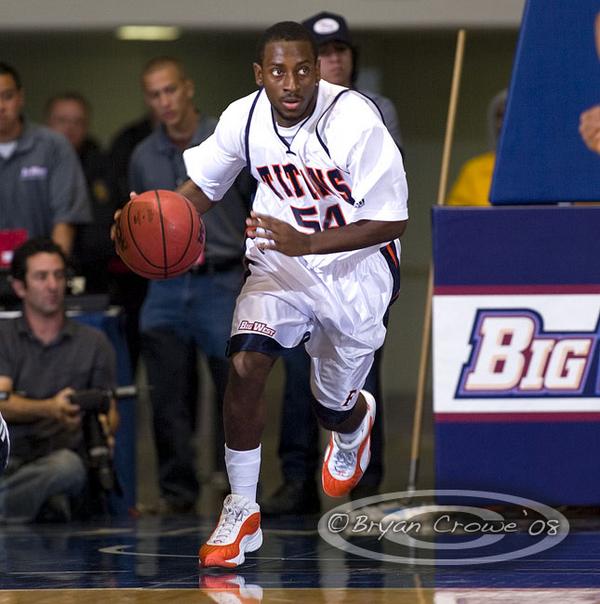 I had the pleasure of speaking to the former California State University, Fullerton (CSUF) point guard about his decision to skip his senior season and head to Europe.
The 5-foot-10, 170 pound Crenshaw improved his game tremendously at Cal State during the past two seasons. Crenshaw, who transferred from Kent State, was chosen as the "sixth man of the year" in the Big West Conference for the 2006-07 season and emerged as solid 3-point shooter and crowd favorite last year. If Crenshaw returned for his senior year, the undersized guard could have increased his stock and gained additional exposure by playing in the backcourt with Josh Akognon (the Titan's leading scorer and highly-rated NBA prospect who withdrew his name from the 2008 NBA draft list to return for his senior season) on a Cal State team attempting to make back-to-back NCAA Tournament appearances.
I asked Marcus what led to his decision in May to forgo his final year of eligibility. "Based on the basketball situation I was in at the time and how I was being played, I felt like it was best to go to the professional ranks and better myself instead of spending another year in college," said Crenshaw.
Although Marcus had a very good sophomore year, his junior year did not meet his expectations. He had trouble establishing his rhythm in the backcourt last season. Cal State Coach Bob Burton ran a 2-guard system, in which he alternated between a distributing and a scoring point guard depending on what the team needed at any particular time. "I had to split time with another point guard, so I ended up averaging only 9 points a game," said Crenshaw.
Despite Crenshaw's opinion that splitting time with his former teammate Ray Reed was what made Cal State a successful team, he struggled to adapt to Coach Burton's 2-point guard rotation and believed it was in his best interest to leave CSUF if he wanted to advance his career. "I wanted to pursue my [professional] career because it was difficult knowing that I averaged only 9 points a game, when I could have been averaging 15 if I was playing the whole game."
Crenshaw was so determined to move on that he took 23 credits during his final semester last spring in order to graduate early with a degree in Afro-ethnic studies. The way things were going with basketball, Crenshaw was uncomfortable with his future and decided he had to graduate early. The coaching staff was quick to question Crenshaw's decision by telling him that he was taking way too many credits and couldn't pass them all. This only added more fuel to Crenshaw's fire. "They were doubting me and telling me I couldn't do something. That made me want to do it even more," Crenshaw said with a determined tone.
This experience really shaped Crenshaw's outlook on life and overcoming adversity.
"It let me know that everything is mental and if you really put your mind to something, work hard at it, and stay with it through the good times, great times, and bad times, you can accomplish any goal you want to whether it be basketball or academics. Nobody thought I would be able to pass all those credits. You can do whatever you want."
I was surprised to find out that Crenshaw did not include his name on the 2008 NBA Draft early entrants list. Marcus never looked into the NBA process before deciding to go overseas because of self-doubt and a general sense of unfamiliarity with the draft procedures. "I didn't think I had a chance to get drafted and I was too focused on the process of looking for an agent rather than putting my name in the draft."
This was particularly troubling to me after learning that a scout from the Detroit Pistons had called Marcus personally to schedule a private workout, only to find out that he wasn't even eligible for the NBA Draft. Marcus expressed great disappointment over the fact that he missed what might have been his golden opportunity with his hometown team. He also admitted that he was uninformed about the process, had not yet retained an agent when it was critical to have one, and he ultimately fell through the cracks. Crenshaw's experience demonstrates the importance for NBA-bound players to learn the process early on and surround themselves with knowledgeable and trustworthy advisors.
Despite some things not going his way, Crenshaw remained focused on attaining his goal of playing professional basketball overseas. He knew he would have to find a well-connected agent who could place him with a foreign club. In the beginning, it was a difficult process for Crenshaw to select an agent— he wasn't sure if he should sign with a European agent with connections where he was looking to play or an American-based agent who was more accessible. In the end, accessibility won out and he retained an American agent due to the direct connection he established and the security of having him located here in the U.S. "He would call me everyday and make sure that everything was good," added Crenshaw. "It was just the connection and I felt like he really had my best interests at heart. I could call him anytime and he could call me anytime."
Crenshaw's new agent notified him that several teams in Germany, Belgium, and Poland had been in contact with him looking for a playmaking point guard.
Even though Crenshaw was not sure what team he would be playing for back in late June when we first talked, he maintained an open mind and expressed an eagerness to take on new challenges in a foreign environment. Based on his upbringing in inner city Detroit, Crenshaw approaches life much differently than most people his age.
"When you come from a tough city, go to Kent State and become a part of what they had going on as a freshman, and then go to CSUF and be a fan favorite, you are not scared to go overseas and play basketball. I've seen so much stuff as far as life goes in Detroit that basketball can't scare me."
Crenshaw has a positive outlook on what awaits him across the Atlantic Ocean and is ready to embrace a new culture with open arms. "I'm just in for a ride. Life to me is all about memories and everything you do is going in the memory book," said Crenshaw.
Crenshaw acknowledges that it will be a hard road ahead of him, but he is confident that he has the necessary shooting, dribbling, and passing skills to succeed at the next level. He knows that he will have to be in tip-top condition and strengthen his legs to sustain an 8-month season. This past season put a lot of mental and physical strain on Crenshaw—dealing with limited playing time to recovering from breaking his nose and sustaining a severe concussion after running into a screen. These past injuries do not cause concern for Crenshaw however. Crenshaw is more focused on regaining his confidence and the proper mental state after everything he went through last season. "The most important thing to me is getting my mental state back to where it needs to be. Because if my mind is somewhere, I can pretty much do anything."
No matter where Crenshaw plays, the fans are definitely going to adopt him. Crenshaw was dubbed "money" by Cal State fans for his silky smooth jumpshot and ability to hit the deep three. Cal State fans were so enthralled by the guard that they started "MoneyMania" and actually printed $54 dollar bills featuring Crenshaw's face to waive in the stands during home games. The fans would chant "money" as Crenshaw would entertain the fans with his 35-foot jumpshots, crossovers, and high-energy play.
The self-proclaimed "entertainer's" style of play wasn't the only reason he was the fan favorite during his two-year tenure at Cal State. Crenshaw's personable approach with fans also added to his legacy. He would often walk into the stands to talk with fans before the game, sign autographs for kids, and one time, he even signed and gave away his Iversons after a game.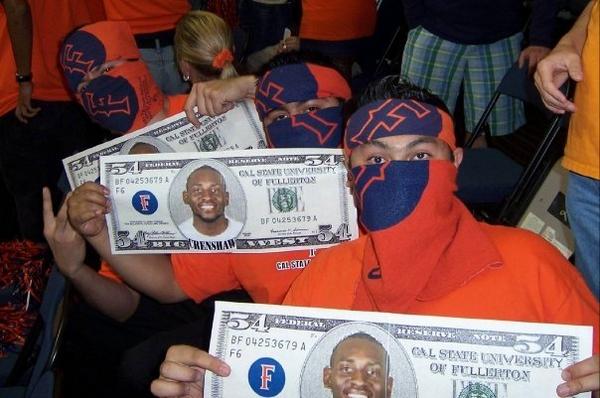 At the end of our conversation, I asked Crenshaw what would be the first question he would ask a current or former overseas professional basketball player if he was sitting across the table from him.
"The first question I would ask him comes way before basketball. How did you live and adapt mentally to going all the way over there and being away from your family?"
Crenshaw is already ahead of the game and will be just fine by receiving good advice from his mentor— former University of Detroit guard and all-time leading scorer, Rashad Phillips. The Detroit hometown legend, Phillips, was overlooked by NBA scouts due to his size, despite putting up huge numbers in college (he averaged 23 and 22.3 points during the 2000 and 2001 seasons, respectively, as the sixth leading scorer in the nation). After finishing up his collegiate career, Phillips has played in a variety of different foreign leagues, including in Italy, France, Turkey, and Greece. Crenshaw told me that he will try to follow in Phillips' footsteps.
Crenshaw also provided very good advice of his own for younger basketball players aspiring to play at the D-1 level.
"I would tell them that it's very possible…just keep working hard. The number one thing is that you got to take care of academics. The main thing in Division I is to qualify. There are a million basketball players in the world that are good enough to compete at the D-1 level. How you decide the ones that are good enough and the ones that go is pretty much academics. Some coaches will take a mediocre player with great grades before they will take a great player with bad grades. Keep working hard on the court and keep your grades up and the sky is the limit for you."
Crenshaw then offered a final tidbit of advice that every player should listen to and keep in the back of their mind when they start playing on a competitive high school team or they join the college or professional ranks.
"I would tell people going through my situation that if you feel like you know what your talents are, you know that you have the skills you need to get to the next level and you don't think your coach is playing you the way you should be played, don't quit and don't give up. Know that if you have the skills to go to the next level, other people will also know that. Don't think that just because you are not being played at this level by this coach, that's it. This coach just may not be good for you, but the next coach may."
Crenshaw recently called me to tell me he ended up placing with Sportino InowrocBaw, a professional club in Poland. He is humbled by the experience and he doesn't take anything for granted. "A lot of people don't even get looked at to play professional ball, so I'm just appreciative of the opportunity and trying to take advantage of every one that I get."
A new movie detailing Crenshaw's life will be coming out soon called "Still I Rise" by Acuff Productions. The movie will feature Crenshaw's life in Detroit to playing college ball and graduating.
On behalf of AccessAthletes, I would like to thank Marcus for taking time out of his busy schedule to do an interview with The Real Athlete Blog. Matthew Allinson can be reached at matt@accessathletes.com.