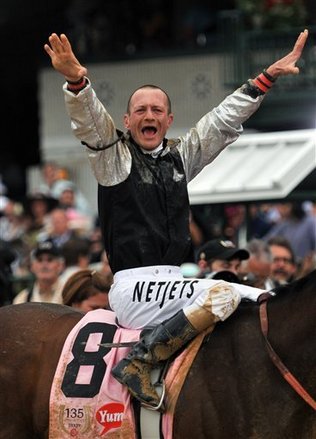 He is currently one of the most recognizable faces in sports. Calvin Borel soared to victory this past Saturday in the 135th Kentucky Derby aboard 50-1 long shot Mine That Bird. It was his second win in three years of the race that is known as the most exciting two minutes in sports.
In the wake of his Derby victory, Borel has received enormous attention from the media. He made the cover of Sports Illustrated and is set to appear on The Tonight Show with Jay Leno next Tuesday. Numerous interviews have been requested and due to his busy work schedule Borel has had to limit these to a manageable number. When agent Jerry Hissam agreed to let Access Athletes contributor Sharon Soileau talk to Calvin on Wednesday morning, Sharon expected to get some courteous answers to a few simple questions about the Kentucky Derby victory. What she got was so much more.
With a voice still hoarse from Saturday's post-race celebration, the man affectionately nicknamed "Bo-Rail" for his ability to ride the rail and save ground opened up his heart and soul regarding the business that he cares so deeply about. His interview was tinged with the trademark emotion for which he has become known. He was candid regarding how he came to ride Mine That Bird, outspoken regarding critics of the horseracing industry, and broke down while discussing his late parents.
Join Sharon now as she spends a few moments with Calvin Borel.
AA: On behalf of everyone at Access Athletes, congratulations on a great performance in the 135th Kentucky Derby.
CB: Thank you, ma'am. I had an awesome week, just unbelievable. I have been blessed. I wish my mom and dad were here to see what I have accomplished, but I know they are watching over me upstairs.
AA: You have to be pretty excited about your career right now.
CB: Everything is falling in the right places. My agent is doing a good job and I am riding good. I can't complain.
AA: The first question I want to ask is how did you pick up the mount on Mine That Bird?
CB: He [trainer Bennie "Chip" Woolley] had called my agent, Jerry, about three weeks before. We were supposed to ride another horse that had ran third in the Lexington [a prep race at Keeneland]. That horse didn't come back that good, so this man had been begging Jerry for me to ride Mine That Bird.
Bennie Woolley wanted a rider for the Kentucky Derby who would fit Mine That Bird's dramatic come-from-behind running style. Unable to find one who would follow his instructions to the letter, Woolley approached Calvin with a very specific game plan.
AA: What instructions did you receive from Chip Woolley regarding how to ride Mine That Bird?
CB: Woolley told me that the horse had been making the lead at the sixteenth pole but he wasn't finishing. I started looking at his replays and understood what he was saying. So he said, "Calvin just take him back for me. If he runs sixth, it will be a great thing for me."
AA: Well, you certainly did that.
CB: They popped the gates and I got bumped around a bit so I wound up farther back than I wanted. But it all ended up being good. The horses were spread out. The widest horse was about four wide so I knew if I had to go around there wouldn't be that much ground I'd have to lose. But I was able to save every inch I could.
AA: It sounds like Woolley was in tune with his horse and wanted someone who would fit him well. He deserves a pat on the back for that.
CB: He wanted the horse taken back. He couldn't make the riders understand that he didn't want him three or four lengths back...he wanted him back. And I think that's what made a big improvement on this colt.
A part of the race that was most enjoyable for the fans in attendance at Churchill Downs was Calvin's long parade past the grandstand on his way to the Winner's Circle. Some fans actually did the "wave" as he passed.
AA: After the race you took a long parade past the grandstand. Was there a specific reason for that?
CB: I always do that. The crowd loves me here. I think NBC told them to take their time coming back. People love to see the Derby winner come back in front of the grandstand. It is a happy time and an emotional time.
AA: Speaking of that emotion, you display more than the average rider. Why is that?
CB: Well, I work hard. I worked hard for twenty-eight, twenty-nine years. I wanted to be a race rider. I wanted to be number one. My dream was to win the Derby all my life. I won it and then to win it again is just unbelievable.
Calvin's raw emotion went on display as we talked to him about his beginnings in horseracing and the influence of his family. At one point during our next series of questions, Calvin actually became overwhelmed when discussing his parents.
AA: Tell us a little bit about how you started in horseracing.
CB: I left home when I was in the eighth grade; I wasn't doing good in school. My daddy told me no one is going to give you anything. If you want it, you have to get it yourself. And I wanted to be a race rider. My brother had rode and trained and he told my daddy, "You know he is a natural. He's got nothing but talent. He'll make it."
AA: Your brother, Cecil, has been a big influence for you, hasn't he?
CB: I've got to thank my brother a lot for keeping me straight, for keeping me off drugs and drinking and stuff like that.
AA: Would your mom and dad be proud of you today?
CB: (Calvin pauses here to collect himself. When he speaks again he is fighting back tears.) Like I said, I know they would be so happy for me. They are watching me.
AA: It has been a long journey for Calvin Borel. Did you ever get discouraged?
CB: It has been a long road, but I can't complain. I always did good my whole career. I was always one-two-three in the standings.
Borel gives a lot of credit to long-time agent, Jerry Hissam.
CB: My agent and I have been together for nineteen years. We never had two bad words between us in all that time.
We wanted to ask Calvin his thoughts on critics of the horseracing industry. Not one to mince words, Calvin was very outspoken on this issue.
AA: You have shown a lot of affection for your mounts by patting them on the neck and everyone remembers you pointing at Street Sense after the 2007 Kentucky Derby as though you were giving him full credit for the win. Certain animal rights groups claim that horsemen don't really care about the horses and exploit them for personal gain. What do you have to say about that?
CB: I think they are very wrong, ma'am. If you were out here seven days a week and watching them be groomed and training...they don't understand. They see the outside, but they don't see the inside. Grooms get up at four-thirty, the horses get groomed, they get fed. They're treated like kings. I don't understand them [animal rights groups] and how they do that. A racehorse is designed to run. That's all they're designed to do. You have pleasure horses, you have jumping horses, you have all kinds of horses, but these horses are born to run.
We wanted to ask Calvin how he feels about other sports and his involvement in them, if any.
AA: If you weren't a jockey and could play any other professional sport, what would it be?
CB: All I wanted to do was be a jockey. I don't know what else I would do. Since I was four years old, that's what I wanted to do.
Calvin does enjoy participating in outdoor sports.
CB: I love to hunt and fish. That's my game. I love to go and watch my fiancé, Lisa, jump her horses.
AA: What other athlete inspires you?
CB: Lisa. When I'm off, I watch her with her hunter/jumpers [horses]. It's a small sport. We have a lot in common, and she has been so supportive.
AA: You are in your forties now. Have you given any thought to what you will do when you retire from riding?
CB: Horses are my love. I am going to be in horseracing for the rest of my life, until I die. That's what I love to do.
AA: One final question. If you could change one thing in horseracing, what would it be?
CB: I don't know. The one thing I would wish is that these groups would leave the people who work with horses alone and stop egging people on about giving horses all this medicine and stuff like that. It's not true. They want to take everything away from the horses. And the only thing that's doing is hurting horses. And I wish the industry would understand that we need to give them the right things and do what's best for the horses.