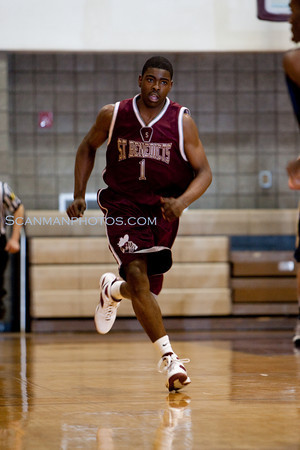 "When I look up on Rivals and the top 10 for the class of 2011, and I'm not up there, that gets me up. It motivates me to just go hard everyday in practice." These are the words of top high school basketball prospect Kelvin Amayo. This past season, Amayo was a key reserve for St. Benedict's Prep (Newark, NJ), averaging nearly 13 ppg, 5 apg, and 4 rpg. The 6-foot-4, 195-pound sophomore sensation is an explosive point guard out to prove that his name belongs with the nation's elite.
Blessed with a 32" inch vertical, Amayo is known for his exceptional leaping ability and knack for finishing in the lane. On top of his freakish athletic ability, Amayo is a balanced player who adjusts his game based on the team's needs. "I can score when the team needs me to score, but I'm also willing to pass the ball."
He demonstrated just how balanced his game is when he posted a triple-double against the Hun School of Princeton with 15 pts, 10 reb, and 10 ast. Not only is Amayo a dependable scorer who possesses court vision and unselfishness, he also cleans up the glass. After his freshman season at Hillside High School (Hillside, NJ), he was named to the 1st Team All Windex Team as one of the best rebounders in the entire state of New Jersey.
Of course, Amayo's game wouldn't be complete unless he was also capable of playing solid defense. He has this facet of the game covered too. In one game, he managed to pick the opposing team's pocket 7 times. Next season, his goal is to get a quadruple-double. "All I have to do is get 10 steals in a game," added a confident Amayo.
Amayo was part of a St. Benedict's team that finished the season ranked #7 in the final USA Today Super 25 boys basketball rankings for 2008-09. The team eventually lost in the semifinals of the inaugural National High School Invitational (NHSI) to Oak Hill Academy (Mouth of Wilson, Va.).
But while the rest of the team was in Washington, D.C. competing at the NHSI, Amayo stayed home in New Jersey.
Even though he had excelled on the court at St. Benedict's, he struggled to balance the rigorous training schedule with the demands of the classroom. "By the time I got home every night from school, it was 10:00 p.m. or later, and I was just beginning my homework."
Amayo decided that it was in his best interests to focus on his school work for the remainder of the season and then transfer to a program that offers a more structured academic environment with individual tutoring. Amayo is in the process of conducting a search to find a new home outside the Tri-State area and invites any interested coaches to contact him.
This will be the second time Amayo will transfer in his high school career. After playing for Hillside as a freshman, he decided to transfer to nearby St. Benedict's so that he could face better competition and take his game to the next level. This time around, Amayo is hoping to find a better fit that can accommodate him both athletically and academically.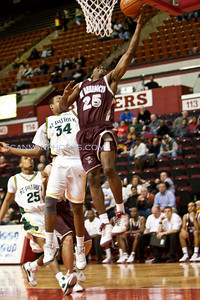 Amayo is up for the challenge, although he knows the transition will take a considerable amount of self-discipline. This isn't the first time Amayo has encountered an obstacle, and as he has done in the past, he managed to find the light at the end of the tunnel.
The first time Amayo picked up a basketball, he was 11-years old. He learned the game all by himself at first, but instead of allowing the high learning curve to frustrate him, he reached out to mentors who assisted him in developing the fundamentals.
"When I was younger, nobody really helped me play basketball. I wasn't a basketball player. I was a soccer player. But then I met this guy Vick Wells who helped me out a lot. He taught me the game. I just started playing a lot, then I met my AAU coach, Derrick Bobbitt, and he started helping me more. I just started getting known and getting more exposure. And then I just blew up last summer after playing AAU."
Amayo has played AAU for Team New Jersey Elite each of the last four summers. He gives a lot of credit for his development thus far in his career to New Jersey Elite Coach, Derrick Bobbitt.
"He is a excellent guard coach and he always tells me what I do wrong. He points out everything that is wrong with my game and he tries to make them my strengths."
He has also formed a special bond with two other top New Jersey guards from the class of 2011— St. Patrick's Derrick Gordon and Plainfield's Tyrone Johnson.
"We have been playing with each other for 4 years now. I can't really explain it. It's good. All of us are top guards in our class. We don't lose a lot of games. I like playing with them because we are like best friends and brothers."
Despite playing together each summer, they each have created their own reputation by playing on separate high school teams during the season. "We just have different basketball careers," added Amayo.
Things might change if both Amayo and Gordon decide to attend Western Kentucky University together. They both will be visiting Western Kentucky on June 5 on unofficial visits. "I want to see how the campus is and how everything is going to be," Amayo said.
For Amayo, his ideal school to play for would be one where he is the point guard, running the team with a fast tempo. "Me and the coach have to have an understanding that I will run a fast-paced game." He also says that it's crucial that his college coach will push him as hard as he can and not just come in and baby him. "Kick me out of practice if I'm not doing well, so I go hard everyday and get my game better."
At the moment, Amayo is being recruited by Western Kentucky University, Rutgers, Seton Hall, Maryland, Georgia, Tennessee, and Delaware. Only WKU has given Amayo an offer at this point. "I like Maryland, but they haven't offered me yet." He also likes Syracuse and Georgetown, but they haven't shown any interest in him.
Amayo doesn't have a favorite yet. "I'm just trying to get more offers and have a good summer again because I don't know what camps I'm going to."
This summer, Amayo hopes to attend the Reebok All-American Camp in Philadelphia, Pa from July 6-9. The RBK camp replaced the famed ABCD Camp in New Jersey as the shoe company's flagship summer showcase.
Amayo admits that before he goes to college, he needs to develop a more consistent jumpshot and become more aggressive offensively. "I want my jumper to go in every time I shoot it. I want to explode to the rim and just dunk it every time." He also recognizes that he has to improve his off-the-ball defense.
Amayo was 6-1 before he transferred to St. Benedict's last season and has since grown 3 inches taller. "The doctor said I may end up being 6-6/6-7. That's why I do ball handling drills everyday because if I'm a 6-7 point guard, the sky is the limit."
Any coach who is lucky enough to have Amayo join his program will add a tremendous player to the roster. They say the third time is a charm, and once Amayo settles down in a new home in a different city, he will be well on his way to solidifying himself as a top 10 guard in the class of 2011.
On behalf of Access Athletes, we would like to thank Kelvin Amayo for taking time out of his busy schedule to do an interview with The Real Athlete Blog. Matthew Allinson can be reached at matt@accessathletes.com.