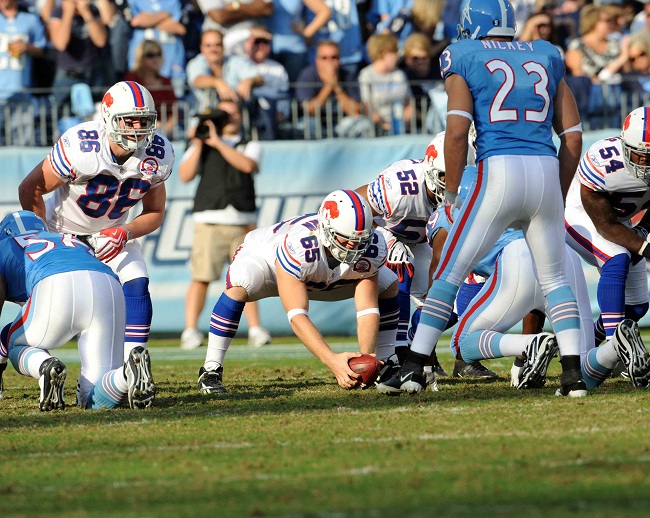 Garrison Sanborn is entering his third season as the long snapper for the Buffalo Bills. He was signed by the Bills as a free agent in May of 2009.
Long snapper is perhaps the most specialized position in football. It is a tedious and often thankless job that can make or break field position, and a team's chance of winning the game. When I got the opportunity to chat with Buffalo Bills long snapper Garrison Sanborn, I was eager to learn about how he became a long snapper, his transition into the NFL, and his relationship with his Bills teammates—but what I got was much more.
Talking to Garrison Sanborn is like chatting with an old friend. He slips into a smooth vernacular reminiscent of his friendly attitude, and tells stories with the ease of a man who is truly content with his life. Sanborn is an old soul: grateful, humble, and charitable. He loves football, and from an early age, it seemed he was destined to become a professional long snapper. It has not been easy, but Sanborn has managed to do it with hard-work, perseverance, and a good support system.
"As a kid, I just liked to be on the field. In pee wee . . . I played everything—special teams, offense, defense," Sanborn said. He was a true lover of the football, and did anything to keep himself in the action. "I started snapping in 7th grade," Sanborn explained. He played center at the time, and when his coach asked if he could snap, he was happy to oblige.
He first learned the one-handed approach, but by his freshman year at Jesuit High School, he became skillful at the two-handed snap. Although Sanborn was a center and linebacker in addition to being a long snapper in high school, his coach saw a lot of potential in his snapping. He told Sanborn about a few notable alumni who had found success as long snappers in college, including Gary Godsey (Notre Dame), and said, 'At your age, you're better than both of those guys, so if you really work at it, you can go far with it.'
Sanborn did work hard at it, and during his career as a long snapper for the Florida State Seminoles, he became one of the top long snappers in the country. "I was invited to three out of four College All-Star games, and was ranked number one or number two in all of the different rankings." Sanborn hoped that his excellent collegiate years would lead to a spot on an NFL roster, but "the draft came and went, and I never really got a call."
Fortunately, his high school coach was able to lend a helping hand. He was friends with the Special Teams Coordinator of the Tampa Bay Buccaneers, and got Sanborn into the rookie minicamp. But the team had just signed Andrew Economos to a multi-year deal, and was not interested in making a transition at the time. "They said, 'you're definitely good enough to play, you just gotta find the right situation and opportunity,'" Sanborn told Access Athletes.
Sanborn hoped that he was nearing the "right opportunity" later that year when he visited Buffalo. "I came up here and had a strange feeling like everything felt right up here."
Again, Sanborn had a good tryout, but was let down. "So I went back home and got a desk job in Tampa because I didn't have any more opportunities that year."
But Sanborn did not give up on his dream. "The whole time, I kept it in the back of my mind." He worked every day from seven o'clock to four o'clock, and would then train for three hours "trying to stay in shape and stay ready if the opportunity came." Sanborn admits that it was tough for a few months, and that during the season he sometimes felt like nothing was happening, and he didn't have a chance.
However, Sanborn thinks that anyone can relate to this experience, not just football players. "You have several stages in your life [when] you're trying to go make a name for yourself, whether it be football, or [in the] finance department, or whatever it is . . . but you have your goals, and you want to make a name for yourself in your career." Sanborn admits that it was tough to play the waiting game, especially at that age. But he always tried to stay positive, and focused on the encouraging feedback that teams had given him—remembering that he was good enough to play in the NFL, and just needed the opportunity.
"That's really what kept me focused [while] training for that year and a half before I got that call-back from Buffalo that they wanted me to come tryout again," said Sanborn, who is represented by Craig Schaeffer of Elite Sports Agency. His tryout resulted in finally becoming an NFL player.
But even though the long snapper position has a lot less turnover than other positions, Sanborn does not take it for granted. "If you're not one-hundred percent on top of your game at any time, they're still gonna find somebody new." He explained to me that the "statistics are in the upper '80s that if you snap one over the head on a punt, then you're going to lose the game, because [the opponent] will get the ball in great field position and score," which is why you can't let even one snap go wrong.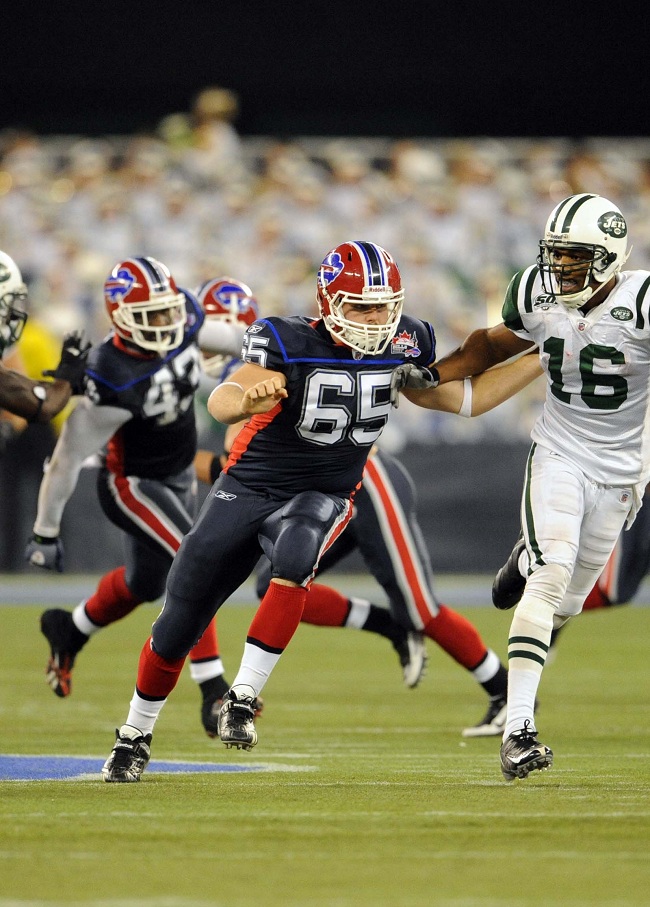 Sanborn and I talked about some of the brighter moments of his NFL career, including his first snap in his first preseason game. "One of the knocks on me coming out was that I'm slow and won't be able to help much in coverage, and so my first snap rookie year I was able to, after the snap, run down and make a tackle." Another moment he will never forget is when he snapped the winning field goal snap in overtime against the New York Jets his rookie year.
Sanborn is passionate about playing in the NFL, but he is especially grateful that he gets to be part of the Bills franchise. He and his wife Tara love Buffalo, a town which Sanborn describes as a beautiful place with a small-town feel, and very nice people.
When discussing his teammates and coaching staff, Sanborn could not say enough positive things. "Certain guys you see on TV before getting here, and you don't know what to expect, and they're superstars, but then you get to meet them, and they're real down-to-earth people, and real fun."
Sanborn has immense respect for the coaching staff of the team. "Some of these coaches have coached for longer than I have been alive, and when you have that kind of expertise, it's hard to doubt anything they have to say."
In the two years that Sanborn has played for the Bills, he has had two different Special Teams Coordinators. In 2009, he worked under Coach Bobby April, and is currently coached by Bruce DeHaven. He describes them as having two very different, but very effective styles which have helped him improve as a player.
Head Coach Chan Gailey even takes an interest in the long snapper. "Before every snap, he's standing right behind the holder on the field goal, so I look back and I see Coach's head right next to our holder Brian [Moorman's] head. And so with that kind of pressure, with him looking at each and every individual snap, it really makes you work extra hard to be the best you can. It makes it fun."
But the Buffalo experience isn't complete without the fans, whom Sanborn says he loves. "You come in on game day . . . it's literally a wind chill of negative two degrees or something, and they're all huddled around the trash cans that they've brought to make a fire in. Just to stay warm so they can tailgate and get ready for the game." Few teams have supporters as devoted as Bills fans, and Sanborn says the team feels very fortunate to have fans who stick around even with all the losses this past decade.
Sanborn is very optimistic, however, that this coming season will be full of wins.
He explained that Coach Gailey believes that winning and losing become habits, and that the Bills simply need to get into the winning habit and that they have the players they need to win. "I think our season kind of said it best if you look at the in-depth as opposed to the surface, that we're not quitters," said Sanborn. "You'll see that we didn't give up on ourselves or each other, and that we're going to be able to compete this year."
Sanborn also mentioned that the Bills played every playoff team last season except for the Seattle Seahawks, and that many of the games were taken to the wire. He said that everyone is tired of losing and ready to turn those close losses into big wins.
When Sanborn became a long snapper in high school, his coach gave him a warning. There are only three people that know who the long snapper is: that should be your punter, your coach, and your parent. Other than that, no one should know who you are. If they know who you are, it's because you did something wrong.
But it turns out that people know who Sanborn is, and not because of any mistakes.
NFL Hall of Famer and former Buffalo Quarterback Jim Kelly noticed Sanborn because of his quick snaps. He was so impressed, that he nicknamed Sanborn "The Rocket". One game day, Kelly was on the field and Sanborn says he told him, "Me and all the guys, we call you 'The Rocket' because you get that ball back there so fast. I've never seen somebody get the ball back there so fast." Sanborn was so shocked by the recognition, that he hardly understood what Kelly had said. "[Snapping] is just one of those things that typically gets overlooked, and it's nice to see a little bit of recognition from somebody so [well] perceived," said Sanborn.
Another person that has built Sanborn's confidence as a long snapper is punter Brian Moorman. Sanborn admires Moorman's athletic prowess, including his impressive speed and good hands, but has appreciated the fact that Moorman is a team player. "He'll say, 'hey don't worry about it if [something] is not there. I'll still catch it.'"
Moorman's friendly attitude and impressive athleticism alleviated some of the stress Sanborn felt as a rookie. "Brian's a really great guy, he's got a huge foundation that he works with (Brian Moorman PUNT Foundation—benefiting children with cancer), and I say that just because that shows you what kind of guy that I'm working with." Sanborn, like Moorman, hopes to start a charity of his own.
Sanborn feels abundantly fortunate to be a professional football player, and wants to take advantage of his position by giving back. In discussing his philanthropic plans, he immediately mentions his wife Tara, a speech pathologist who shares his work-ethic and charitable spirit. The couple married on March 12, 2011, and together hope to start their own charity.
Buffalo Bills rookies must participate in charity work, but for Sanborn, it never felt like an obligation. "That's one of the things I am very fortunate to do up here. [I] get to help others and I really enjoy it: going out and helping different children, visiting them in the hospital or at school . . . even promoting fitness." When Sanborn completed his volunteer requirements as a rookie, he continued to stay involved with the community.
Now, he and his wife are considering all of the worthy causes that could possibly become the focus of the charity they intend on creating. "We would love to get it started because there are a lot of things that you can help out with around here, and people are grateful . . . it feels like you're the one receiving, just seeing how happy it makes others."
Garrison Sanborn is a gifted athlete, with perseverance and confidence. He has a great work ethic, and a high level of love and respect for his sport, and team. Recently married to his college sweetheart and living his dream of playing in the NFL, Sanborn says he "couldn't be happier, or luckier."