Darran Bilton aka "Daz" is an elite marathoner from the UK, who is the only athlete ever to win four consecutive Masters Titles at the London Marathon. (A Master is a veteran over 40 years of age.) Darran has been a member of several national teams and is also a sports ambassador to the United Kingdom.
While at junior school (age 12), Darran was told by his P.E. teacher to run in a local athletics match for the school. The event the teacher chose was the 1500 meters. That's over 3 times round the track! Without any training, Darran finished 4th and this became his inspiration to take distance running further.

Not previously being a sporty person, Darran thought, "so how would I have done if I'd have trained?" Without any guidance he went out for runs, starting at a couple of times a week and slowly building up the frequency and distance of the runs. The more he trained, the faster he raced. When he moved on to senior school, he was encouraged to join the local athletic club and went on to win the City & County Cross Country Championships.

Now as a senior athlete and Elite Marathon Runner, he has represented Great Britain in many countries including the USA, Canada, Kenya, Hong Kong, and in Europe.
Darran took on his biggest challenge yet in 2009. He is the current 2008 Champion Master in the Flora London Marathon and was also the 2007 Champion Master in the same race.
Anyone who sets themselves up with the task of running a marathon is embarking upon a mighty challenge. So, when Darran accepted an invitation to not only race the London Marathon, but to also race in the Edinburgh Marathon just five weeks later, he was indeed setting himself up for a 'mission impossible!' For his challenge was not only to simply 'get round' both 26.2 mile circuits, but to race them at full speed with the world's elite. And his target? To finish as first 'Master' in both races!
Baring in mind that this would also entail winning the Masters class for a third year in a row at the London Marathon, an honor that no one in the race's 29-year history had ever achieved. Yet, on a swelteringly hot Sunday in Edinburgh, Darran did indeed achieve his dream. Not only did he win his class for an unprecedented 3rd year in a row at the London Marathon with an amazing time of 2 hours 23 minutes and 32 seconds (which also made him the 10th Brit out of 36,000 runners), but he went on to finish an amazing fourth (out of 17,000 runners) and as the first Master athlete yet again in the Edinburgh Marathon!
On April 25th 2010 he succeeded in winning the Masters title for a record 4th consecutive time at the London Marathon, a feat never achieved in the marathon's history. And his aims? To continue enjoying life's long marathon!
Some of Darran's very impressive accomplishments include:
2010 Member of Winning Team of Northern Cross Country Champs
2010 Member of Winning Team of Northern Road Relays
2010 London Marathon – 1st Master
2009 Edinburgh Marathon – 1st Master
2009 London Marathon – 1st Master
2009 Silverstone Half Marathon – 1st
2009 Competed in the European Cross Country Championships
2008 London Marathon – 1st Master
2008 European Cross Country Championships – 6th Team
2007 London Marathon – 1st Master
2007 European Cross Country Championships – 11th Team
2006 British & Irish Masters Cross Country – 1st Team, 2nd Individual
2005 Toronto Marathon – 2nd Team
2004 Hong Kong Marathon – 3rd Team
2003 London Marathon - 3rd Briton
Darran says one of his goals is to inspire young people to show them that sport is for everyone and there are no losers in competition, only winners!
AA: How did you get started in running?
Darran Bilton: At the age of 12, my P.E. (physical education) teacher told me that I'd been selected to run for the school in the City athletics championships in the 1500 meters. It wasn't so much an honor, more a punishment because I was so lazy! This was the event no one wanted to run, but I loved it and embraced the ethos of attempting something that others feared.
AA: It's interesting that you initially started off in shorter track events. What led to your desire to focus on longer distance races, both on the road and track?
Darran Bilton: When I joined my local athletics club at the age of 13, they believed that nurturing the skills and disciplines required to be a successful endurance athlete by becoming a confident middle distance track runner, would make me stronger (both physically and mentally) in the future. I see road running, trail, and cross country as complimentary to track running. Though I personally excel over distance. So that's how my racing has progressed.
AA: Athletics have taken you to four different continents and a wide array of countries. What's it like to travel and compete abroad so frequently?
Darran Bilton: To represent your country is the highest of all honors. When I was a child, I watched the film 'Chariots of Fire' and then cycled to the coast (about 20 miles) so I could run on the beach like the athletes in the film. As an adult, this has happened in reality! I have made many friends including you Richard (we met whilst we were both competing in Kenya, for our respective countries – Great Britain and U.S.A.). My first International representation was in the Hong Kong Marathon… when I received the call my wife said I behaved like I'd won the lottery!
AA: Being a superstar Masters marathoner in Europe, you've recently won your fourth consecutive Masters Title at the 2010 Virgin London Marathon. In 2009, you originally set a new record by becoming the first athlete to ever win three consecutive masters titles at London. What did setting a new record mean to you and did victory come easily?
Darran Bilton: To win the Masters' trophy at London three years in a row was unbelievable. And none of the wins were easy. So to break my own record and get a fourth win in 2010 is almost beyond belief – especially as my main opposition was ahead by one minute at half way – but my tenacity and experience came through and I won by just over a minute (the 2nd athlete was from U.K. and the 3rd was from France).
AA: In 2009, you embarked on an incredible challenge to race the Edinburgh Marathon just five weeks after London. At Edinburgh, you won the Masters Title again only weeks after setting a record at London. You went on to finish an amazing fourth out of 17,000 runners. What was your motivation behind this and how would you inspire others to achieve the impossible?
Darran Bilton: After winning the Masters' trophy at London, I had just five weeks to get race fit for Edinburgh. This took a great deal of planning and discipline. My coach (Dr. Ian Boardley, based in Birmingham, U.K.) gave me great advice and I was brutally harsh about what I did and didn't do in terms of training and racing. My motivation was to be the first Master in both races for the first time in history, and this I achieved. And I ran both races in exactly the same time! That was 2.23.32. Both were in hot conditions (27 degrees Celsius).
AA: It's well known throughout the Masters' distance running scene that you're a very decorated elite marathon runner. Has marathon racing become your niche, or do you still frequently race in other shorter road races, track events, or cross country?
Darran Bilton: To be honest, the marathon has captured my imagination. Even the word 'marathon' is an emotive one and is used by people that don't even know how far it is! That being said, I do have a passion for other road distances and strongly believe that speed hones the performance of an endurance runner. As for cross country, I have run in the Euro Clubs cross country champs three times for my club (Leeds City A.C.) and have been a part of their championship 'A' team many times. Variety is the spice of life!
AA: As a Masters Athlete with an average marathon time in the low 2:20's, you can compete with many of the best half your age. How is this feasible and what is your training philosophy?
Darran Bilton: Great question!!! The answer is so simple. When sportsmen or women reach a certain age (typically 40), they think their best years are behind them. So they train less and perform less well. It's a self-fulfilling prophecy. My approach is different. I train smarter and just as hard. Hence I perform well. I know I will inevitably get slower, but not today… and not tomorrow.
AA: The Leeds Athletic Club Team has seen tremendous success throughout Europe in track, road running, and cross-country. Can you tell us about your team and success?
Darran Bilton: The team at Leeds is unusual in that although it is one of the top teams in Great Britain, we don't import runners from other parts of the country (or from other countries). Because we have an emotional commitment to Leeds, it is important to us that the team succeeds. In recent years, we have been National Road Champions, National Cross Country Champions, and regional champions at all distances. I am proud to have played a key role in the team's success, a team consisting of a number of Team G.B. members.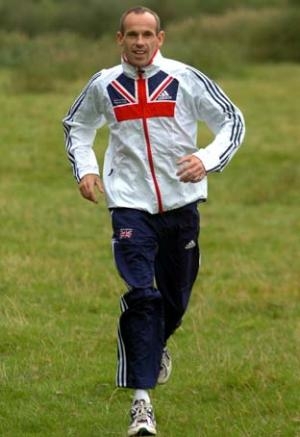 AA: As a sports ambassador to the UK, you continually try to give back to the community and your country. What are some of the charity programs that you're actively involved in?
Darran Bilton: At the moment, I am acting as race director for a 10k run in Dalby Forest (North Yorkshire), to raise money for wounded troops and local Rotarians. I also am an ambassador for the MSRC (a charity that helps families that suffer as a consequence of multiple sclerosis).
AA: You recently presented a strategic plan "Helping Endurance in the Long Run" at the end of 2009 to an English sports organization. What was the reasoning behind this research and how will this help future European endurance athletes prosper in the future?
Darran Bilton: My endurance strategy was presented to 'England Athletics,' the organization employed to develop the quality and quantity of distance running in England. They took all my ideas on board, but like many organizations, they fear change. It is great to experience the attitude to athletics in the USA that embraces change and is based on meritocracy, not nepotism.
AA: If you were to give a couple of words of advice to an upcoming track & field or distance running athlete, what would they be?
Darran Bilton: Listen to advice from others, but only have one coach. Also, intrinsic motivation will always win over extrinsic motivation. In other words, love what you are doing irrespective of whether you are successful or not.
AA: As one of the greatest marathon Masters Athletes ever, with multiple titles, records, and victories, is there anything that you'd still like to accomplish?
Darran Bilton: That's a deeper question than you think! My life goal was to represent my country. When I was selected to run for G.B., it terrified me; I'd achieved my goal so potentially I had no quest! Fortunately, running is reason enough, so I suppose the answer must be to continue to love running, win a few more Masters titles, and terrify a few 'young guns' in the process!
AA: I thank you so much for your time and I wish you a great season.
For more information about Darran Bilton, you can visit his athlete profile at United Kingdom Athletics. On behalf of Access Athletes, we would like to thank Darran for taking time out of his busy schedule to do an interview with The Real Athlete Blog.