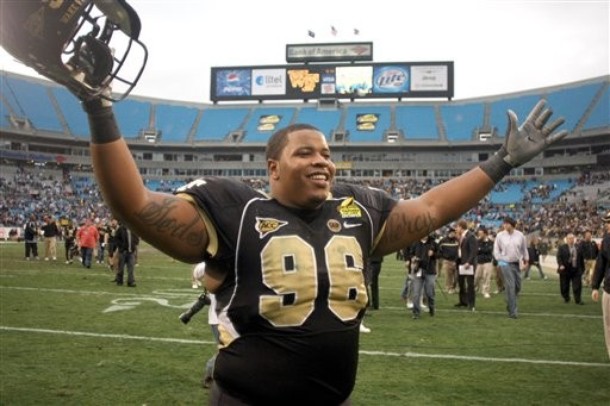 As a three year old growing up in Monroe, Louisiana, 2010 NFL Draft prospect Shaunteryous "Boo" Robinson was given his nickname by a next-door neighbor. The woman, who frequently babysat Robinson, had a screen door that she used to leave open. Little "Boo" would venture over to her house and sneak in through the screen door in the back, so he could hide and then jump out to scare her when she came downstairs in the morning. After being startled a few times, his neighbor caught on and knew what was coming. From that point forward, he would be known as "Boo."
The nickname has become symbolic of Robinson's football career, one in which the defensive tackle has been forced to jump out from underneath the shadow of relative obscurity to catch people's attention and earn the recognition he deserves.
The 6-foot-3, 300-pound Robinson was considered only a one-star recruit by Scout.com coming out of Richwood High School in Louisiana in 2005. As a senior, Robinson amassed 128 tackles with 10 sacks, 4 forced fumbles and 3 recoveries, 26 tackles for loss, and 39 quarterback hurries. Despite his gaudy stats and All-State defensive lineman honors, he was an unheralded college prospect. The offers that came in were scarce and largely confined to schools located in the south and in his home state. He ultimately selected Wake Forest University over offers from Arkansas State, Louisiana Tech, Tulane, UL-Monroe, and UL-Lafayette.
Robinson, who was also a three-year starter on Richwood's baseball team, was confident in his abilities and didn't let the rankings or lack of big programs that offered him scholarships affect him. He knew that all it took was one school and he left for Wake Forest with a positive outlook, ready to make his mark at the next level. "I was blessed to get a D-I scholarship," said Robinson. "I was probably the lowest star recruit in our class at Wake Forest coming in, but I still weathered that storm."
Still only 17 years old when he began his college career at Wake, Robinson opted to redshirt as a true freshman in 2005. "It was a year to mature and a year to get used to the academics at Wake Forest," said Robinson.
Even though he was a three-year All-American scholar in high school, he admitted having a hard time initially getting acclimated to the rigors of being a student-athlete. "It was a pretty big adjustment," he said. "It was tough for me for the first month. … They had us doing a whole lot of tutoring because they were scared that some players wouldn't make it through."
Once Robinson mastered his time management skills and adapted to his new environment, he excelled.
In his first season in 2006, he played in all 14 games and tied for second among Wake's defensive lineman with 35 tackles. He also recorded 2.5 sacks. "By the time I was a redshirt freshman," he says, "I came out, just like I had been playing because of that redshirt year."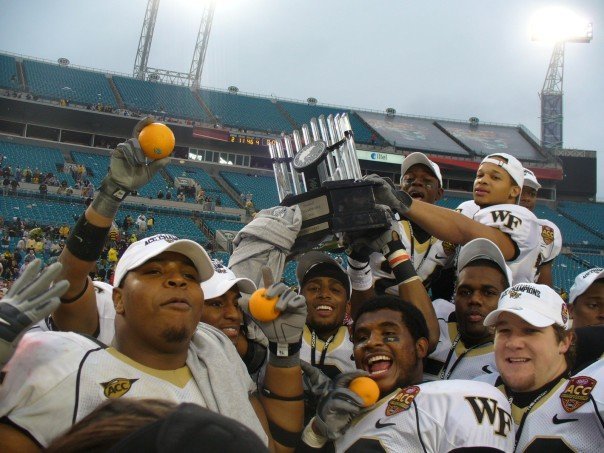 That season, he played a large role in helping Wake win the ACC Championship and make it to the Orange Bowl, the team's first bowl game appearance since 2002.
Over the next two seasons, Robinson established himself as one of the top defensive tackles in the nation. In his sophomore season, he started 12 games for the Demon Deacons, finishing with 27 tackles, 4 sacks, and 8 tackles for loss.
Robinson continued to capitalize off his momentum and had a breakout season in his junior campaign. He earned honorable mention All-ACC accolades and tied for 10th in school history with 11.5 career sacks. He had a career-high 9 tackles against Duke and collected a sack in each of the final three games of the season. It was a monster year for Robinson. He finished with 47 tackles, 6 tackles for loss, 5 sacks, 1 interception, and 2 fumble recoveries.
Robinson was on the fast track to the NFL. He gained a significant amount of exposure during his junior year from NFL scouts who had been evaluating many of his teammates on defense, especially All-American linebacker Aaron Curry (the 2009 Dick Butkus award winner). With the increased publicity and a strong showing his junior year, he was named a 2009 Outland Trophy nominee, which honors the best interior lineman in college football.

Everything seemed to be firing on all cylinders for Robinson, until he woke up one morning in the spring of his junior year and he couldn't get out of bed. Somehow, he had a herniated L-5 vertebrae. The injury came just two weeks after the Demon Deacons had played their bowl game against Navy. Suddenly, everything had come to a grinding halt and he wasn't sure if this freak off-season injury would end his college career, or at least keep him sidelined for his senior season.
This was the first time Robinson had sustained a major injury in his entire career. Up until that point, he had only suffered an ankle sprain in the 2008 season-opener that caused him to miss considerable practice time and come off the bench in the next game.
But this time, it was much more serious.
The doctors told Robinson that he had to sit out during spring practice and he couldn't lift weights to give his body sufficient rest to recuperate. While the doctors predicted he would be able to play his senior season, he had to take most of the summer off, the time in which football players do their most rigorous off-season training.
"It was a real humbling experience," he told Access Athletes. "When it takes away one of the things you love to do, it hurts. I was always grinding and working year round. Now, I can't lift weights until the summer. That's crucial because of the strength you have to have in that position. And because I got to be down every play and it was in my back, so it really kind of hurt. It made me struggle a lot."
While the experience was frustrating for Robinson and he was preoccupied with not being able to maintain his strength and stay in tip-top shape, he was able to put the injury in perspective. "But you know it wasn't like I had to have knee surgery or anything like that, but it held me down for months."
In the middle of June, Robinson started working out again after several months of rest and rehabilitation. It was a long road to recovery, but just as the doctors had predicted, he was ready to suit up for Wake's season opener against Baylor on September 5.
Despite the injury, Robinson remained one of the top defensive tackles in the country and came into the season with high expectations as an Outland Trophy candidate.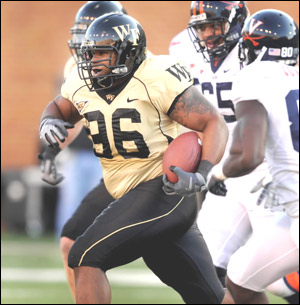 He got off to a slow start with only one tackle in his first game back, but he would end up having a solid year, tallying 37 tackles (16 solo) and adding another sack and 3 tackles for loss. He also tied his career best mark of 9 tackles against Georgia Tech. Robinson ultimately finished his career with 36 starts, 146 tackles, 19.5 tackles for loss, 12.5 sacks, and 2 interceptions.
"It says a lot about my fortitude to come back for my senior year and still lead the defense and not miss a game after an injury like that," he said.
But while its indisputable that Robinson showed resiliency in the face of adversity, many scouts didn't quite think he lived up to the hype, as his numbers were down from the previous year. It also didn't help that his team finished 5-7 and was not invited to a bowl game.
Robinson sees it a little differently though. While he acknowledges that the team's season was disappointing, he had to be a leader on a young defense that lost several key players to the NFL Draft.
"I lived up to the hype," he said. "It was hard because I had to lead a defense of freshman and sophomores, when the year before that it was well-balanced everywhere and we had great players everywhere. We lost 4 players that year to the NFL Draft. All 4 were on our defense. It was tough. All the attention was basically put on me. But we still made it through and had a decent season. It wasn't what I wanted, but it was decent."
Wake's linebacking core and secondary was decimated by the NFL Draft. Aaron Curry (OLB) was picked 4thby the Seahawks, Alphonso Smith (CB) was picked 37th by the Broncos in the second round, and Chip Vaughn (S) and Stanley Arnoux (ILB) were picked 116th and 118th respectively in the fourth round by the Saints.
Robinson had grown accustomed to having these upper echelon players flanking him on the defense and had to adjust to the pressure of leading the team—along with senior defensive lineman John Russell and cornerback Brandon Ghee—when they left for the NFL.
Robinson looks at the positive side of the experience.
"It made me a better player," said Robinson. "They throw several double teams at you, especially when you don't have players with experience. If you have seniors in the middle, and you have a whole lot of freshman and sophomores in the secondary and in the linebacking core, well of course they are going to focus all their attention on the defensive tackle. They going to double down on him and try to expose some other things that he does and make him the weak link."
Robinson was not selected to participate in the East West Shrine Game or Senior Bowl, and was not invited to the NFL Combine, which took place last month in Indianapolis. Most scouts and draft experts project him to be an undrafted free agent.
Being overlooked is nothing new to Robinson and when I asked how he felt about it, it really struck a chord with him.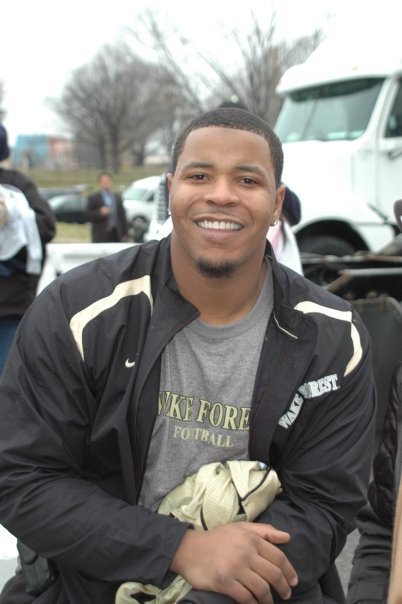 "You already know what my answer is going to be to that," said Robinson as he raised his voice. "I've been dealing with this all my life. I feel like if there ain't struggles, there ain't no progress. It don't do nothing but humble you more. It makes you more humble than the next man who they say is better than you. That's all it really does for me. I take it personally. It motivates me to do what I do. … I just like to prove people wrong. I can play this game and I can play it well, and everybody will see it in due time."
Robinson continued on his emotional appeal and credited the experience of dealing with an injury for giving him a newfound perspective.
"Before the injury, I thought I was hot. I thought I was there, you know. And then the injury happened, and it humbled me a lot and I ain't the same person. I'm different in a lot of ways. It helped me a lot and helped me realize a lot of things.
"Like right now, you say where I'm going to get drafted… I don't care where I get drafted. I really don't care what team I go to. I'm going to do what I gotta do. Everything they say I can't do—they say I ain't big enough, they say my speed ain't there. I'm trying to prove all that wrong on Pro Day. I'm really humble going in and I'm just working hard, just trying to be better than the next man."
He chalks it up as just another storm along his journey that he has to weather.
Robinson graduated in December with a history degree (commencement is scheduled for May) and has been focused on training so he is ready to impress the NFL scouts, coaches, and GM's at Wake Forest's Pro Day on March 26. He has been training at
Plex facilities
in Houston, Texas under the guidance of Danny Arnold, CSCS. Plex is one of the most elite strength and conditioning facilities and a lot of big-time defensive tackles train there, including the Steelers' Casey Hampton and the Browns' Shaun Rogers.
The workout sessions are grueling. There are two, two-hour sessions a day—one early in the morning, the other in the afternoon. He has also been put on a high-protein diet, in which he eats 6 meals a day, to increase his weight from 300 lbs. to 310 lbs. Robinson describes the regimen as "kind of boring," but is fast to admit that he wouldn't want to be anywhere else, as this is what he's always wanted to do.
Robinson is being represented by Albert Elias of
Elias Sports Management
based in Texas. Elias also represents newly signed Denver Bronco Jarvis Green and has about 28 clients on his client roster.
"Boo has a very bright NFL future—he is one of the most athletic defensive lineman in the draft and he will back my words up come his pro day in late March," Elias told Access Athletes. "What most people don't realize about Boo is his intelligence—he graduated [from] Wake Forest, and was also his high school's valedictorian."
Robinson was very complimentary of his agent and explained why he is a good fit.
"I feel like they represent me well. They stand for the same thing I stand for. They don't have a whole lot of first round picks or second round picks, but they got people who go to the league and they become what people say they can be. I could have signed with anybody I wanted to really, but I needed an agent that was hungry just like me. That's what I wanted. When I figured out where they had projected me and where I was going, I needed an agent that was just as hungry as I was. No matter what situation you were put in, they still working for you like you're a first-rounder."
He sees himself playing nose tackle in a 3-4 scheme and Elias will have to do his best to sell that vision to NFL personnel.
Robinson, who aspires to become a criminal defense attorney when he hangs up his cleats, is looking forward to signing his first NFL contract, and is ready to handle the challenges that come with the lifestyle of a professional athlete.
"Use your brain. A lot of players spend their money on stupid stuff like cars, women, and baby mommas. [I] can't have that. I will handle myself. I will play football and be Boo Robinson. Football doesn't define me. It's what I do."
He also plans to invest in real estate and have modest spending habits when he gets his first contract. "I'll probably have a set amount that I put up and a set amount that I keep. Because I ain't really a credit type guy; I'm a cash-kind of guy anyway. So, I'd probably put up a lump sum—a big lump sum and just keep a little to live off of. … I won't go spending [my] money on silly stuff. I ain't into jewelry and all that. I'm humble, I'm humble. I'm telling you I'm humble."
It's that humble attitude that will take Robinson a long way.
"I feel like I got a story to tell now. I feel like the most successful people have stories to tell. That's how I feel. I'm an underdog. Those are the shoes I want to be in."
Just like when he was a kid, Robinson will have to keep jumping out to yell "Boo," but only this time, the NFL scouts will be his target.
On behalf of Access Athletes, we would like to thank Boo Robinson for taking time out of his busy schedule to do an interview with The Real Athlete Blog.