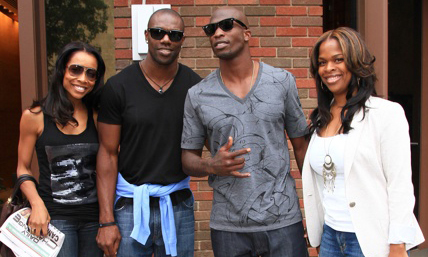 The start of the 2010 college and professional football season finds us at the intersection of social media, reality TV and sport. Rarely have we seen so many professional and collegiate football players front and center in the media – and not just as the subject of the interview or feature. Given society's obsession with all of the above, this should not surprise anyone.
Former and current players are trading in their cleats for their dancing shoes and showcasing their talents on ABC's ever-popular "Dancing with the Stars." All-Pros Jason Taylor, Warren Sapp and Chad Ochocinco, as well as Hall of Famers, Emmitt Smith, Jerry Rice and Lawrence Taylor, have not only done well on the show, they have boosted their public profile and in most cases, increased their endorsement and business opportunities.
And who can deny they've peeked at those Sunday night back-to-back reality shows on VH1 featuring the Cincinnati Bengals' newest wide receiver duo?
While numbers 81 and 85 are working to enhance their presence off the field as teammates on the "celebreality" network, they are also combining on the field this season for what should be one of the league's best receiving tandems. Regarding their efforts at extending their own personal brands? In one case, it's providing one receiver with a late shot at reputation redemption. For the other, it's clearly about furthering an already exploding and well-managed brand that has galvanized hundreds of thousands of followers and garnered numerous endorsement deals.
Why the focus on football? Unlike other sports, football is a sport where the majority of athletes are often not recognized by face, largely due to the helmet and shoulder pad factor. Also, the sheer number of players makes it hard to stand out in the crowd for what they may be doing off the field. One of the keys to success here is a strategic public relations plan – which doesn't need to necessarily include a reality TV show component (wink)!
Regardless of sport, any athlete who has not considered (or does not understand) the importance of working with experienced public relations pros, should. Here are 12 things a strong PR team can do for an athlete.
A strong PR team will:
1. Get them recognized for doing the right thing, help build the athlete's brand and have them known for what they are doing outside of their sport, as well as what they are doing in it.
2. Build a solid plan and help them understand that true PR strategy involves more than pure publicity tactics. Building brand presence requires a lot more than "red carpet appearances" and "photo ops." Don't get me wrong... While these can be important, athletes should not get caught up in the hype unless they want to be known as the overexposed party person who's always on the scene.
3. Coordinate with the agent, lawyer, manager, team PR and marketing teams, and sponsor(s) to ensure everyone is on message and in sync with all things being done to raise the athlete's profile.
The importance of agents, athletes and PR pros working together
if success is going to be achieved is part of executing the right strategic PR plan. The right PR team will ensure that balance is in place and avoid the thin line between an athlete being a superstar and becoming a major distraction to the team.
4. Enhance their position and make them more marketable to corporate sponsors, endorsements and outside revenue generating opportunities.
6. Effectively manage them through crisis situations. Our job is to
prepare the athlete for the inevitable by building the bank of goodwill they may have to withdraw from when crisis hits.
The ability to manage the message in the hours and days immediately following a crisis and the manner in which crises are handled often prove to be the difference between reputation recovery and failure. We don't "spin" at any point because
when you spin you don't win
. It's not about spin. Spin is twisting truths in an attempt to deflect blame and accountability. Recovery depends on levels of truth that enable you to tell your story and ensure the end result is balanced.
7. Help ensure you are accountable and keep things in perspective. A good PR person is not going to tell you what you "want to hear." Our job is to tell you what you need to know and keep you on track.
8. Properly media train the athlete and dispel any misconceptions they may have of the media. In addition, teach effective strategies for getting media in their corner, as well as proper interview techniques. By educating athletes on the specific job media have to do and helping them understanding their role in it and how you can work it to their advantage, one can regain the power and position in building their brand image, increasing their marketability and earning substantially more over the course of their career. One key is focusing on quality because not every media opportunity is a good media opportunity.
9. Get athletes "on message," and help them understand what that means and why it's important – especially in interview situations. Messaging is at the core of PR success and is the foundation of any strategy and long-term career roadmap.
10. Build and execute an effective social media strategy and enable athletes to engage their fans and other key communities in the right way, while building a strong following via the right social media vehicles. There is no question social media can be one of the most powerful brand-building tools. At the same time, it can also wreak havoc on one's career if not used properly. Social media has changed the way we do business, how news is reported and how we communicate. If you think it, it doesn't mean you should post it, tweet it, YouTube it or Ustream it. Which way they go depends on their understanding of how it all works, use of good judgment and ability to filter themselves.
11. Manage their online and "offline" reputation, what they do "off-the-field," meetings with sponsors, media interviews, public appearances, etc. Everything they do can and will be used against them in an endorsement deal or contract negotiation.
12. Teach them how to win a room over, what to talk about and how to talk about it in a room full of sponsors and executives. Winning people over whether it's media, sponsors, potential advertisers or high school kids, starts with great conversation. What you say, how you say it and most importantly how you keep your audience engaged and interested in what you have to say, is critical. In business, and in sports, the most successful are those who are able to speak well and express their ideas.
Okay sports PR people, feel free to add to the list as we know there are many more reasons we can include here!