"He won't take his glasses off until it's time to go," says former Penn State football player Austin Hinton in referring to his close friend and Penn State Nittany Lion Quarterback Daryll Clark. Clark wears his glasses throughout the entire week, but right before he works out, practices or plays, he takes them off. "He changes his identity," says Hinton laughing during a recent interview. Somehow, Hinton never noticed this "Clark Kent-like" tendency possessed by his former roommate of 3 years until this summer, when he started filming a documentary about Clark's life and senior season as the Nittany Lion's top-ranked quarterback.
The documentary is entitled The Time is Now (working title) and it will track Clark through the end of this season right up until the NFL Draft. It will concentrate on Clark's personal journey, with the Penn State football story in the backdrop. "It's just focusing on Clark mainly. I don't want to try to go off focusing on Penn State."
Initially, Hinton, who played at Penn State from 2004-2007, wasn't even going to come up with a title until the film was completed, but then he decided to swipe Clark's screen name instead. While this might force Clark to get a new screen name once the word gets out, the title is a perfect fit for the themes that the film will encapsulate—the high expectations that Clark has on his shoulders to defend Penn State's Big Ten Title and lead his team back to another BCS appearance; the sense of urgency that Clark has to finish his final season in Happy Valley with a roar and live up to the Heisman hype; and the fortuitous window of opportunity that Hinton has to film his buddy before he moves on to the NFL next season.
"The timing technically is now because there is no other time I'll be able to follow him. When he's in the NFL, I'll be working and there is a lot more traveling entailed. I may not have the flexibility to go to every game and be on the sidelines and in the locker room. I have to take advantage of this right now."
Take advantage is exactly what both Hinton and Clark did last weekend as Penn State coasted to a 31-7 victory in its season opener at home against the Akron Zips. Hinton set up shop on the Penn State sideline, capturing Clark's record-setting performance in his filming debut. Clark threw for a career-high 353 yards and three touchdowns, with a school record of 254 yards in the first half alone. He also completed 29 out of 40 passes on the day, the second-highest single-game total for completions in school history. With the dominant performance, Clark seems poised to surpass the numbers he put up last season and keep the Nittany Lions at the top of the standings, and Hinton will be on hand to record it all.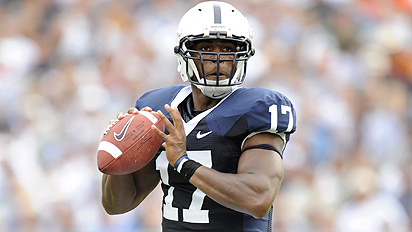 Filming for The Time is Now officially began in Clark's hometown of Youngtown, Ohio on Fourth of July weekend. Hinton spent the weekend interviewing Clark's parents, his high school coach from Ursuline High School, and fans from his hometown. The opening segment of the film will focus on Clark's background to set the stage for his remarkable rise to prominence as the conductor of the Nittany Lion "Spread-HD" offense.
The bulk of the film will feature Clark's senior season at Penn State. The footage will start with Clark participating in the Nittany Lions' camp this summer and then follow him throughout the season from the sidelines of Beaver Stadium at home games and via video chat after away games. Hinton also plans to do a few extensive pieces on Clark for big games like Ohio State, where he will follow him around campus leading up to the game, as well as to the post-game press conferences.
Hinton will use personal leave from Fox Studios in New York City, where he currently works as a Production Coordinator, to film the documentary, and is funding everything on his own dime. Along with his business partner, Lawrence Toscano (who is employed by MTV Networks in NYC), the two will film everything using one or two cameras.
"It's going to be basically filmed with one camera, but there are going to be times when we're watching a game at a bar in New York to see how the fans react. If I'm at the game and Lawrence's at the bar, we'll take those different clips from those segments to see how the fans will react at the stadium and how they react at the bar."
Regardless of where they are, the film is going to be a "go with the flow and see what people say" type of approach, according to Hinton. Planning will come later. "We are going to log as much [film] as we can and toward the end of the season, then we'll start putting it together how we want to see it."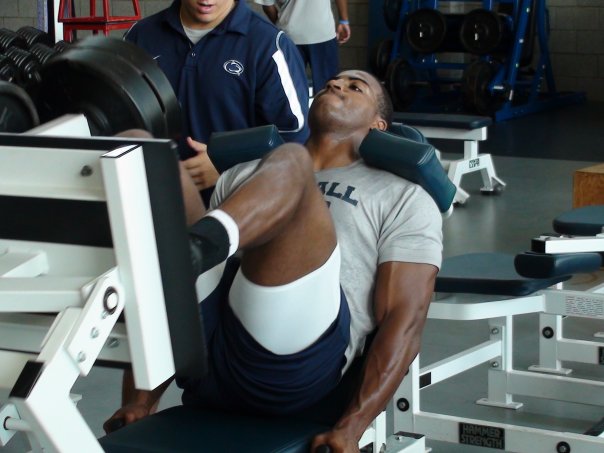 Hinton is trying to do something brand new. It is rare enough to see a sports documentary featuring a college football player, never mind one that is being produced by the main character's former teammate. On top of that, The Time is Now will be a blend between a documentary and a comedy.
"The most recent documentaries that I watched were all informal, but it's not really fun. It doesn't really keep me entertained at all times. I want to have something that my friends and people I know can enjoy just because they know I did it and they know that me and Daryll were roommates. We were always out together at Penn State. People will enjoy watching it because they know how we are off the field. People know I'm funny, but a lot of people haven't seen my work film-wise. So, it will give people a chance to see what I can do in my first film and a close-up on Daryll."
Hilarious scenes will be interwoven throughout the film to balance the seriousness of Clark's journey. At times, you'll forget that you're watching a story about one of the best college football players in America, playing at one of the most storied programs. In one skit, Hinton accuses Clark of being a mean roommate. As Hinton goes to the bathroom to brush his teeth, Clark just takes his toothbrush and throws it away.
"There's random stuff to keep people watching. Keep it loose. I always want to keep the comedy side of it. I just want to keep the base of it…that's why it's going to be a documentary/comedy."
The film will also incorporate cinematographic techniques to make the audience feel more connected to Clark and anyone else appearing on camera.
"It's going to be something completely different because everyone who is going to be on camera is going to be talking into the camera. So it's breaking that wall so it just seems like whoever is being interviewed is talking directly to you instead of the person interviewing them. It's more personable, but it's more fun because [the audience] can relate to everyone because I'm getting into the people I'm interviewing some more."
This technique will continue throughout the film, even when the roles reverse and Hinton is asked a few questions by Clark.
"There will be parts in the movie where Clark will be recording me just talking about what we're doing. I'll say how the game was from my point of view or just how something happened. When we interact, he'll be talking to me on the camera, so you'll hear my voice, but you won't see my face that often."
For both Clark and Hinton, this season will be a work-in-progress, as Clark writes the final chapter of his Penn State career and Hinton makes the first major film of his budding career.
"Everybody knows that last year was his [Clark's] first year starting. A lot of people doubted him and then he went 11-2. He's a black quarterback and a lot of people thought all he could do is run. Everybody knows after last season he can throw now. For him, it builds up what's going to happen this year…a lot of people are gone…does he still have it? It's going to be interesting because it's my first film and I'm going to be filming it as he's going through his senior year. So, once the buzz gets out about the film…it's going to be like how is everything developing?" If Penn State loses two games in a row, it will all be documented, and then next year when the film comes out, people will want to see how did Austin work it into his first film. We'll see the changes throughout the film because I'll get more experience as I'm recording. And you'll see the progress with Daryll throughout the season. Daryll's on the Heisman list and people will start seeing me on the sidelines wearing my production t-shirt."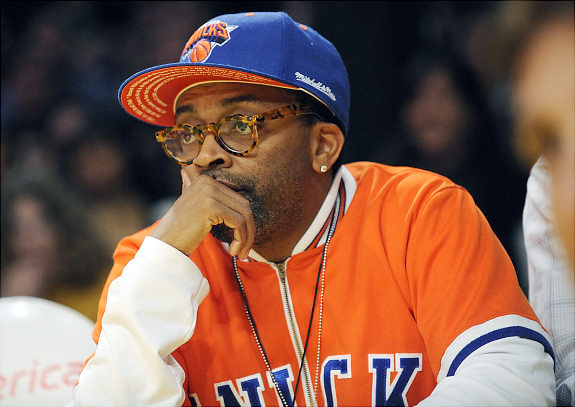 Hinton drew inspiration for The Time is Now from the legendary Spike Lee. One day he was sitting outside on the computer after work and he saw some commercials for Spike's documentary about Kobe Bryant—Kobe Doing Work. At first, he didn't understand what he was seeing. He wondered how such an avid Knicks' fan like Spike could do a documentary about the star player from his team's heated rival and still have success.
"He would have the most influence with the Knicks, knowing the whole program and everything like that. And I was like, 'Why is he doing something like that on Kobe? How is this going to be successful?'"
While Hinton was pondering the irony of the situation, the idea of doing a documentary on Clark just popped into his head.
"I was sitting there thinking maybe I could do one on Daryll, being that I'm in film now and I have the advantage of talking to people. I could talk to people and say, 'This is my idea' and they would listen to me and talk about it if I compared it to Spike Lee's work. I'm not saying that I'm better than him at all. I'm just saying that I have the advantage just to try to see what I can do with this. So I called Daryll and he was all about it. That just gave me more of a boost because you know if he's about it, then I'm about it."
When Hinton called his old teammates that still play at Penn State to tell them about the project, they were equally enthused. Everybody was like "whenever you want me to be on camera, I'll do it," said Hinton.
Hinton would later have the opportunity to meet Spike Lee, the source of inspiration for his film. Coincidentally, Spike works out at Hinton's gym in NYC and the two use the same personal trainer. When Hinton discovered this, he asked his trainer if there was any possibility that he could meet Spike. To his surprise, his trainer arranged for the two to meet one morning in the lobby at the gym.
They conversed about The Time is Now and Spike talked about what it's like to work in the industry. "Spike told me there are days when you'll work for 15 hours and not even get a chance to eat just because you want to get a scene done." He also stressed that Hinton would have to be dedicated in order to succeed.
"It's not like being an actor. The actors will work on something for 3 weeks or something, but the directors and producers are the ones that will have to put a whole year or two years into a film to get it all together," said Hinton in referring to Spike's insight.
Hinton has since turned his once-in-a-lifetime meeting with Spike into something more, seeking him out as his mentor in the business. A few weeks ago, Hinton met with Spike again to discuss the business side of the industry. "All we did was talk about the opportunities an agent can give, and in my position as a rookie in the film industry, it will be more unique to go about doing it myself and using my own connections. Even a two-minute conversation with him can mean so much, as long as I live up to my end of it."
There is no question that Hinton is up for the challenge. "I want to try it out. We'll see how it goes and what I can do. I have to be willing to take chances." Hinton possesses a true entrepreneurial spirit and is willing to take a risk.
Hinton graduated with a B.A. in Telecommunications from Penn State and plans to attend film school next fall. His top choices are either NYU or the New York Film Academy. "I'm just trying to see now what I can do based on my own intellect, but I want to get professional backing within production and directing."
Hinton's goal is to earn enough money from The Time is Now to open his own production studio so he can produce his own films in the future.
The time surely is now for both Daryll Clark and Austin Hinton, as Clark continues to remain in the Heisman watch and battles to take JoePa and the Nittany Lions to the BCS National Championship Game, Hinton must capture it for all to see, reminisce, and laugh about once Clark's journey is over.
On behalf of Access Athletes, we would like to thank Austin Hinton for taking time out of his busy schedule to do an interview with The Real Athlete Blog. If you have any questions for Austin, please email me at matt@accessathletes.com and I'll pass them along.