Rookie Symposium: You Don't Miss It Until It's Gone
---
by Dr. Timothy Thompson 06-15-2011 12:29 AM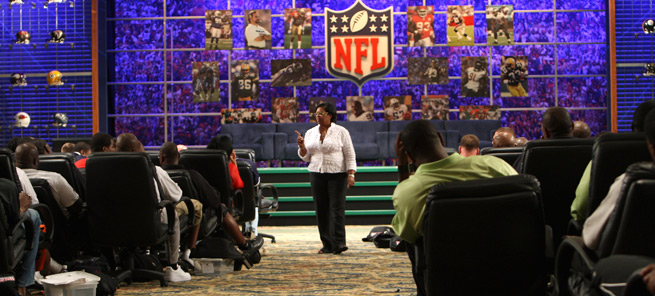 I hope New York Giants rookie offensive tackle James Brewer's opinion about the cancelled NFL Rookie Symposium isn't shared by many other new NFL draftees. In a May 26, 2011 New York Post Online article, author Paul Schwartz reported that Brewer told him, "That's probably one thing I'm not going to say I'll miss, going to [Ohio] for three days or so of pretty much a freshman orientation. Kind of letting you know what not to do. I feel I have pretty good common sense, so I think I'll be OK. I don't think I need someone to tell me not to hit women and stuff like that. I think I kind of know that already."
But two days earlier on May 24, 2011, an ESPN NFL website article entitled
"NFL rookie symposium called off"
had explained that the symposium is much more multifaceted than how Brewer has chosen to perceive it. The ESPN.com article quoted a league spokesperson who explained that "the symposium is a large, complex event involving many professionals and others. In fairness, we could not continue to keep their commitment on hold."
The article went on to say that "the symposium, which was to begin in Canton, Ohio, on June 26, is designed to teach rookies life lessons on dealing with football, finances and their new lifestyle. Many players who have been through the symposium have said it has been a positive first step in their transition to the NFL."
My bottom line here is that I find Brewer's cavalier dismissal of the symposium disturbing. In particular, his blatant reduction of the information (shared in the symposium) to mere common sense and the avoidance of violence against women shows that he doesn't see a need to apply common sense to all situations. Common sense should tell him that transitioning from being an unpaid college star to becoming a highly paid NFL player will change his relationships with the people in his life in ways that he couldn't even imagine unless he's already spent lots of time with celebrities.
Common sense should tell Brewer that once he settles into an NFL career (if he does), he'll definitely need a set of effective strategies for beating back the slew of financial and social predators who'll target him and other unsuspecting rookies as soon as they get the chance. Common sense should tell Brewer that the many professionals who involve themselves with the symposium feel a strong sense of duty to do so because they know they can help rookies to avoid some of the veterans' previous mistakes. That is, the presenters can help those players who don't automatically assume that they have nothing to learn from former greats about their off-the-field errors. (
See retired NFL receiver Cris Carter's inspiring and instructive speech at last year's Rookie Symposium
).
Common sense should tell Brewer that hitting women isn't the only behavior that can ruin his life or career. Remember the late Tennessee Titans quarterback Steve McNair? According to the news reports that surfaced about his killing, McNair's young girlfriend didn't murder him because he hit her. Supposedly, he'd told her that he was going to break off the affair, and she decided not to let him get away with that. What Brewer should learn from a situation like McNair's is that a pro player is much more likely than a lower profile person to be targeted for extortion or worse by women who happen to be skillful at manipulating the male ego of a virile athlete.
Finally, common sense should tell Brewer that just like with preparing to play the game on the field, living an effective life off the field will require intense study and practice. The NFL offensive and defensive schemes are much more subtle and sophisticated than what Brewer experienced in college, not to mention the athletes being bigger, stronger, and faster on average. Likewise, the social and financial demands that accompany pro players are much more subtle and sophisticated than before. So unless the athlete has a support network that can help him to make the best choices in the most challenging off-the-field situations, he could easily find himself embroiled in a fiasco that could end even a highly promising career.
Ultimately, pro players will need the kinds of information that they can access in the one-stop-shopping environment created by the Rookie Symposium. The rookies who are truly ready to use common sense to manage their careers will be the ones who seek to use that wide variety of information to keep themselves out of trouble. Unfortunately those who think like James Brewer will be the ones who get themselves into a jam and then seek information to help them out of it. It'll be that same information that someone wanted to share with them at the Rookie Symposium. But then the cost will be exponentially higher. So I hope Brewer reads this article and adjusts his perspective about off-the-field training for pro athletes. Then, just maybe he will decide that it's worth his time to attend the NFLPA's newly-announced two-day substitute program,
"The Business of Football, Rookie Edition."
---
Published 06-14-2011 © 2023 Access Athletes, LLC
---
Disclaimer:
Access Athletes, LLC owns the exclusive copyright to all information contained within the articles posted on The Real Athlete Blog. All information is for the End User's use only and may not be sold, redistributed, or otherwise used for commercial purposes without the expressed consent of Access Athletes, LLC. The information is an educational aid only and it is not intended as and nor shall it be construed as legal, medical, financial, psychological or other professional advice or treatment for individual situations, conditions, or predicaments. The information provided in The Real Athlete Blog articles shall not constitute an attorney-client, doctor-patient, psychologist-patient relationship or any other professional-client relationship for that matter. The End User shall seek the advice or treatment of his or her own qualified licensed professional(s) and the End User shall not rely on the information contained herein as such. End Users who leave comments on the Blog articles or email the contributors personally shall have no expectation of privilege or confidentiality. Additionally, we strongly recommend that you consult your doctor, nurse, nutritionist or pharmacist before following any of our workout or nutrition regimens to ensure that it is safe and effective for you.
Access Athletes, LLC makes no representation or warranties as to the information, opinions, or other services or data you may access, download or use as a result of accessing The Real Athlete Blog. All implied warranties of merchantability and fitness for a particular purpose or use are hereby excluded. Access Athletes, LLC does not assume any responsibility for your use of or reliance on any of the information provided by The Real Athlete Blog.