Interview with a Sports Professional: Roy Firestone
---
by Matthew Allinson 02-15-2010 01:08 AM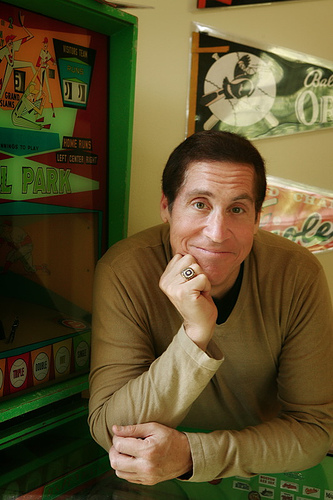 The year was 1971. The Baltimore Orioles were in Miami for Spring Training, where they trained from 1959 to 1990. At the time, seven-time Emmy winner and legendary sports broadcaster, Roy Firestone, was still in high school. A native of Miami, Firestone had developed an undying love for the Orioles, the team that filled the void in a city that didn't have its own Major League franchise. "When the Orioles would come into town when I was a kid, it was like the circus coming to town," said Firestone.

That year, the Orioles were fresh off winning the 1970 World Series after defeating the Cincinnati Red's Big Red Machine. With his team on top of the world, little Roy had never been more excited to get down to the ballpark to meet the players, get their autographs, and just spend time around the athletes he idolized.

"As a kid, you got to get out on the field really low," said Firestone. "Those were the days when there was a lot of trust and players were really accessible."

It was that access, which led Firestone to crave even more. "I always dreamed of 'gee, I would love to somehow work down here during Spring Training.'"

So Firestone, who couldn't even drive yet, had his mother truck him down to the ballpark one day. As he waited for the players to show up at the ballpark, a truck arrived to deliver the uniforms and equipment. As the workers began unloading the gear, Firestone asked them if he could help and they told him to get lost. In his persistent way, he kept asking until they finally acquiesced to his request and let him carry some gear into the stadium.

One thing led to another, and soon he was asked to assist with the team equipment for one game. Afterwards, Firestone was put in charge of the equipment and earned a regular spot on the Spring Training staff as a batboy (and later became the assistant clubhouse manager for the next two seasons).

"It was a real dream come true," said Firestone. "Every day was like Christmas for me. All these players who I dreamed about and had been around my whole life were suddenly real life people that I knew every day."

It just so happens that the first player that approached the fifteen-year-old Firestone was Hall-of-Famer Brooks Robinson. "He walked up to me and introduced himself, and was incredibly friendly…" Whereas most kids would have been awe struck by such an encounter, Firestone decided he wanted to interview the star infielder and jumped at the opportunity. "I remember bringing my reel-to-reel tape recorder and him doing a long interview with me for my high school newspaper. It was a real thrill for me. He was the first person that was a real life ball player who was generous with his time."

Firestone relished the opportunities that came with the job and naturally fit in with the players. Getting a chance to meet and talk to icons like Brooks and Frank Robinson, Jim Palmer, and Boog Powell was his first experience interacting with ball players. "I vowed that's what I want to do. I wanted to be interviewing ball players and getting to know them."

This was the starting point for Firestone's lifelong passion for athletes and paved the way for a prolific and illustrious broadcasting career, one in which Firestone would collect seven Emmy awards and seven Cable ACE awards and conduct over 5,000 interviews, many with the most well known sports figures of this era. Aside from the sheer number of interviews, the names that have come through his studio are even more incredible. Michael Jordan, Ted Williams, Lance Armstrong, Mike Tyson, Brett Favre, and the list goes on and on. And the list isn't just confined to sports either. It also includes an eclectic batch of interview subjects from the world of politics, art, and entertainment—from former President Richard Nixon to famous landscape photographer Ansell Adams to jazz great Miles Davis.

If he had to pick his most memorable interview, he would select the one with Richard Nixon. In 1993, the embattled former President of the United States granted Firestone a two-hour interview about his love for baseball at the Richard Nixon Library in Yorba Linda, California. "We had a really really good, extended conversation," said Firestone. With a backdrop of Watergate, they talked at great length about a lot of things, including Pete Rose and whether he should be allowed into the Hall of Fame. "…even though I didn't agree with his politics, I really admired the fact that he was so knowledgeable about baseball and he seemed genuinely pleased to do th[e] interview."

Firestone established himself as the king of the one-on-one interview and one of the all-time greats in broadcasting history. He began his journalism career as a sports reporter and weekend anchor in his home town of Miami Beach. After a short stint at WTVJ, Firestone moved on to WPLG-TV, where he got off to a quick start.
For his first professional interview at WPLG, he had the enormous task of interviewing Muhammad Ali in 1975 after the "Thrilla in Manila," in which Ali retained the World Heavyweight Boxing Championship by defeating his archrival, "Smokin" Joe Frazier. In the aftermath of the third and arguably greatest fight between the bitter rivals, Ali had come down to Miami to stay in shape for possible bouts. "Then and now, he was the most colorful, quotable, outrageous, inspirational and gifted athletes of any generation, and a man with a heart of gold," said Firestone. "If people only really knew."
A year later, he would circle back to his old pal Brooks Robinson. Only this time around, the tone of the interview was far more serious, as Firestone had to ask his friend some difficult questions about how he filed for bankruptcy later in his career. "You have to at some point, remember that you are a journalist and you have to ask questions that may or may not be as flattering as you would like them to be," said Firestone. "It's not something that anyone wants to talk about, but he was very gracious talking about it."

Two years into his tenure at WPLG, Firestone was laid off. "That was difficult and painful because I really envisioned myself being in broadcasting in my home town really pretty much for the rest of my life and that's where I was going to end up." He was only 21 years old at the time and thought that losing his job was the end of the world. Out of work for 6 months, Firestone was unsure if he was ever going to get an opportunity again. Little did he know that the best had yet to come.

Sure enough, the phone rang one day and on the other line, someone expressed interest in talking to him about the weekend sports anchor job at KCBS-TV in Los Angeles. He took the job in 1977, and 32 years later, he's been in Los Angeles ever since.

While anchoring at KCBS, Firestone's career exploded as he gained significant exposure working in a major market. Outside of KCBS, he picked up a gig as a sports interviewer at the USA Network in 1980 for a show called Sports Look. Sports Look—an interview program that featured athletes and other sports personalities on location at the studios in Los Angeles—moved to ESPN and was eventually renamed Up Close Primetime. In 1985, Firestone left KCBS to devote his attention to hosting Up Close, as it quickly became one of ESPN's most popular shows. It was Up Close that served as the platform by which he would capture the sports world's attention with his signature style of interviewing and launch himself into the media stratosphere as one of ESPN's most prized personalities.

So what was it about Firestone's style that caught on and brought him so much acclaim?

Well, he's widely known as the "Don't Make Me Cry Guy" for his tendency to reduce some of the biggest sports personalities to tears—from Barry Bonds to Dennis Rodman to Bill Walton to Emmitt Smith, and of course, how could I forget the scripted version, when he played himself in a cameo interview with "Rod Tidwell" (played by Cuba Gooding Jr.) in Jerry Maguire. His deeply personal and probing interviewing style penetrated the human soul and broke down barriers. "He has won high praise for his informal, personal, and sometimes provocative style, one that draws a level of honesty rare in the world of highly-scripted television," L. John Wertheim wrote in a 2002 Sports Illustrated article entitled The Many voices of Roy Firestone.

Even if Firestone appears to have accepted the "crying" moniker, since he used it as the title of his second book (Don't make me cry, Roy), the fact of the matter is that he actually dislikes it. "People always make that misconception about me as a broadcaster that makes people cry," said Firestone. "But the fact is I think that most of the interviews I've done, the most memorable ones were nevertheless with tears. But not everyone sheds tears. There is a lot of great insight, thoughtfulness, and reflection in a lot of the interviews that I've done. I'm very proud of those as well."

When you boil it down, Firestone has mastered the art of communication and is capable of eliciting powerful emotional responses from his interviewees. Extracting tears is only one possible manifestation of that unique skill. He is incredibly engaging and genuinely interested in people, as I experienced firsthand during our interview.

"I love people," said Firestone. "I'm a person who has a great regard for people, and genuinely likes people. And I think I have a great rapport for people. In the case of athletes, they just seem to be a little bit more personable and more dramatic, and have more of a flare. That's why I seem to have that kind of relationship and that kind of attraction to the athlete."

Aside from the appealing personalities of athletes, he is drawn to them because of the pressure put on them to perform. His articulate explanation is definitely worth repeating.
"Ultimately, just like everyone else in life, athletes very rarely get a chance to do it all over again. In other words, they have another game maybe, they have another at bat... But if there in a moment, that's the moment that's focused on. That's why they're paid millions and millions of dollars. They have to deliver with everybody looking at them. The whole world is watching them conceivably, in a great moment. If you're an accountant, a lawyer, or even a doctor, you have another day. The scrutiny isn't the same. People are looking at athletes in the same way they are looking at other entertainers and performers—to deliver a performance. I've always been attracted to performers, be it entertainment people or sports people. But with athletes, even unlike magicians, who came somehow play off of other musicians, lighting, and sound effects and stuff like that, athletes are left out there in front of everybody, naked in a sense. This is what they have do and they are judged if they strike out, get a hit, get a home run, or deliver in the clutch. I'm fascinated by that. I'm fascinated by the fact that it's put up or shut up every day for an athlete, and sometimes the stakes are higher. But for the most part, athletes always are judged by their last performance. It's also a performance that's subjective and replayed over, over, and over again by ESPN and all these highlight shows. So the scrutiny is tenfold [of] what it was even a decade ago."
Firestone also credits his success to conducting interviews only if he knows that there is somewhat of a storyline. "If I know that some things are going on in a person and I get them to talk about it, I really try to step back. It's less about the questions and more about the responses."

One of the best illustrations of Firestone's work is his classic interview with esteemed and gifted NBA commentator Hubie Brown, who is also highly regarded as a coach and motivator. Firestone rates this interview amongst his top-five all-time bests. The interview took place the day Hubie learned that he was inducted into the Basketball Hall of Fame. Going into the interview, Firestone knew that there were a lot of mixed feelings of joy, but also of sadness, because Hubie's father, Charlie Brown, was such an important part of his life and he wasn't alive to see his induction.
"Charlie Brown, in his opinion, was the greatest man in his life and he talked a great deal about it," said Firestone. "He had learned so many lessons from him. I stepped back, and in doing that, I realized that if I could put myself for a few moments in his world, and try to ask questions about what he was thinking at that moment, I could get him out of the typical Q&A. I think one of the things I am very proud about in that interview is that there were times in the interview he really forgets that it's being televised. He's talking about his life and he's no longer aware of the camera or the talk show. He's only interested in thinking about how his life was impacted by this great man."
In a previous interview with Hubie, Firestone remembered him talking about his father and how they used to call each other "chief." That stuck with Firestone and he vowed that if he ever got a chance to interview him again, he would ask him about it. When Firestone asked Hubie about it, he was already in an emotional state and on the brink of tears talking about his father, and then what ensued, was a heart wrenching account of the hardship his family experienced growing up right off the train tracks in Elizabeth, New Jersey during the Great Depression.

"He just went and it was remarkable," said Firestone. "I was really struck at how honest, how emotional, and how stripped down he was, about what it was like to grow up so poor and to have a father who ended up being the janitor of his high school basketball team. You can imagine the kid having a father being the janitor of the team and what that must have been like in the '30s. His father went 6 months without having a job and having to sweep floors. … It's just an unbelievable portrait of pain he painted for us verbally."

It is interviews like this one that led the late Lost Angeles Times Pulitzer Prize-winning columnist Jim Murray to call Firestone, "the best interviewer I've ever seen. That's not the best interviewer in sports, that's the best interviewer period." That's a gigantic statement coming from one of the moguls in the journalism business.

Firestone left Up Close in 1994 (the show would cycle through three more hosts before it was cancelled in 2001), but continued to do specials for ESPN until 2003. He then hosted AOL's Time Out With Roy Firestone from 2003-2005 and Mark Cuban's HDNet Face To Face With Roy Firestone from 2004-2006. He had been interviewing non-stop for almost 30 years.
In addition to being a legendary journalist, Firestone is also an acclaimed performer and entertainer. He is a singer, impressionist, and stand-up comic. He performs a 1 ½-hour multi-media show—which he has dubbed "Motiv-tainment"—before audiences in Las Vegas, at major sporting events, corporate meetings, formal events, and conventions throughout the world. With an engaging stage presence, his routine consists of sports-oriented jokes, impressions of more than a dozen entertainers, sports figures, and assorted personalities, and some serious tunes delivered in his confident baritone voice. In his diverse act, he also intertwines the spoken word in the form of essay—there's one about Muhammad Ali, one about Abraham Lincoln, and another one about Pat Tillman. "It's storytelling, it's broadcasting, it's communication," said Firestone. "That's the thing I like to do—communicate emotions and inspire people."
Firestone, who has been performing professionally for 22 years and recently released a new musical album, firmly believes his performer career enhances his skills as an interviewer and journalist. He is easily able to establish rapport with athletes and relate to the scrutiny they face. "As a live performer having played for thousands of people in theaters and arenas, I can talk about the pressure to deliver a performance and what it's like having experienced it myself," said Firestone. It also has helped to sharpen his ability to think on his feet. "It's relaxed me more in terms of taking attention o[ff] me, because I'm an ad-libber up on stage."

He is also cognizant of the delicate balance he must maintain with his dual-careers. "I hope that it hasn't affected adversely the perception [that I'm] a serious broadcast journalist… because I still am," says Firestone. "But I like to have a separate life, very separate, that's completely isolated from my broadcast journalism life."

Firestone hopes that people don't pigeonhole him as "he's only a performer now and he doesn't want to do interviews [anymore]." He says that that's not true at all. Now more than ever, you have to be diverse. "…you have to be able to show a wrinkle that some people don't know," says Firestone. "In order to do that, you have to have multiple talents. I like to try to utilize all of my abilities, all of my skills in my life and have fun, and experience great experiences for myself."
While he is focused on attaining legendary status in his other career, Firestone keeps close tabs on the broadcast industry and the ever-changing landscape. With people's shorter attention spans nowadays, due to the limited amount of time and focus they have to watch and listen to interviews, he believes that sound bites are increasingly becoming the trend. He feels that as more and more avenues open up to distribute content on the Internet, it's going to become harder and harder to get people to do exclusive-type interviews. It's going to lend itself, he says, to the people with the most outrageous, scandalous content getting the attention, not to measured, thoughtful, and reflective interviews.

At the same time, the new media age has ushered in tons of new delivery mechanisms for content, by which long-form interviews like Firestone's can draw a large audience and prosper. His quality, in-depth interviewing carries the emotional wallop that is capable of going viral because of its personal impact on people. The anecdotes of inspiration, resilience, triumph, and defeat that emanate from his interviews, allow his audience to experience the panoply of emotions and leave us with unforgettable memories and indelible marks on our hearts and souls. "I would prefer to think that my 'style' is much more in tune with today's voyeuristic and personal appetites and could be an even bigger success in the future," said Firestone. "People are looking for responses to questions that they don't see anywhere else. I like to think that my interviews give them that more often than not."
Nobody knows when and if we will see Roy Firestone in the interview chair again. What we can be certain of, however, is that Firestone will continue to treasure the lifelong friendships he has cultivated over the years with the sports figures he has revealed to the public, starting with Brooks Robinson when he was just a 15-year old batboy.

On January 16, Brooks Robinson was honored with the Player Lifetime Achievement Award at the seventh annual Professional Baseball Scouts Foundation Awards Dinner in Los Angeles. Although Brooks was recovering from minor surgery and unable to attend, he had asked Roy Firestone to introduce him and present the award to Frank Robinson in his absence. Nearly 40 years later, Firestone and Robinson still share that special bond that began in Spring Training, that one day in 1971.
On behalf of Access Athletes and The Real Athlete Blog, we would like to thank Roy Firestone for taking the time to participate in this interview. For more information about Roy, you can visit his personal website, www.royfirestone.com, or the Roy Firestone Award page, www.westcoastsports.org/firestone.html. Send comments or questions to matt@accessathletes.com.
---
Published 02-14-2010 © 2022 Access Athletes, LLC
---
Disclaimer:
Access Athletes, LLC owns the exclusive copyright to all information contained within the articles posted on The Real Athlete Blog. All information is for the End User's use only and may not be sold, redistributed, or otherwise used for commercial purposes without the expressed consent of Access Athletes, LLC. The information is an educational aid only and it is not intended as and nor shall it be construed as legal, medical, financial, psychological or other professional advice or treatment for individual situations, conditions, or predicaments. The information provided in The Real Athlete Blog articles shall not constitute an attorney-client, doctor-patient, psychologist-patient relationship or any other professional-client relationship for that matter. The End User shall seek the advice or treatment of his or her own qualified licensed professional(s) and the End User shall not rely on the information contained herein as such. End Users who leave comments on the Blog articles or email the contributors personally shall have no expectation of privilege or confidentiality. Additionally, we strongly recommend that you consult your doctor, nurse, nutritionist or pharmacist before following any of our workout or nutrition regimens to ensure that it is safe and effective for you.
Access Athletes, LLC makes no representation or warranties as to the information, opinions, or other services or data you may access, download or use as a result of accessing The Real Athlete Blog. All implied warranties of merchantability and fitness for a particular purpose or use are hereby excluded. Access Athletes, LLC does not assume any responsibility for your use of or reliance on any of the information provided by The Real Athlete Blog.