Athlete Chat: Daryll Clark
---
by Matthew Allinson 04-22-2010 01:17 AM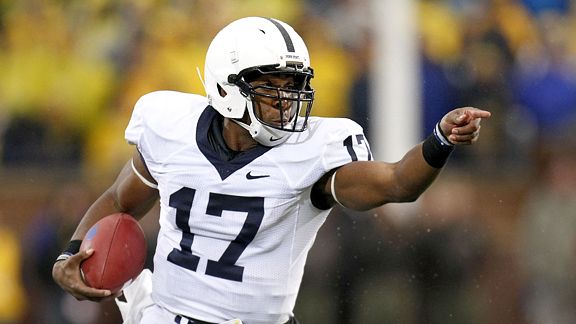 On the eve of the 2010 NFL Draft, former Penn State Nittany Lion quarterback Daryll Clark anxiously awaits to see where he will play at the next stage of his career. With the Penn State Blue-White Game this weekend, the changing of the guard will become official in Happy Valley. Penn State fans will also be clamoring about who they believe will replace Clark, as well as debating where Clark's legacy ranks amongst the Lions' all-time great quarterbacks.
As a two-year starter, Clark compiled a 21-4 record and holds multiple Penn State season and career records. In his final season, Clark led the Lions to a Capital One Bowl Game win against LSU and completed 214 of 346 (61.8) of his pass attempts, eclipsing single-season school records for passing yards (2,787 yards) and touchdowns (23). The Youngstown, Ohio native finished as Penn State's all-time leader in career touchdowns with 64 (42 passing, 22 rushing).
Even with a lengthy list of accolades and records, Clark will have to prove himself again and show the NFL scouts that he is capable of playing quarterback in the league. He described the draft preparation process as "real intense" and spent hours working on his throwing mechanics and footwork with former NFL quarterback Steve DeBerg in Florida.
"Just having to be patient and take it one day and one step at a time has been challenging in itself," Clark told Access Athletes.
Clark is not focused on where the pundits are projecting him to be taken in the draft, but on just getting the opportunity to play in the NFL.
We had the pleasure of talking to Clark about his career at Penn State and beyond.
AA: You endured a long journey to become the starting quarterback at Penn State, with a year at prep school, redshirting, and then waiting your turn behind Anthony Morelli before beating out Pat Devlin for the starting job in 2008. What was the biggest lesson you learned from this experience?
Daryll Clark: Patience… That's what my mom always told me. Be patient, your time will come. But it is imperative that you take advantage of your chance when it finally happens for you. It may never happen again.
AA: How did you learn to handle the pressure of leading the Nittany Lions?
Daryll Clark: I don't think of it as pressure because at the end of the day it is still another football game. When you buy into the hype and listen to every single thing that every single person has to say, then your head is in the absolute wrong place.
AA: What sort of techniques do you use in order to keep your composure when things get tight on the field?
Daryll Clark: Talk to myself. Reassure yourself by going back to the preparation through the week and your entire thought process before the game even started. Let yourself know that everything is going to be okay.
AA: What motivates you on a daily basis? Do you have any favorite motivational books or quotes?
Daryll Clark: Getting better and trying my best to be the best. You can never reach your plateau at QB. I feel you can always get better even when you make it to the pros. There's a quote that I heard a couple weeks back that I will never forget: "The biggest mistake anyone can make is being afraid to make one."
AA: Who is your role model? Why do you look up to this person?
Daryll Clark: My dad. Always has and always will be. I have always wanted to be like him in everything. He has done so much for me and my family that words cannot describe. Some day I will have kids and raise them like he did with me and my two brothers.
AA: How would you describe your style of leadership?
Daryll Clark: Always lead by example first. You have to have some kind of baggage before you can say a word regardless of your position. When there is a time to say something, I don't hesitate because it's my job… When it comes to scolding teammates, I never call them out in front of everyone. I call them to the side and handle it that way.
AA: How did you keep your focus and block out all the distractions associated with being the big man on campus?
Daryll Clark: It's easy when you know what is important to you. So, whenever you feel that you're losing focus, I would come back to "remember why you are really here at PSU."
AA: What was the most difficult moment of your career at Penn State and how did you deal with it?
Daryll Clark: The loss against IOWA in 2008. I was very devastated. My parents came to my side and helped me through it, along with my teammates. In my head for the longest of times was the thought that I had let the team down.
AA: Describe your relationship with Joe Paterno.
Daryll Clark: Stronger than it has ever been. I got yelled at by him all the time, but I'm honored though because he always said if he's not paying too much attention to you, then you should worry. He is a friend as well.
AA: What aspect did you like the most about being a college football player?
Daryll Clark: Playing in front of so many people every week and it's something that you've always wanted to do since you were a kid. You just got to love it. There's nothing else like it, especially when you play at Penn State.
AA: What advice would you give to a young aspiring player looking to become a starting quarterback for a major Division I program?
Daryll Clark: Always stay hungry and strive to be the best. I would explain to them the scrutiny that QB's face no matter what the situation is. And also, I always go back to the 9 to 5 QB theory.
AA: This year, you have been involved in a documentary about your Penn State career. What have you enjoyed most about filming The Time is Now "DC 17 Documentary"?
Daryll Clark: How laid back everything has been. There's nothing too structured, but there are still things that need to get done. It's been real fun. And plus Austin Hinton is a real creative person that came up with the idea in the first place and being roommates [at PSU] and great friends with him makes it easy to do this film.
AA: What factors led you to choose Chafie Fields as your agent?
Daryll Clark: He worked with a lot of PSU guys and his firm has a great staff and clients. I felt most comfortable with him. We went beyond numbers. My mom and dad definitely had to agree with the decision. The relationship can't just be business because we have to be friends as well. I was looking for someone who doesn't just look out for himself, but who would put me in the best situations possible, always.
AA: How would you rate your experience at the East-West Shrine Game?
Daryll Clark: It was a great experience to play amongst the top players in the nation. It was difficult to adjust because I was added to the roster later than most of the guys, but overall it was really fun.
AA: What do you plan on doing with your Telecommunications degree after you're done playing football?
Daryll Clark: Definitely broadcasting. I don't mind being on camera or behind the scenes. I always want to be surrounded by sports.
On behalf of Access Athletes, we would like to thank Daryll Clark for taking time out of his busy schedule to do an interview with The Real Athlete Blog.
---
Published 04-21-2010 © 2022 Access Athletes, LLC
---
Disclaimer:
Access Athletes, LLC owns the exclusive copyright to all information contained within the articles posted on The Real Athlete Blog. All information is for the End User's use only and may not be sold, redistributed, or otherwise used for commercial purposes without the expressed consent of Access Athletes, LLC. The information is an educational aid only and it is not intended as and nor shall it be construed as legal, medical, financial, psychological or other professional advice or treatment for individual situations, conditions, or predicaments. The information provided in The Real Athlete Blog articles shall not constitute an attorney-client, doctor-patient, psychologist-patient relationship or any other professional-client relationship for that matter. The End User shall seek the advice or treatment of his or her own qualified licensed professional(s) and the End User shall not rely on the information contained herein as such. End Users who leave comments on the Blog articles or email the contributors personally shall have no expectation of privilege or confidentiality. Additionally, we strongly recommend that you consult your doctor, nurse, nutritionist or pharmacist before following any of our workout or nutrition regimens to ensure that it is safe and effective for you.
Access Athletes, LLC makes no representation or warranties as to the information, opinions, or other services or data you may access, download or use as a result of accessing The Real Athlete Blog. All implied warranties of merchantability and fitness for a particular purpose or use are hereby excluded. Access Athletes, LLC does not assume any responsibility for your use of or reliance on any of the information provided by The Real Athlete Blog.