Athlete Chat: John Gilchrist, Part I - The Journey
---
by Susan Zaro 07-18-2009 05:50 PM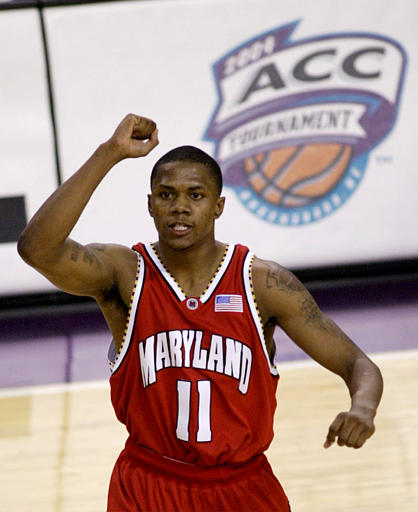 In 2004, John Gilchrist was on a roll. He helped lead the Maryland Terrapins to win the Atlantic Coast Conference Tournament, the school's first ACC Championship in 20 years. In the tournament final against Duke, Gilchrist proved he thrived under the pressure of big moments, as he led the Terps back from a 12-point deficit with less than five minutes left in the game. At the end of the game, Gilchrist was unanimously named the ACC Tournament MVP. NBA scouts were clamoring about his ability and his draft stock was very high.

Gilchrist decided not to cash in on his famous ACC performance and put his NBA dreams on hold. In 2005, when Gilchrist returned to College Park, the Terps were ranked top 15 in the nation, but they closed out their regular season 7-9 in the conference. Although the team made it to the ACC Tournament, they lost in the first round. After the team's poor showing, John Gilchrist's opportunity to be drafted for the NBA began to dim. Gilchrist chose to leave Maryland at the end of his junior year and gamble on being drafted into the NBA. Despite having the physical tools of a solid NBA point guard with matching skills and athleticism, Gilchrist was not drafted.

John Gilchrist demonstrated that he had NBA talent in his college play. He discovered, though, that talent brings the athlete into the game and gives him a forum to play, but to take it to the next level—the professional level—requires more than physical skills and the desire to win.

Recently, I had the opportunity to talk with John Gilchrist. This interview is a look at where he is today in his professional basketball career and why he continues to be motivated and passionate about reaching his goal of playing in the NBA.

Part I: The Journey

AA: At what age did you realize your passion to play/compete in basketball?

JG: I started playing in the little leagues. My father put me in the game when I was about five. My dad was my coach the first five years and made it serious from an early age. When I was nine or ten, my dad passed the coaching role onto other people. He wanted me to get used to being coached by other people. He stayed involved in my career by overseeing what the coaches were doing. My dad picked out all the places for me to play and provided guidance until I got to college.

AA: As a kid, who were the athletic role models you looked up to? What qualities, work ethic, style of play, skills, or emotions on the court did they have that attracted you to them as role models?

JG: Basically just the guys that were from my area in Virginia. In my area, we don't have a professional basketball team. When you look at the sports page, the best high schools are the ones that the kids tend to follow and go to the games. Some of the best players that came out of my area are like, Alonzo Mourning; he graduated from a high school about 10 minutes from my high school. He was a local hero. He worked hard and played hard. Iverson's high school was about 25 minutes away and we'd travel to watch his games.

On a professional level, I didn't have a specific role model, but I watched Magic Johnson, Larry Bird, Michael Jordan… the typical players. I never saw these guys play in person, but when I got a little older, I got the opportunity to meet Michael Jordan working at one of his basketball camps when I was in college. It was awesome. I didn't notice all the attributes, as far as how good of a team they were [Chicago Bulls], until I got older and began to understand the game in a different light. When I was younger, I just liked the highlights and the shots they made.

Michael Jordan is still the best guard and the best basketball player that ever played. He was a great role model, but I grew up watching and idolizing the players that laid the path that were from this area. At the time, meeting the local stars was as big as meeting Michael Jordan. Meeting Michael Jordan was definitely an experience because I knew that the average person wouldn't get that opportunity. It was great. He's definitely an icon for what he's done for the game period.

AA: When did you or a coach/parent recognize that you had enough talent to take your game to the next level and compete in the NBA? Was there a particular moment that you or someone else recognized this? Or did you come to this conclusion through a series of events?

JG: Basically I have been pushed in that direction, as funny as this sounds, for a long time. It's been kind of hard and it's still a little difficult at times—things not flowing as smoothly as people had expected. Like a lot of people, including my family and people around me had always expected it. I was good in junior high school and in high school and had the skills then. Everyone asks me when I'm home where have I been playing? People ask why haven't we seen you in the NBA? I tell them I've been playing in Europe and here and there in the minor leagues. I kind of down play it. It's still a goal [to play in the NBA] that is burning inside of me.

AA: John, when was the shift for you away from people saying, you have talent, to actually owning your talent and committing to the work that has to be done to become a professional basketball player?

JG: I had a lot of pressure on me even in high school. That's when it began and it basically has forced me to grow up quicker. People hold me at a different level. I make a mistake and you know what I mean it's so magnified. It's been like that for awhile. As time goes along, I have learned to better manage it. It really helps me out with my job because it helps me to realize that I never looked at myself as anything special compared to anyone else. So it's like in order to be successful, you can't do what everyone else does when people are watching you. That was the hardest thing for me to accept.

I'll be 25 this month. This year has definitely been like a process that's helped me mature because I took some time away from playing overseas. I came back home and was able to be a part of my community. I volunteered for a lot of different programs around here. I volunteered at my church and I assistant coached a high school team. Anytime anyone calls me and asks me to come over and talk to kids I do, because I've been home. But it really affected me in a sense because before it was all about me. I wanted to be as good as I could be and that was that. I never fully understood the magnitude of the effect that I had on other people. This year through volunteering it dawned on me that people look up to me as I looked up to the local stars as a kid.

Before I used to hear people say, "John do this or John do that," but I didn't realize how when you're put in a certain position you can't do the things that everyone else is doing. It used to be confusing to me when I was in college. I put on glasses for a lot of things. I didn't really understand. An example is if the whole campus is at a party and I go to the party the next day all these people are like, "he was at a party."

AA: So if you went to a party with five friends and were messing around and something happens, the focus is on you for messing around, not the other friends.

JG: Right. I didn't understand it. But you learn from those mistakes. Sometimes it doesn't dawn on people until it hits home, you know.

AA: Did you feel you had distractions that you weren't prepared for mentally and socially in 2004 when you were projected to be an NBA lottery pick if you entered the draft?

JG: Definitely, because there was a lot circulating. On a personal note, everyone was trying to position themselves to get closer to me to get something from me. I was hearing stuff that was going on around. People were telling me about what people were doing back home.
AA: People were setting up to freeload off you and your success.

JG: Definitely. The thing about it was it was kind of inevitable. I kind of invited it. Like I said before, like all those athletes that I was used to seeing did it like that. All the guys from here that used to say what they were going to do with their money. When I interviewed with the NBA teams and said that, they thought I was crazy. I just thought this is what you do— take care of your family, take care of your friends, and that was that.

You know but it was like I kind of felt that a lot of people weren't doing what they were supposed to be doing on their own because they were waiting around to see what I was going to do. They thought they were going to work for my business.

AA: People around you weren't focusing on your growth as an athlete. They were focusing on your growth from what they could get from you in terms of the monetary rewards that come with participating at that level?

JG: Right, exactly. For them it kind of worked hand in hand. The better that you do with growth as an athlete, you will be able to be more successful and make more money. But the thing about it is that I felt my maturity was the main thing because no one will really tell me the truth. It's always been like that. If I had a good game but got in trouble at school it didn't make a difference as long as I played sports.

AA: Did the teachers let you slip by in school because of your basketball success?

JG: Right, it's always been like that. I feel like a lot of athletes come up that way. You get used to the treatment.
Stay tuned for Part II: The Lessons and Part III: Alert and Prepared of our interview with John Gilchrist, which will be published next week.
On behalf of Access Athletes, we would like to thank John Gilchrist for taking time out of his busy schedule to do an interview with The Real Athlete Blog.
---
Published 07-18-2009 © 2023 Access Athletes, LLC
---
Disclaimer:
Access Athletes, LLC owns the exclusive copyright to all information contained within the articles posted on The Real Athlete Blog. All information is for the End User's use only and may not be sold, redistributed, or otherwise used for commercial purposes without the expressed consent of Access Athletes, LLC. The information is an educational aid only and it is not intended as and nor shall it be construed as legal, medical, financial, psychological or other professional advice or treatment for individual situations, conditions, or predicaments. The information provided in The Real Athlete Blog articles shall not constitute an attorney-client, doctor-patient, psychologist-patient relationship or any other professional-client relationship for that matter. The End User shall seek the advice or treatment of his or her own qualified licensed professional(s) and the End User shall not rely on the information contained herein as such. End Users who leave comments on the Blog articles or email the contributors personally shall have no expectation of privilege or confidentiality. Additionally, we strongly recommend that you consult your doctor, nurse, nutritionist or pharmacist before following any of our workout or nutrition regimens to ensure that it is safe and effective for you.
Access Athletes, LLC makes no representation or warranties as to the information, opinions, or other services or data you may access, download or use as a result of accessing The Real Athlete Blog. All implied warranties of merchantability and fitness for a particular purpose or use are hereby excluded. Access Athletes, LLC does not assume any responsibility for your use of or reliance on any of the information provided by The Real Athlete Blog.