The Playbook Commentary on the tragic death of NFL QB Steve McNair
---
by Monica Wood 07-08-2009 01:35 AM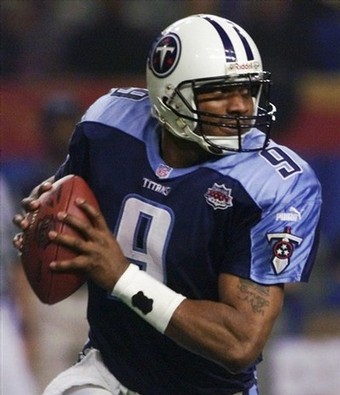 Words cannot express the complete shock, sadness, and total sickening feeling I have concerning the tragic death of Steve McNair. I learned about it Saturday afternoon heading to a 4th of July cookout and I screamed, "No, no, no!"

No, not another death. I was and am still trying to embrace the reality that Michael Jackson is dead.

No, why did such a great player and person have to die so tragically and so young?

No, not another black-eye to the NFL brand.

The life and legacy of McNair's on the field and off-the-field accomplishments should be illuminated, not the details surrounding his death. And, he has many. He truly put into practice that when much is given, much is required. He was given a chance to not just play football, but to give his mother her flowers while she was alive to enjoy. He was able to influence the lives of those from his hometown and every place his feet touched, and all are better because of it.

He was able to accomplish much professional success in Houston, Tennessee and my hometown Baltimore. He was the picture of hard work, perseverance, and determination. He fought through pain when many athletes choose to sit out for a bruise. He was a true titan.

As Eddie George said in a recent press conference, everyone makes mistakes. And, that is what I continue to say in my Playbook Commentaries. My personal saying is, "don't cast a stone that you are not ready to receive back."

We must be slow to judge and quick to understand.

My only remark concerning how he died will be that we all, players and non, must realize that all actions bring consequences...it is up to us to determine if the consequences will be good or bad.

Steve, thank you for what you brought to the game of football...it will never be forgotten and it can never be repeated.
God bless your family.
Source: The Baltimore Sun
---
Published 07-07-2009 © 2023 Access Athletes, LLC
---
Disclaimer:
Access Athletes, LLC owns the exclusive copyright to all information contained within the articles posted on The Real Athlete Blog. All information is for the End User's use only and may not be sold, redistributed, or otherwise used for commercial purposes without the expressed consent of Access Athletes, LLC. The information is an educational aid only and it is not intended as and nor shall it be construed as legal, medical, financial, psychological or other professional advice or treatment for individual situations, conditions, or predicaments. The information provided in The Real Athlete Blog articles shall not constitute an attorney-client, doctor-patient, psychologist-patient relationship or any other professional-client relationship for that matter. The End User shall seek the advice or treatment of his or her own qualified licensed professional(s) and the End User shall not rely on the information contained herein as such. End Users who leave comments on the Blog articles or email the contributors personally shall have no expectation of privilege or confidentiality. Additionally, we strongly recommend that you consult your doctor, nurse, nutritionist or pharmacist before following any of our workout or nutrition regimens to ensure that it is safe and effective for you.
Access Athletes, LLC makes no representation or warranties as to the information, opinions, or other services or data you may access, download or use as a result of accessing The Real Athlete Blog. All implied warranties of merchantability and fitness for a particular purpose or use are hereby excluded. Access Athletes, LLC does not assume any responsibility for your use of or reliance on any of the information provided by The Real Athlete Blog.