Interview with a Sports Professional: Glenn Toby
---
by Nick Trent 04-12-2009 02:00 AM
I recently had the opportunity to speak with Glenn Toby, who is a celebrity agent and essentially epitomizes the definition of a true social entrepreneur. If you're not familiar with the term social entrepreneur, let me provide a little background. A social entrepreneur is someone who recognizes a social problem and uses entrepreneurial principles to organize, create, and manage a venture to make social change…there you have it, straight out of Wikipedia. Alright, now lets get to my definition of a social entrepreneur. To me, a social entrepreneur is an avid philanthropist, someone who has a genuine passion for a cause, along with the means and ingenuity to implement a plausible solution.
Glenn Toby has represented, consulted, advised or partnered with governmental figures, champions, and entertainment moguls such as LL Cool J, 50 Cent, David Banner, Saigon, Swizzbeats, Asante Samuel of The Philadelphia Eagles, undisputed Cruiserweight Champion Of The World O'Neil "Supernova" Bell, and Mayor Michael Bloomberg of New York; just to name a few.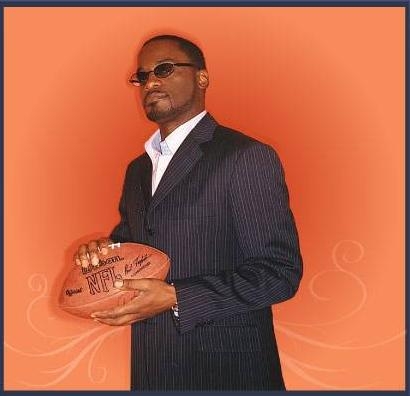 Mr. Toby guides the careers of countless NFL Players and World Champions in entertainment, sports, and business. In addition to his sports and entertainment management endeavors, Mr. Toby is often sought out by executives as well as artists for strategic personal business and financial advisement. He also is well respected by governmental figures for resourceful legislative solutions to help homeless families and is constantly sought by universities to guest lecture for his influential speeches. When I asked Glenn how he got into his career, this is what he said:
"I got into sports marketing and management as a joint venture partner with NFLPA agent Alonzo Shavers and together we launched Infinite Sports Technology. He did the NFLPA work and I handled management and marketing. We developed a friendship and it grew into a business. He was head of the Columbus Ohio chapter of The Book Bank Foundation. We have represented Asante Samuel, Chester Taylor, Josh Evans, Damien Robinson and consulted, advised or managed countless other athletes."
Now let's get to Glenn Toby, the Social Entrepreneur. In 1997, Mr. Toby founded The Book Bank Foundation in an effort to boost literacy among the nation's youth - with a specific emphasis on inner-city children. While the Foundation provides tutoring, alternative education, career development, and special projects such as celebrity readings, the quintessential goal of The Book Bank Foundation is to improve quality of life. The foundation not only deals with books, but also collects and distributes clothing, food, and toys for the homeless. The Book Bank Foundation partners with the DHS Office of Special Events to help homeless New York City children.
In getting to know Mr. Toby, I realized to understand Glenn Toby, you must understand his past.
"I grew up in Brooklyn, New York and got my education from Cardozo High School and then CUNY (City University New York) Queensboro. As a child I was homeless from the age of 8 to the 7th grade. I came home one day and saw all of our stuff out on the street…my toys, everything. We didn't have a home. After, I shifted from relatives to government agencies, I looked back at my life and realized that my families love and a great education are what shaped me and allowed me to take my path."
One of the questions I was dying to know is how Mr. Toby came up with his vision for The Book Bank Foundation and got it started.
"I woke up one day and thought of how much reading great books and developing my literary skills and critical thinking were the key to success. The name 'The Book Bank Foundation' and the mission came to me as one clear thought.

I felt that I couldn't give the world the parents that the Lord blessed me with, but I could share the system and principles that granted me the freedom and access to a better world."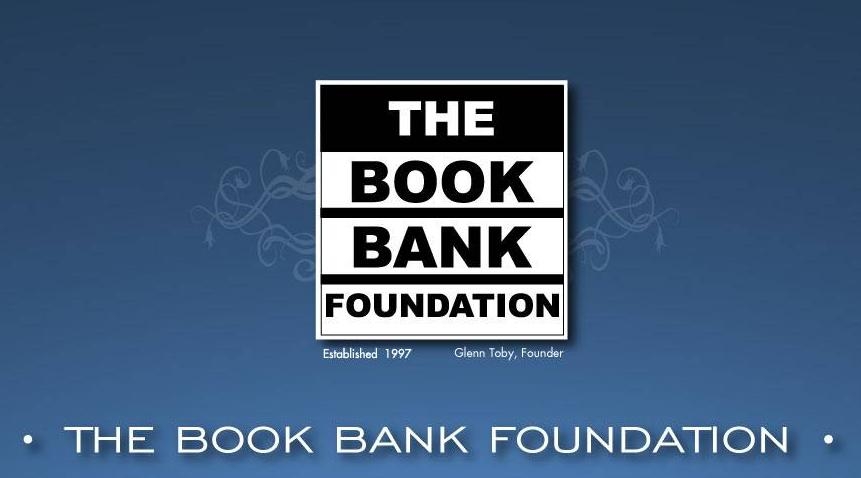 Glenn loves The Book Bank Foundation and everything that it stands for. But as the head of a non-profit organization, he knows all too well that there is never a constant revenue stream. Your product is the goodwill you build in communities and the greatness you can provide. So I asked him about what the biggest challenges that his Foundation faces today.
"Funding and access to a platform that promotes the foundation, so people could hear the mission. You have to monetize the mission…if it's in your head, it's the movie that no one will ever see.

I'd also say gaining the awareness of government officials and legislators that can pass the proper laws to improve conditions that we are working to improve."
I find that the hardest part for a non-profit is selling the experience to individuals and getting them involved for the right reasons, rather than allowing them to feel as if they are being solicited for their money. How do you prevent this perspective?
"You have to be passionate and transparent. People are not stupid. Good will always win over time. You have to be patient. If you educate your donors and sponsors, they will grow with you."
With the economy in its current state, I'm assuming donations and sponsorships are less abundant. What are some other ways you can get people involved?
"Talent and service are as valuable as money. You have to allow people to give on their own terms."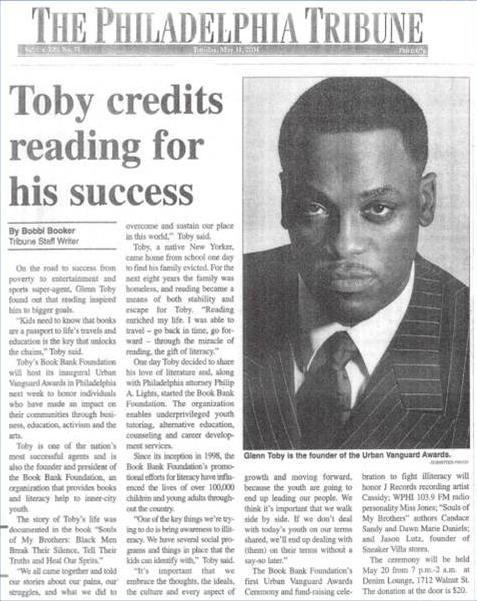 There obviously are a lot of charities out there, what makes The Book Bank Foundation unique?
"We give away 99.99% of everything that passes through our hands. We have low administrative costs because the entire organization is volunteer based; however, our expansion and need to serve more people is mandating that we get financial assistance and greater resources."
With a foundation that has the name Book Bank in it I had to ask Glenn what his favorite books are and how we can get the youth of today to read more with so many distractions and activities like video games competing for their time.
"I think the Bible is my favorite book. It's complicated yet accessible, verse to verse, cover to cover. You get a new interpretation every time you read it. It's also the most unique literature because it is foretelling, yet forecasting at the same time. If you're not looking for scripture, I would have to say Ralph Ellison's 'Invisible Man'. It's a book that really challenges your mind.

To get our youth more involved, we have to continue to challenge them. Keep the activities social and continually reward kids…There is nothing wrong with reading anything online, on an Amazon Kindle, in a magazine or a book, but we have to continue to challenge their minds with critical thinking and find new and creative ways of doing so.

But most importantly, a kid can't learn if his stomach is talking louder than his mind."
At AccessAthletes.com, we are an organization focused on educating athletes and assisting them in building relationships with various members of the sports industry. Professional athletes tend to have abundant resources at times, but in this marketplace, they come from all backgrounds and have something unique that drives each and every one of them. What advice would you give the athletic community to increase community involvement or venture to start their own non-profit?
"I think all athletes need to participate in various charities before they attach their name and goodwill to one. It's also important that they not do it for just a tax write off or to empower friends and family. There is great scrutiny, regulation and demands on charities…the demands are serious and can put you in jail. Hell, you could even jeopardize losing your name and integrity. My advice is follow your heart, but let your brain choose your path."
In what little time I had with Mr. Toby, I learned a lifetime's worth of drive, determination, and desire to improve your community. I also have gained a friend to lean on if I ever need to. If you are interested in finding out more about The Book Bank Foundation or getting involved directly, please contact me at nick.trent@projecttrident.org and I'll pass it along to Glenn. I also encourage you to check out The Book Bank Foundation website at http://www.thebbf.org/. I hope that you all will get involved in your communities because as my father told me years ago "You are very fortunate, but there is always someone out there who may not be as fortunate as you...Take the time to lend a helping hand."
---
Published 04-12-2009 © 2022 Access Athletes, LLC
---
Disclaimer:
Access Athletes, LLC owns the exclusive copyright to all information contained within the articles posted on The Real Athlete Blog. All information is for the End User's use only and may not be sold, redistributed, or otherwise used for commercial purposes without the expressed consent of Access Athletes, LLC. The information is an educational aid only and it is not intended as and nor shall it be construed as legal, medical, financial, psychological or other professional advice or treatment for individual situations, conditions, or predicaments. The information provided in The Real Athlete Blog articles shall not constitute an attorney-client, doctor-patient, psychologist-patient relationship or any other professional-client relationship for that matter. The End User shall seek the advice or treatment of his or her own qualified licensed professional(s) and the End User shall not rely on the information contained herein as such. End Users who leave comments on the Blog articles or email the contributors personally shall have no expectation of privilege or confidentiality. Additionally, we strongly recommend that you consult your doctor, nurse, nutritionist or pharmacist before following any of our workout or nutrition regimens to ensure that it is safe and effective for you.
Access Athletes, LLC makes no representation or warranties as to the information, opinions, or other services or data you may access, download or use as a result of accessing The Real Athlete Blog. All implied warranties of merchantability and fitness for a particular purpose or use are hereby excluded. Access Athletes, LLC does not assume any responsibility for your use of or reliance on any of the information provided by The Real Athlete Blog.