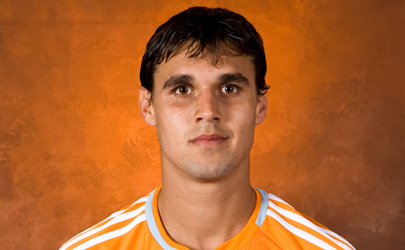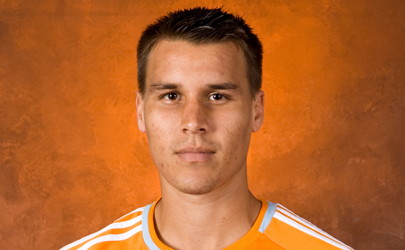 While the odds of becoming a professional athlete are extremely low, it is even more improbable to find two brothers listed on the same pro roster. Professional soccer players Chris Wondolowski (FW), 25, and his younger brother Stephen (DF), 23, have played together for the Houston Dynamo of Major League Soccer (MLS) since 2007. In 2006 and 2007, Chris won back-to-back MLS Cups with the Dynamo. He is most widely remembered for scoring a second-half goal in a 2-0 upset victory over Mexican-based Pachuca in the CONCACAF Champions' Cup semifinal at Robertson Stadium. Stephen completed his second season in the MLS last year and celebrated winning the MLS Cup in 2007 during his rookie season.
The Wondolowski brothers, originally from Danville, California, gave us an inside look at the process of selecting their current agent, as well as their thoughts concerning the Major League Soccer Players Union and the development of soccer in the United States.
Athlete Representation
The media often writes about sports agents and their dealings, but you will be hard-pressed to find articles that present an athlete's perspective of the agency side of the business. The Wondolowski brothers provided invaluable insight into the athlete-recruitment process and the player-agent relationship.
The Wondolowski brothers not only play for the same team, they also share the same agent—Max Eppel of the Max Eppel Soccer Agency, LLC (MESA). In June of 2008, they both signed with MESA. This marked the first time in both of their budding careers that they would entrust an agent with the duty of representing their contractual interests. The Wondolowski brothers had previously been approached by several other agents and received informational packets in the mail regarding possible representation prior to signing with MESA, but they never pursued anything beyond the initial showing of interest stage.
When Stephen first came into the MLS in 2007, he looked to his older brother Chris for almost everything associated with being a professional. This continued when the time came to search for and select an agent. Chris, who was a 3-year veteran in the MLS, was more experienced with the business side of playing professionally than his brother Stephen, who only had one season in the MLS under his belt. Because Chris had never retained an agent during his professional career, the brothers were able to go through the process together.
The process of signing with an agent is an intensive process that involves many factors and the ultimate decision can have a lasting impact on a player's career.
It is only natural for most players to call on the advice and guidance of their families in selecting an agent. Both Chris and Stephen indicated that their father played an instrumental role in their decision to select MESA. In fact, their father did most of the heavy lifting during the vetting process, and assisted his sons in narrowing down the field and ultimately choosing Max Eppel of MESA:
CW: "My father helped in the research and the vetting process. In the end, the alternatives were reduced down to a handful. My brother Stephen and I both got on a conference call with Max and felt very positive about him. In discussions with my dad, we all decided that we needed to find somebody who would care about us as people and care about our success. It was very important that representing us be important to [the agent] rather than just [treating us like] another client."
SW: "My family played a huge role in my process, but only because I value their opinion so much. My dad was very active in finding MESA and was present during our interview and contract negotiations. He provided a protective and business outlook during the process, but ultimately the decision was mine and mine alone."
Stephen also told me that he did extensive research on his own via the internet and connections he had with teammates and other players around the league. "I especially listened closely to veteran players and took into account certain disputes and situations they have had in the past. I also paid attention to a few players I know who have broad overseas knowledge to cover all basis." Based on Stephen's conversations with other players, the Wondolowski brothers learned that Eppel possessed a sterling reputation.
This is an important message for athletes to note—the best resource is always your fellow players. The easiest way for an athlete to learn about a prospective agent's reputation and the quality of the service that he provides is by hearing it straight from players who may have been or who are currently represented by the prospective agent.
While both Stephen and Chris were on the initial conference call with Eppel, they each had subsequent telephone calls with him individually. This enabled them to become more comfortable with Eppel and ask him their own questions.
The Wondolowskis described what actually led to their decision to select Eppel as their player-agent. "I entertained the thought of signing with only a couple different agencies, but I finally found one that suited my needs in Max," said Stephen.
Stephen highlighted some of the key factors that MLS players must consider in selecting an agent.
"The process of signing with an agent is very different for a soccer player in America compared to other American sports. The first obvious difference is the discrepancies in salaries, so you have to find an agent that understands the financial situation of playing in the MLS."

"The biggest difference I feel is the possibilities of playing outside the United States. For a soccer player, I think it is very important to have an agent who is well-versed in soccer on a world level, as well as having possible connections overseas if you as a player would ever want to explore that option."
In the eyes of the Wondolowski brothers, Eppel met both preliminary criteria.
Eppel is especially sensitive to each prospective client's salary or likely earnings in determining his commission, as illustrated by Eppel in previous comments from an article he authored on The Real Athlete Blog:
"Agents usually charge an agreed percentage of the player's gross annual basic salary (i.e. pre-tax). There is no set amount by law and it comes down to the agreement made between the player and the Agent. From my standpoint, the points I take into account when negotiating percentage are the age of the player, experience, his likely earnings and prevailing market factors such as the country; for example, I can say that the generally accepted commission rate in the USA is significantly less than in England. Clearly, this is an important point and must be handled with sensitivity and a strong degree of realism from both parties."
As Eppel noted, agents who represent MLS players with respect to their player contracts are not legally restricted by maximum commission rates (this is also the standard for MLB and NHL certified agents). This is in contrast to the NFL and NBA, where certified agents are restricted to caps of 3% and 4% respectively as stipulated per each league's collective bargaining agreements.
With respect to the second criterion—an agent who is well-versed in soccer on the world level with solid overseas connections—Eppel passed with flying colors. Eppel is originally from England, and is both exceptionally knowledgeable about foreign leagues and is well-connected in the UK, Europe and beyond, which strengthens his ability to place players outside of the USA.
The Wondolowski brothers delved deeper into what made Eppel stand out from other candidates.
Stephen summarized the main reasons that Eppel and MESA drew him in as a client:
"I can't speak for Chris on this but, there were a number of reasons Max and MESA stood out to me and eventually led to me to sign with them. I knew I wanted a very personable agent who had good experience in representation, especially in a number of leagues. I felt that this would broaden my options being a young player. A plus to me was that Max had just moved to the US from England and was, at the time, still in the process of building his portfolio of US players. This was attractive to me as a developmental player and I felt it ensured me more attention than other agents currently working in the USA could provide."

"These were the main reasons I liked Max, but an extra thing that MESA offered is a full representation experience by providing people to help with marketing and my own brand awareness. The ability to have professional people help make films and resumes for me is something that one person cannot do, or cannot do as well as a whole team."
Stephen elaborated further on the importance of MESA being a full-service agency. "If I signed with someone else I might have had to look for another party to do these things for me. It is reassuring to have all of this taken care of through one company and with one mindset."
However, the fact that MESA is a full-service agency was not as important of a factor to Chris. "I think Max will help where necessary, but my objective with Max is my opportunities on the field—exploring them, cultivating them, and making my career work as well as it can."
Chris made sure to point out that although Stephen and him are brothers, they still have their separate reasons for selecting Eppel, as they were in different places as far as their career development and needs. "It is great having the same agent as brothers, but that is not really an important issue."
When asked what they considered the most important aspects of the player-agent relationship, their responses further demarcated their individual personalities and needs.
CW: "Max made us feel important and we felt comfortable with him in our corner. [Agents] have to take the time to understand you as a person and a player. They have to understand what you want to do and perhaps push you a bit if necessary. But mostly, I want to feel comfortable that we are both on the same page."
SW: "My most important characteristic is having someone who will work for you. Some agents might hope that the player will work for them and hope to succeed through that alone. Max has shown me he is willing to work for me and provide the most and best opportunities to better my career."
Signing with an agent is only the beginning of the relationship. Beyond the factors that led Chris and Stephen to sign with Eppel, they described their relationship with him.
CW: "Max is great. I've only met him face-to-face once but we have spoken on the phone many, many times and he is great with email communications. He is tremendously accessible and really makes me feel like he cares about my future."
SW: "I haven't known Max very long, but so far he has done everything I have asked and more. I have already seen great strides that would not have happened without him, which makes me feel like he does truly care about me as both a player and a person."
It is not only important for an agent to secure lucrative contracts and endorsement opportunities for his clients, but it is also imperative for an agent to assist in their career development. Eppel values career development as a top priority and is off to an excellent start according to the Wondolowski brothers. "It hasn't been long since I have signed [with him], but he has given me confidence to continue to play with the hope to grow my career wherever I decide it needs to go," said Stephen. Chris has not yet formed an opinion as he feels "[their] relationship is still pretty new," and he was consumed by the demands of the season. "When you are in season, you pretty much have your head down and are working on making yourself and your team better. However, I do look forward to hearing his advice and counsel."
Both Chris and Steve's career aspirations will require Eppel to formulate individually tailored plans for their future. Chris hopes to become a top-tier player in the MLS and have a long and productive career. "I am fortunate to have been on very successful teams in San Jose and here in Houston with teammates like family. I suspect Stephen won't be content until he is the highest paid player in the Premiership. When that happens, he can hook me up with tickets."
Chris' suspicions are true, as Stephen will not be complacent with just becoming a top player in the MLS, and has more ambitious goals. "My main aspiration is to play consistently on a first team somewhere at the highest level I can. I love playing in the states, but I would also love to play abroad if it was a place I was comfortable with and on a team at a high level."
Stephen better remember his older brother when Eppel lands him a lucrative contract in Europe.
The Major League Soccer Players Union

Given the recent growth of soccer in the United States, I was also interested in hearing the opinions of the Wondolowskis' with respect to the Major League Soccer Players Union.
By way of background, the Major League Soccer Players Union was formed in April 2003 to promote the best interests of all MLS players as their exclusive bargaining representative. In 2004, the Players Union negotiated the first-ever collective bargaining agreement (CBA) covering MLS players. The CBA runs through the 2009 season and provides increases to minimum salaries, retirement benefits, basic health insurance for players and their families, a 401(k) plan with guaranteed contributions from MLS, and mandatory arbitration for disputes arising between MLS and players.
It is evident that the Wondolowski brothers have formed positive opinions with respect to their Players Union:
CW: "We have a great Player Rep[resentative] on our team in Pat Onstad, which makes a world of difference I think. We know that the next Collective Bargaining Agreement is a very important milestone in the development of our league and of the American Players. I have confidence that the Union will work well together with American Soccer and MLS to make MLS player salaries and benefits better."
SW: "I think it really protects the players in a league where protection is very necessary sometimes. The Union provides great resources with representatives that are always willing to help, and the Union is getting stronger by hiring smart professionals who have played in the league like Eddie Pope."
Additionally, the Wondolowski brothers were enthused about the role the Players Union has played in their career development. Stephen noted that thus far in his short career, the Players Union has already assisted him with a moving situation at the beginning of the year. He declined to divulge any details, but was very thankful for his union's involvement and guidance.
Chris entered the league in 2005 soon after the first CBA was signed, and luckily, he hasn't had to call on the assistance of his union as of yet. Chris believes that the Players Union has contributed to allowing him to live out his dream of playing soccer in the MLS. "The Union and the CBA are really important and I back the Union completely. Playing soccer in the MLS for a living is a dream come true for me." Despite feeling elated about living out his dream, he expressed concern with the fact that many "MLS developmental players can't survive living in some of our markets on what they get paid," and recognized that the CBA will be critical in improving these deficiencies.
It is always encouraging to see a union garnering the support of its members, especially one that is only in its fifth year of existence and still in the process of administering its inaugural CBA. As a labor attorney, I believe that the Players Union will make unprecedented gains for its players when it goes to the table to bargain for a successor agreement in late 2009/early 2010.
Final Thoughts
The Wondolowski brothers both told me it is "a dream come true" to play together on the same team. "All the guys on the team are brothers to me, but sometimes, when I am facing the wrong way and blindly kick the ball forward, it is nice to know exactly where [Chris] will be and for him to know exactly where I am going to kick it," Stephen said. Chris added that there is a great sense of pride having his brother out on the field and that "growing up with [him] every single day and now playing side-by-side with him professionally is something that is almost impossible to explain." They have a unique family bond that follows them onto the pitch and bodes well for professional sports.
The Wondolowski brothers are great ambassadors of their sport and exemplify the positive direction MLS is heading. Entering its 14th season in 2009, MLS is experiencing a period of growth highlighted by expansion, the construction of new stadiums, the addition of new investors, and the heightened recognition by other leagues around the world of the quality of talent being developed. The brothers have been gaining notoriety in the media, as they have been featured on morning TV news shows in Dynamo segments. The Wondolowskis are on their way to the top. As MLS continues to grow, this dynamic duo will not only have the ability to maximize their athletic careers, but they will have the chance to tap into many endorsement opportunities that will come their way as businesses realize the tremendous upside two articulate, sophisticated, and talented brothers on the same team have in a rising professional sports league.
On behalf of AccessAthletes, we would like to thank the Wondolowski brothers for taking time out of their busy schedules to do an interview with The Real Athlete Blog. Matthew Allinson can be reached at matt@accessathletes.com.